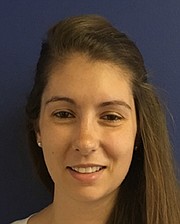 As National Rebuilding Day 2017 approaches, on Saturday, April 29, Rebuilding Together Alexandria staff is busily prepping 40 teams for a city-wide day of volunteerism, a day in which thousands of volunteers across the country partake. Volunteer teams are paired with low-income residents that have critical health and safety issues inside their homes that they are unable to physically or financially correct. Our teams remedy the issues free of charge for the homeowners.

Many of the 800 volunteers that serve on National Rebuilding Day and throughout the year have prior knowledge of electrical, plumbing, and general repair work. However, in an effort to cultivate more knowledgeable and handy volunteers we offered Rebuilding Together Alexandria's very first skills-based Volunteer Training.
This month, staff and two dedicated volunteers offered demonstration sessions on grab bar installation, GFCI replacement, three-way switch issues, and drywall repairs. Thirty trainees now have the foundational knowledge to make their repairs during National Rebuilding Day or at an independent project they may take on throughout the year as part of our "Mod"ification Squad.
This knowledge could even save a life of a homeowner. For example GFCIs, ground-fault circuit interrupters, are required by the National Electric Code in all new kitchens, bathrooms, crawl spaces, unfinished basements, and most outdoor receptacles, but what about the old homes we work in? Andrea, our program manager explains, "A GFCI outlet costs less than $20 and is easy to install. By installing a GFCI on a circuit, you can protect yourself and your household from electrical shock. A GFCI can detect when current is flowing through an unintended path (such as a person or water), and shut off the connected circuit accordingly." According to the Electrical Safety Foundation International, "Since the 1970s, GFCIs have saved thousands of lives and have helped cut the number of home electrocutions in half."
Grab bars are also particularly important to homeowners aging in place. Our seasoned volunteer, Brent, mentions, "Grab bars are an important safety feature in any home, but especially for those who experience declining strength, flexibility, and balance. With grab bars, the homeowner can confidently use a tub or shower without concerns of falling."
Small upgrades like GFCIs and grab bars can make a big difference. With the great feedback we received from the trainees, we have decided to make it a fixture in our program. Beginning in June we will offer mini-demos at our office, focusing on one particular repair process per session. Stay tuned and in the meantime sign-up for our newsletters and get your hands dirty and souls clean with Rebuilding Together Alexandria.
For more information call 703-836-1021, email info@RebuildingTogetherAlex.org, or visit www.RebuildingTogetherAlex.org.
More like this story