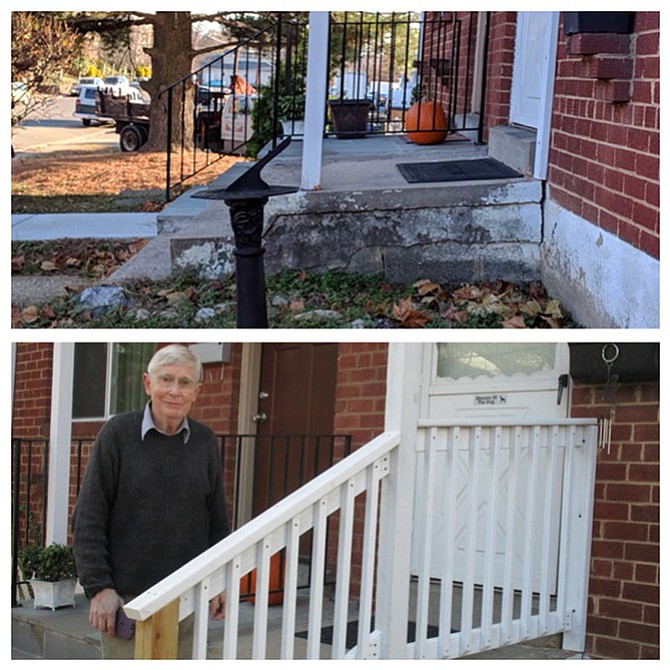 As National Rebuilding Day 2018 approaches, on Saturday, April 28, Rebuilding Together Alexandria staff are busily prepping 40 teams for a city-wide day of volunteerism, a day in which thousands of volunteers across the country join in. Volunteer teams are paired with low-income residents that have critical health and safety issues inside their homes that they are unable to physically or financially correct. Our teams remedy the issues free of charge for the homeowners.
Over the last several months, staff has been preparing for National Rebuilding Day by sending out plumbing, heating, and electrical contractors to accomplish repair emergency issues, such as furnace replacements and active water leaks. Year-round, volunteers also complete critical safety tasks and smaller handyperson jobs.
Our year-round "Mod"ification Squad volunteers have taken on 50 projects already this year for homeowners. They manage projects independently, set their own schedule, and work on tasks that are of interest to their skill set. From installing grab bars to provide stability for our older homeowners, to fixing small plumbing leaks, they handle it all. Many have been volunteering their time and expertise with us for years, supervising teams of volunteers on National Rebuilding Day or assisting us with special projects year-round.
One Mod Squad member, Arthur, started working with us this past October and has taken on eight independent and two group projects already. He also "spreads the good word" of our Safe & Healthy Homes program, by encouraging in-need neighbors to apply. His precision as a retired doctor has followed through to his volunteer work.
In Arthur's own words: "Since my teens I have enjoyed the challenge of fixing broken objects and working on home improvements. Now that I am retired I like keeping busy. Helping older or handicapped people to make their home safer or more accessible so they can continue independent living is good for them and rewarding to me. Rebuilding Together Alexandria provides the opportunity to do that and when the task is more than I can handle, I can always count on help from their staff. "
So to echo Martin Luther King Jr.'s remark "Life's most persistent and urgent question is: What are you doing for others?" Whether you become part of our volunteer task force or create a group and volunteer on National Rebuilding Day, we will be thrilled you want to join our team and be the reason why a low-income neighbor can focus on paying for food, medicine, and other necessities. We encourage you to sponsor a team, get your hands dirty, and get involved. For more information, call 703-836-1021, email info@RebuildingTogetherAlex.org, or visit www.RebuildingTogetherAlex.org.