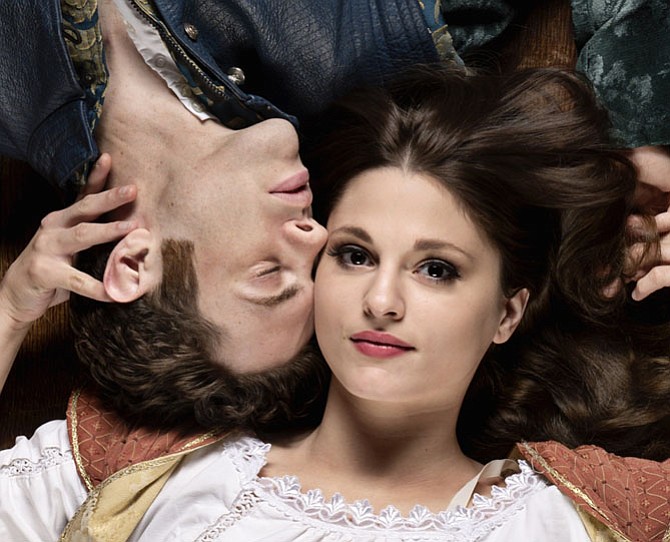 McLean — An Alden Theatre audience favorite, Virginia's American Shakespeare Center (ASC) is returning.
"Our patrons ask us to bring the ASC back again-and-again." said Sarah Schallern, performing arts director, McLean Community Center. What is so special about ASC performances; "they hark back to when Shakespeare's plays were first performed."

ASC's "Hungry Hearts Tour" will be coming to the Alden for weekend of three different plays; Thornton Wilder's "Our Town," The Bard's "The Two Gentlemen of Verona" and "Romeo and Juliet." These plays "speak to everyone; the messages never get old as we focus on the language and its beauty," said ASC tour manager Thomas Coppola.
For those less familiar with the three ASC productions; "The Two Gentlemen of Verona" is a delicious tale about a long-distance love that takes two clever women, several devoted servants and a dog to make things right. There are jealous lovers, a cross-dressing heroine, even a daring escape.

The bittersweet "Romeo and Juliet" has star-crossed lovers, ravishing language and a searing finale. The play has words of wisdom aplenty along with comic wit. Wilder's "Our Town" is a poignant look at life in small town America as its citizens grow, marry and pass away. The show examines how life flows for individuals and the community.
"We have a unique performance style designed to be seen, heard and felt," said Thomas Coppola, ASC tour manager. "Not only will twelve actors be performing the many characters in the plays, but some audience members can be seated on the stage close to the actors and the action."

Coppola also noted that In Shakespeare's times his plays were performed under the sun or using candles. At the Alden there was no special theatrical lighting used for the productions; ASC will use only the regular Alden venue lights.
A distinct feature for this year's ASC tour deserves mention. ASC will help place a homeless dog with a family. Working with the Fairfax County Animal Shelter, the Alden and the ASC will "audition and then cast a canine actor for a role in 'Two Gentlemen of Verona,'" said Schallern. "The dog will then become available for adoption."
"The core idea of the acting troupe is to directly engage the audience to create an actor/audience bond," said performer JC Long. "We aim to create a living, breathing performance not just an academic reading. Our aim is to enthrall audiences."
Where and When
American Shakespeare Center's "Hungry Hearts Tour" performing William Shakespeare's "Two Gentlemen of Verona," "Romeo and Juliet" and Thornton Wilder's "Our Town" at the Alden Theatre, McLean Community Center, 1234 Ingleside Ave, McLean. Performances are Jan. 21 & 22, 2017. "Romeo and Juliet," on Saturday, Jan. 21, 8 p.m., "The Two Gentlemen of Verona" on Saturday, Jan. 21, 2 p.m. and "Our Town" on Sunday, Jan. 22, 2 p.m. For each performance the doors open and pre-show music starts 30 minutes before the performance. Tickets $35/$25MCC tax district residents. Tickets: visit: www.aldentheatre.org or call 703-790-0123.