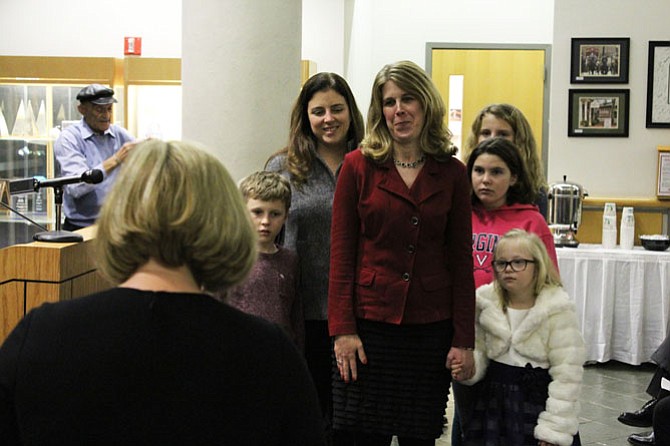 Herndon — Herndon Mayor Lisa Merkel and town councilmembers were sworn into office for their 2017-18 terms on Tuesday, Jan. 3, at the Herndon Municipal Center.
"It is with great humility that I stand before you tonight," Merkel said in a speech to those who attended the ceremony. "To be elected the first time is an incredible experience, but to have your work reaffirmed and to be elected for a third term is truly gratifying."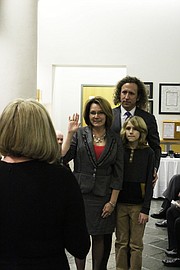 In addition to Merkel, members of the newly-sworn-in council are Jennifer Baker, Grace Wolf
Cunningham, Jeffrey Davidson, Signe Friedrichs, William "Bill" McKenna and Sheila Milstead Olem.
Baker, Olem and Wolf served on the 2014-2016 town council. This is the first term on the council for Davidson, Friedrichs and McKenna.
"My primary goal as mayor has been to bring our downtown plan off the page and into reality," Merkel said. "And after years of work, it is likely we will finally break ground during this term, creating the walkable, vibrant space we've dreamed about for years."
Conversations about the redevelopment began in 2000-- before Merkel was elected to any position with the town. As reported in December in the Connection, the previous council made concrete progress by adopting a resolution that directed town staff to move forward with negotiations for the redevelopment with Reston real estate firm Comstock Partners.
Merkel and the council won their new terms during Herndon's first fall election. The elections were previously held in the spring.
"Last November, the town of Herndon resoundingly embraced the message that Herndon is a hometown for everyone," Merkel said. "A place where all are welcome, no matter where you come from, how you worship, or who you love."

During her remarks, she said Herndon has branded itself as a "next generation small town."
"I believe that," she said.
Baker Elected Vice Mayor
Jennifer Baker was re-elected vice mayor for her 2017-18 council term by Mayor Lisa Merkel and council members, who unanimously approved a resolution naming her to the position, with Baker abstaining.
Traditionally, the councilmember who receives the highest number of votes during the general town elections is named to the post.
The Connection previously reported that she received 5,650 votes, more than any of the other councilmembers, during the election on Nov. 8.
Acting Town Manager Appointed
William "Bill" Ashton II, Herndon's IT director, will be appointed acting town manager to fill the position that will be vacated by retiring Town Manager Art Anselene.
While Anselene retires on Feb. 28, Ashton will assume the post on Feb. 1.
"Bill's management experience and instincts, his operations expertise and his thorough knowledge of town policies make him the optimal candidate for this role," Mayor Lisa Merkel said in a press statement.
Ashton has worked for the town since 1998.
The council plans to conduct a comprehensive search for Anselene's permanent successor.