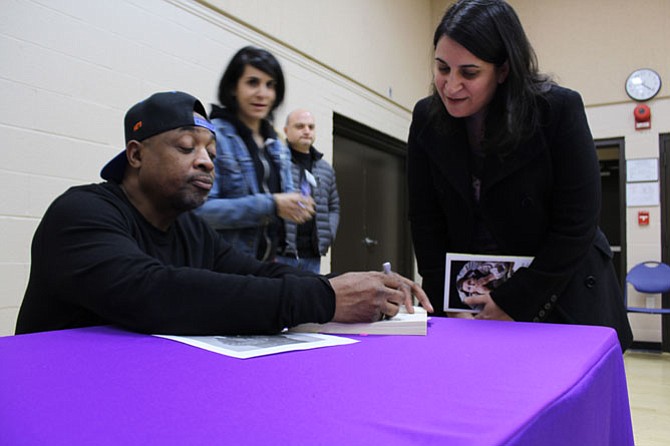 McLean — The incoming president is a "Twittiot," a combination of Twitter and idiot.

That is what Chuck D of the notorious hip-hop group Public Enemy said of President-Elect Donald Trump and his tweeting habits during the Martin Luther King, Jr. Day Celebration at the McLean Community Center on Sunday, Jan. 15.
Chuck D's hip-hop group released its first album, "Yo Bum Rush the Show," in 1987 with beats and raps focused on articulating the struggles facing black people and the disenfranchised. His group, along with hip-hop group N.W.A. are credited with helping bring hip-hop and rap music into the mainstream during the late '80s and early '90s.
This period is commonly known as the golden age of hip-hop, which the 2015 film "Straight Outta Compton" depicts.
Since then, Chuck D has become a social justice and political activist and has been named one of the 100 Most Influential Black Americans by Ebony Magazine and one of the "50 most important performers in rock and roll history" by Rolling Stone magazine.
"Black music is powerful because once upon a time … black folks weren't supposed to talk at all," he told the crowd.
His talk in the Alden Theater was primarily focused on last fall's presidential election and the coming presidency, which he said has "boggled all of the pundits and anyone else who has any sense.
"Old days don't come back, but old hate comes back in new ways," he said. "We're in some frustrating times."
The campaign trail, which he says was paved with Islamophobia, racism, sexism and other forms of bigotry, is a "challenge to character." "Martin Luther King, Jr. was all about character," he said.
As King said in his legendary "I Have a Dream" speech in 1963 at the Lincoln Memorial in Washington, D.C.: "I have a dream that my four little children will one day live in a nation where they will not be judged by the color of their skin but by the content of their character."
Chuck D said King's legacy is "spectacular" while Trump's legacy has been a "spectacle."
"It is not about Trump," he said. "This is about a polarized nation … the whole planet is watching every second of what goes down [in Washington, D.C.]. Character is at stake … That's what's going on right now."
He cautioned the crowd by saying that Trumps words carry meaning, but that arts, like hip-hop, can overthrow the dangers of one-sided philosophy.