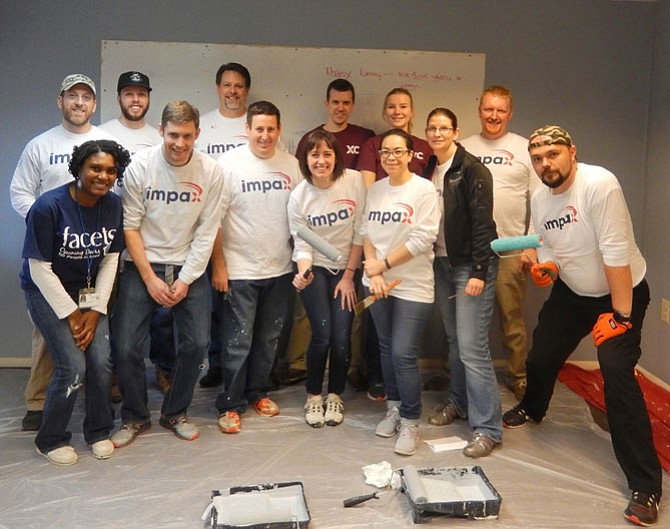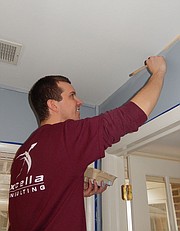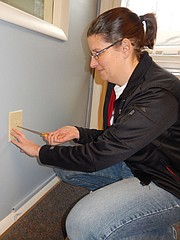 On a day dedicated to Martin Luther King Jr.'s memory, people throughout the country honored his legacy Monday by doing various projects to help others. Among them were employees of Excella Consulting of Arlington who helped spruce up Sojourn House, a group home in Fairfax.
It's run by nonprofit FACETS and is part of Linda's Gateway, a permanent, supportive-housing program for chronically homeless individuals and families. Sojourn House is just for single adults and currently houses five people, although up to seven can live there.
"It originally began in 2010 as an emergency housing shelter," said FACETS Volunteer Manager D'Ivonne Holman, in charge of the Jan. 16 event there. "And in October 2016, it transitioned into a group home. FACETS provides case-management services and partners with the Fairfax County Health Department to offer onsite medical services. And we staff Sojourn House 16 hours/day, seven days/week."
Looking for a community project for Martin Luther King Day, Excella came to FACETS via Volunteer Fairfax. And on Monday, from 1 - 5 p.m., 12 Excella employees volunteered their time and painted the home's conference room and staff offices – four rooms total.
"And that's just the beginning of the homey touches we're trying to add here at Sojourn House," said Holman. "We'll also hang artwork on the walls and put in some new furniture, including lamps, end tables, couches, chairs and throw pillows."
But, she added, "We could really use the community's help in obtaining these items. We could also use kitchen things, such as pots and pans, dishes, drinking glasses, kitchen towels and dish soap." Anyone wishing to donate anything to Sojourn House should contact FACETS' community engagement coordinator, Josh D'Antonio at jdantonio@facetscares.org.
STANDING ON A LADDER while painting the wall above the conference room's doorway, Excella Senior Consultant Andrew Lindberg said he appreciated his company's community outreach. He was also having a good time.
"It's a great opportunity to connect with the community's efforts here," he explained. "And I'm enjoying meeting a lot of my fellow colleagues. I just started working at Excella last week, and it's a good way to get to know them."
Screwing back an electrical-outlet faceplate onto a wall was Beth Gomolka, an Excella project manager who's been with the company six years. "It's nice to be able to give back to the community and work with my co-workers on something out of the office," she said. "You learn about their painting skills and their lives outside of the work context."
Consultant/software developer Christie Goddard said the company's volunteer program is part of ExcellaVision. "We work closely with Homestretch, which works with homeless people and finds them jobs," she said. "And we do various community-service projects throughout the year."
Sean DuGuay is a principal consultant who does business development for Excella. He said 212 technology employees who could have made money for their company on Monday instead contributed their time to work on community projects throughout the Washington Metropolitan area.
The best part about helping out Sojourn House, said DuGuay, is "Giving people a chance to have something that's going to make them feel better about themselves. I also like working for a company willing to invest in supplying their employees' time to benefit others."
"We've been doing things like this for several years," added Zak Mahshie, general counsel and partner with Excella. "It's our belief that there's a corporate responsibility to not just use community resources, but to give back, as well, and make the community stronger."
A FAIRFAX HIGH grad whose parents still live in the City of Fairfax, he helped paint the walls and trim at Sojourn House. "This went pretty smoothly," he said. "This was my eighth time painting, and I'm now mildly proficient at it. But it's important because we're making an impact. These rooms were a sickly yellow before and now they're a blue-gray. We met some of the residents here, and they said that, because of us, they won't have to wait for someone else to do it."
Mahshie also noted that Excella is a growing consulting company, with most of its employees disbursed geographically at their clients' sites. So, he said, the community-service project in Fairfax gave them "an opportunity to come together, get to know our co-workers a little bit better and meet the new ones."
As for Holman, she was delighted with the way things turned out Monday. "I'm extremely grateful that Excella came to Sojourn House," she said. "The volunteers added warmth to this space to kick-start beautifying the home and making it an inviting place for our residents. We couldn't have done it without them."
Holman said volunteers are always needed there to be case managers, lead a game night, cook a meal or provide transportation to and from residents' medical appointments and job interviews. Contact her at dholman@facetscares.org.