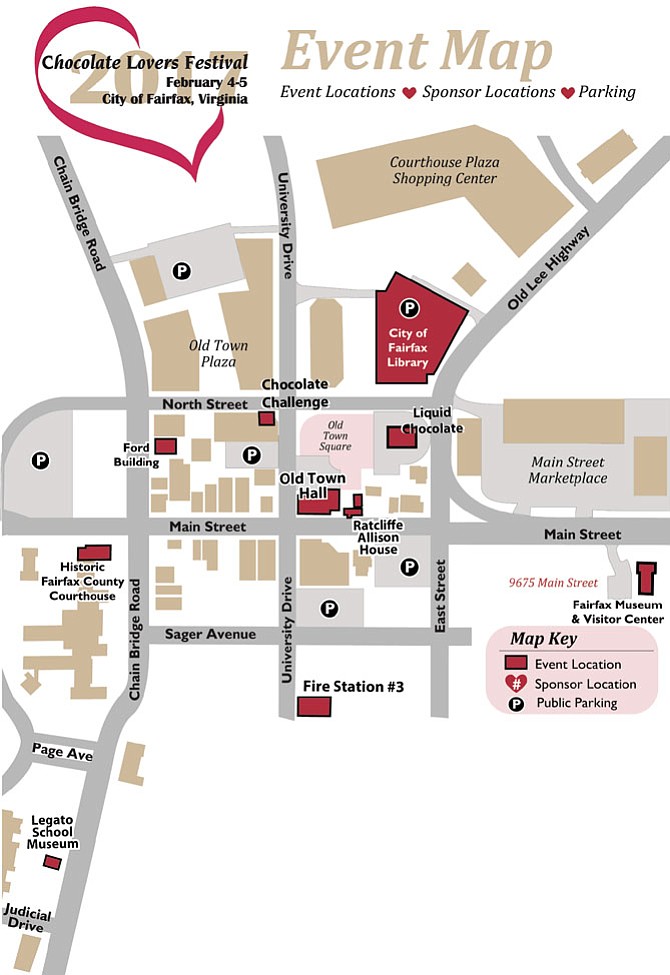 Fairfax County — A quarter of a century is a long time; but there's no expiration date on people's love of chocolate. So it's no surprise that the City of Fairfax is about to hold its 25th annual Chocolate Lovers Festival.
This delicious, always fun event is set for Saturday, Feb. 4, from 10 a.m. - 5 p.m., and Sunday, Feb. 5, from noon - 4 p.m. And it will feature chocolate in pretty much every form imaginable – and not just cupcakes, candy, cookies, cakes, ice cream and fudge, but chocolate-chip pancakes and exotic alcoholic beverages flavored with chocolate.
"If you love chocolate, then Fairfax is the place to be during the Chocolate Lovers Festival," said City Mayor Steve Stombres. "The festival is a fun experience for the whole family and a great way to discover Fairfax."
"I've been a Chocolate Lovers volunteer for many years, and I love welcoming guests to the City of Fairfax at Old Town Hall, experiencing the excitement of the crowd, and seeing the chocolate-covered faces of so many children after eating a delicious treat," he continued. "Every year we have a great turnout for this signature event, so I invite everyone to come out and enjoy a fun-filled day of chocolate with friends and neighbors from around the region."
The festivities include the Taste of Chocolate, where attendees purchase samples of mouthwatering, chocolate treats from two floors of vendors in Old Town Hall. Another highlight is the Chocolate Challenge, in which both professionals and home cooks vie to see who can make the most beautiful and creative chocolate sculptures, cakes and cupcakes.
Throughout the festival, children and adults will enjoy a full slate of activities. There'll be musical performances, fairytales, magic, juggling, face-painting, a cake walk, fire-safety puppet show, Chocolate Caper mock trial, cupcake-decorating and open houses in historic buildings.
All venues are handicap-accessible, and the Chocolate Express will provide free, fully accessible shuttle service between event locations. It'll run Feb. 4, from 9:30 a.m. - 5:30 p.m., and Feb. 5, from 11:45 a.m. - 4:30 p.m. Only certified service animals are allowed inside any event site.
Liquid Chocolate and Pancakes
This year's chocolate fun will kick off Friday, Feb. 3, from 6-8 p.m., with a new event – Liquid Chocolate featuring a variety of chocolate libations. It'll be held inside a heated tent on Old Town Square's upper parking lot, 3999 University Drive. And because it's such a fun idea, it'll return on Saturday, Feb. 4, from 3-7 p.m.
There'll be beverages for all ages, ranging from chocolate soda, hot chocolate and milkshakes for children to chocolate wines, chocolate beers and dessert wine pairings for adults. Admission is free; alcohol tastings are $2 each, nonalcoholic tastings, $1 each. Participating businesses include The Wine House, Adroit Theory Brewing, Freddy's Steakburgers, Adventure Brewing and Twins Ace Hardware.
And as always, the Saturday festivities will begin with the Kiwanis Club of Fairfax Pancake Breakfast. From 8 a.m.-1 p.m., enjoy regular or chocolate-chip pancakes, sausage, coffee, juice and milk, at Fire Station 3, at 4081 University Drive. Cost is $8, adults; $4, children ages 4-10. Children 3 and under eat free with a paying adult (limit two children per adult). Face-painting will be available for $2/child.
Taste of Chocolate
The festival's centerpiece, the Taste of Chocolate, will be held Feb. 4, from 10 a.m. - 5 p.m., and Feb. 5, from noon - 4 p.m. in Old Town Hall, 3999 University Drive (corner of Main Street and University Drive). Strollers may be left on the front porch; a fully accessible entrance is at the door on Main Street.
Admission is free; visitors buy pogs for $1 each and then browse vendors' tables to see the wide array of chocolate treats being offered. They purchase them with pogs and may buy as many pogs as they want from roaming volunteers in red aprons.
Paradise for chocolate lovers, the variety of goodies includes chocolate candies, bars, brownies, cakes and fudge, chocolate-covered strawberries and ice cream. And one of the biggest hits each year are the chocolate fountains into which customers may dip fruit, cream-filled doughnut holes or marshmallows.
Among the vendors will be: C & D Sweets, CakeLove, Cakes by Shelby, Cameron's Coffee & Chocolates, The Capital Candy Jar, Capitol Chocolate Fountains; The Chocolatier's Palette, Chocotenago, Confection Connection, Dave's Candy Kitchen, HB&M Chocolate, Le Papiyon Chocolatier, Mike's Fudge, Salazon Chocolate Co., Sugar Mama's Ice Cream and Virginia Chocolate Co.
Chocolate Challenge, Cake Walks
The Chocolate Challenge is a display of creative and imaginative chocolate sculptures, cakes and cupcakes. It runs Feb. 4, from 10 a.m. - 5 p.m., and Feb. 5, from noon - 4 p.m. But this year, it's in a new location at 10427 North St., in the former Pacers site at the corner of North and University. Admission is $1/adult; children under 18 are free. A designated stroller-parking area is outside the building.
Both professionals and amateurs participate, and judges and visitors judge them in various categories. Visitors may use their admission ticket to vote for the People's Choice Award winner and participate in the silent auction of challenge entries, plus items from local businesses.
In addition, cake walks will be going on throughout the day, Saturday and Sunday, in Old Town Square. Participants will have the chance to win cakes.
Grant Recipient
Each year, the Chocolate Lovers Festival Committee chooses a charitable organization to receive part of the festival proceeds. This year's recipient is Every1 Can Work, a local nonprofit providing permanent employment opportunities for young adults with developmental and intellectual disabilities.

In the City of Fairfax, it's better known as Cameron's Coffee & Chocolates, which opened Oct. 1, 2013, in Fairfax Circle. Then, it hired three workers with intellectual disabilities; today, it employs 14 trained not only in work skills, but in life and social skills, too.
They help prepare from scratch and then bake fresh muffins and cookies daily. And using Callebaut Belgian chocolate, they hand-dip a wide assortment of caramels, truffles, toffee and more. Cameron's is open for breakfast, lunch, coffee or a chocolate delicacy. And Sundays, from 8-10 a.m., they host Cars and Coffee, during which people display their cars, share stories and spend time together.
Cookbooks, Valentines
Chocolate Lovers Festival Cookbooks ($10) may be purchased at both the pancake breakfast and the Taste of Chocolate.
The official, 2017 festival valentine features Woody's Ice Cream. Drawn by local artist Jackie Liedl, these limited-edition valentine's cost $5. Each includes a coupon for five, $1 pogs to use at the Taste of Chocolate. Buy valentines at City Hall, 10455 Armstrong St., room 123; Fairfax Museum and Visitor Center, 10209 Main St. or from any member of the Independence Day Celebration Committee. Or find them during a scavenger hunt at downtown businesses.