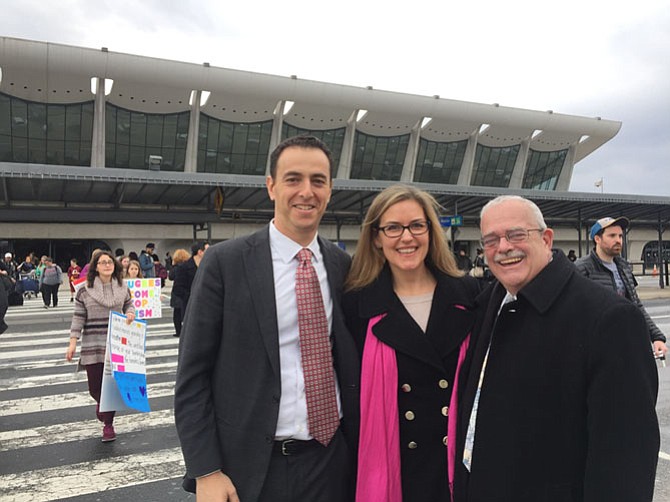 Virginia — Del. Marcus Simon (D-53) brought his two children, 13 and 11, to Dulles International Airport Jan. 28, not to fly, but to witness and learn.
Demonstrations sprang up at airports around the United States over the weekend, following an Executive Order by President Donald Trump that blocks travelers from seven largely Muslim countries — Iraq, Iran, Syria, Yemen, Sudan, Libya and Somalia — in the interests of more significant vetting and preventing would-be terrorists from entering the country.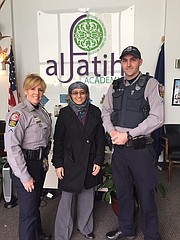 Simon's wasn't the only family in attendance. Many had brought their children to the demonstration.
"You show them this is what you do, how you protest, be patriotic," Simon said, "when the government does something you don't agree with. You expose them to something positive."
THE BAN was announced Friday and officials at airports began enforcing it immediately. Travelers from the seven countries are blocked from entering the U.S. for 90 days, and new refugee admissions from the same nations blocked for 120 days. Syrian refugees are blocked indefinitely, according to the ban.
Some individuals who hold valid visas were impacted by the ban, and others with legal status and green cards have been detained at airports. A federal judge in Brooklyn passed a ruling over the weekend that blocked part of Trump's action, and Judge Leonie M. Brinkema of the U.S. District Court for the Eastern District of Virginia issued a temporary restraining order Saturday night specifically for those detained at Dulles.
Brinkema ordered airport authorities to grant lawyers access to detainees who are permanent legal residents, and that permanent residents not be removed for seven days.
Simon was at Dulles Saturday and Sunday, as well as state Sen. Jennifer Wexton (D-33), U.S. Rep. Don Beyer (D-8) and U.S. Rep. Gerry Connolly (D-11), asking that some of the more than 20 lawyers present be given that opportunity to meet with the detainees.
The scenes were intense and a little chaotic, Simon said, but the demonstrators were nonviolent and positive.
"I was just amazed at the number of people, the energy, the spirit, the spontaneity," said Simon. "In some ways, it was heartening, to see so many Northern Virginians reacting to [the ban]."
Gov. Terry McAuliffe appeared and spoke at the airport Saturday. U.S. Sen. Tim Kaine (D) visited the ongoing demonstration Monday afternoon.
Connolly was able to get one pair of detainees released Saturday evening with the help of immigration attorneys: Fairfax County resident and green card holder Ahmed Mohedian, 71, who had been held with his wife after returning from Iran. He was in that country receiving medical treatment, Connolly's office said.
"America has always stood for being a beacon of hope," Connolly said in a statement reacting to the ban. "Donald Trump would paint over Emma Lazarus's words on the Statue of Liberty. There are millions of us willing to stand with immigrants coming into our country. There are millions of us willing to insist that America's doors remain open to those fleeing injury, violence or persecution. This order was not thought through and must be rescinded. We will fight this illegal Executive Order."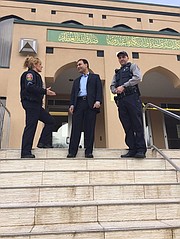 Simon said airport security officials and border control told them they weren't allowed to say anything. One of the concerns, he said the legislators had heard, was that individuals arriving from the ban-affected countries were being met once they got off the plane and asked to sign a document that essentially forfeited their green card.
"If that's what's going to happen," Simon said, "it shouldn't be."
If he had just landed in a foreign country and was met by men with guns when getting off the plane, said Simon, "I'd sign anything that was stuck in front of me." That's why it was important for the lawyers to meet with these people and explain their rights to them, he added.
Another issue Simon raised was the apparent lack of information and clarity on the details of the ban — airport officials seemed unprepared for enforcing it.
"The rank and file employees, they were stuck between a rock and a hard place, a really difficult position," Simon said. Typically with a ban like this, he continued, "you'd expect there to be some more coordination with agencies, planning, and information."
In the press conference Saturday, Beyer referenced his Freedom of Religion Act he introduced in 2016, which stated that no one would be denied entry to the United States based on their religion.
"It's so ironic that President Trump came out and said that we're going to give special preference to Christians who are refugees because so many of them are being killed," Beyer said. "Well I'm a Christian, but I respect that there are many more Muslims being killed right now, many more who are refugees."
IN A STATEMENT released through her Twitter account on Jan. 29, U.S. Rep. Barbara Comstock (R-10) said she supports increased vetting based on national security concerns. However, Comstock said she has consistently asserted: "I don't believe it is constitutional to ban people from our country on the basis of religion."
"The President's Executive Order issued yesterday went beyond the increased vetting actions that Congress has supported on a bipartisan basis and inexplicably applied to green card holders," Comstock continued, "people who are legally within our country who have followed the rules."
Other Local leaders Weigh In
On her Facebook page Monday, Fairfax County Board of Supervisors chairman Sharon Bulova said:
"The Executive Order issued on Friday is offensive and counter to what defines this country. We are a nation of immigrants committed to religious freedom. I am committed to keeping Fairfax County a safe and welcoming place. When I was sworn in as chairman, I swore to support the Constitution. I believe this ban on travel is unconstitutional and I urge the judiciary to continue to exercise its role in preventing further damage to our country's values and our reputation around the world."
U.S. Sen. Mark R. Warner (D), released a statement Friday, the same day as the Executive Order was announced. Warner is vice chairman of the Senate Select Committee on Intelligence:
"The Trump Administration Executive Order that indefinitely suspends the Syrian refugee program and pauses visas from Muslim countries runs counter to our American values. While I have always been open to a pause on our refugee program to ensure appropriate time for intelligence and law enforcement experts to ensure we protect our national security, these actions by the President presume the solution before the review is complete. It is a policy targeting Muslims that national security experts have testified would harm, not help, our national security interests. I join the interfaith community in Virginia and around the country in objecting to these moves, and I will work in Congress to block an effort which trades dubious increases in U.S. security for certain alienation of partners with whom we must cooperate to address terrorism."
The Most Reverend Michael F. Burbidge, Bishop of Arlington, released a statement as well, expressing solidarity with refugees:
"In his statement on the Executive Order halting refugee admissions, Bishop Joe Vasquez, chair of the Committee of Migration and Bishop of the Diocese of Austin, highlighted our nation's long and proud tradition of welcoming newcomers and refugees in a humane manner, even as we have pursued a strong vetting system to ensure our safety and security. Together with Bishop Vasquez and my brother bishops, I encourage Catholics to contact our elected officials to make our voices heard: Our communities have been and will continue to be hospitable to refugees, in keeping with our legacy of welcoming the stranger. Together, we also pray for comprehensive immigration reform and for peace, safety and harmony within our nation and throughout the world."
The full text of the Jan. 27 Executive Order is available online here:
https://www.whitehouse.gov/the-press-office/2017/01/27/executive-order-protecting-nation-foreign-terrorist-entry-united-states.