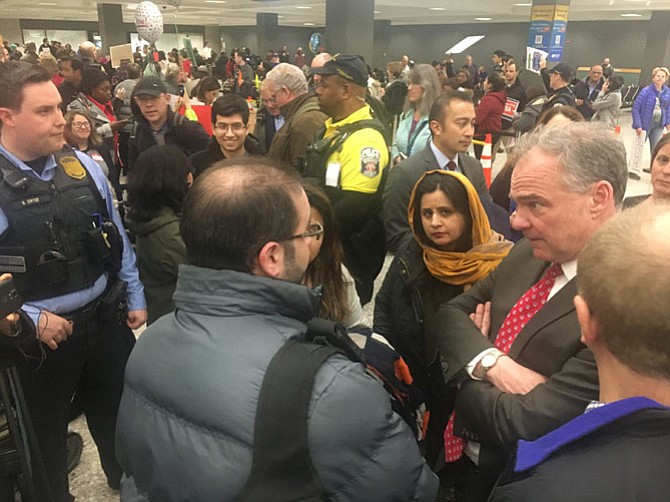 Virginia — There is so much going on this week:
Locally, the effects of a travel ban at odds with American values played out at Dulles International Airport, but stimulated a heartening response, with volunteer attorneys offering help, local, state and federal elected officials demanding accountability and peaceful demonstrators protesting the un-American assault on travel from particular Muslim-majority countries.
"I was just amazed at the number of people, the energy, the spirit, the spontaneity," said Del. Marcus Simon, who used FaceBook Live to share the scene over several days. "In some ways, it was heartening, to see so many Northern Virginians reacting."
See reporter Tim Peterson's story in this paper.
CROSSOVER is Feb. 7; that's when only bills that have passed either the House of Delegates or the Virginia Senate can move forward.
As this date approaches, the General Assembly has a serious transparency issue, as it continues to kill most proposed legislation with unrecorded voice votes in subcommittee, with no accountability or record of how members voted.
This was raised to new heights earlier this week, when a House of Delegates subcommittee killed proposed constitutional amendments including non-partisan redistricting and restoring voting rights of felons, along with more than 20 proposed amendments, in a single vote.
John Horejsi of Vienna, who heads the organization Social Action Linking Together, notes that his organization is unable to track what happens to legislation they support. This headline, which ran last week on www.roanoke.com, says it all: "Bill to require recorded votes dies on an unrecorded vote, again."
State Sen. Creigh Deeds continues important work on mental health reform, citing three priorities this year, requiring most of Community Services Boards around the state to provide same-day service and certain outpatient services; to assess and provide care for inmates who have mental health needs; and long-term supportive housing to help avoid repeated mental health crises.
About 200,000 people in Virginia have had their motor vehicle licenses suspended for a legal infraction that has nothing to do with a driving offense. And 650,000 people in Virginia have a suspended license for failing to pay court costs. This is an obstacle to holding a job and being able to meet other obligations, and legislation to stop this counter-productive practice is still alive in the Virginia Senate.
The sale of high-proof grain alcohol in Virginia Alcoholic Beverage Control stores passed the House of Delegates earlier in the session, and is just foolish.
EFFORTS by state Sen. Adam P. Ebbin and others, supporting repeal of the Virginia constitutional amendment approved by voters in 2006 forbidding gay marriage should move forward. The 2006 amendment is no longer valid because the U.S. Supreme Court in 2015 legalized same-sex marriage.
State Sen. Chap Petersen introduced a doomed bill to ban contributions from public utilities. "Monopolies like Dominion or Appalachian Power have an undue influence on the political process. That leads to legislation which has a direct cost to Virginia consumers, both residents and small businesses," Petersen said.
It looks like the felony threshold will increase to $500 from $200, an important distinction championed by Petersen and state Sen. Scott Surovell.
While the constitutional amendment to address voting rights for felons who have served their sentences died in the above action, Gov. Terry McAuliffe should be commended for restoring the civic rights of more than 128,000 Virginians, and his plans to restore rights for any remaining Virginia citizens who lost their rights. This has been a laborious and worthy process, adapted as needed to meet legal challenges and court rulings.
– Mary Kimm, mkimm@connectionnewspapers.com
Submit Photos to Pet Connection
The Pet Connection, a twice-yearly special edition, will publish the last week of February, and photos and stories of your pets with you and your family should be submitted by Feb. 15.
Please tell us a little bit about your creature, identify everyone in the photo, give a brief description what is happening in the photo, and include address and phone number (we will not publish your address or phone number, just your town name).
Email to editors@connectionnewspapers.com or submit online at www.connectionnewspapers.com/pets.
For advertising information, email sales@connectionnewspapers.com or call 703-778-9431.