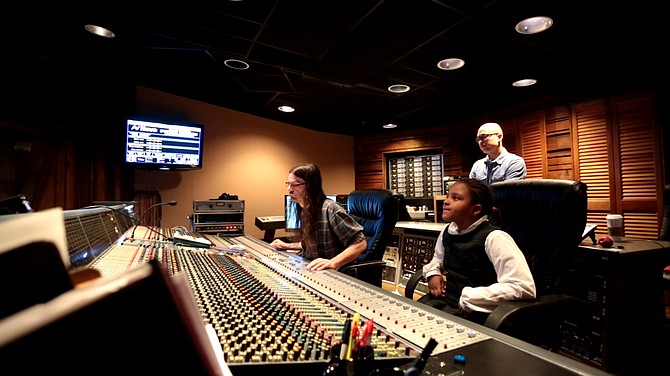 Sosi Audain, an eight-year-old, rising fourth-grader at Stone Ridge School of the Sacred Heart in Bethesda, has not only co-produced a full-length studio album, but she has created a new family role for herself, "stage daughter."
On June 1, Sosi released an album entitled "Sosi's Daddy," a recording of her father's vocals and piano playing of jazz and contemporary standards.
"Producing an album with my daddy was a great experience" said Sosi. "I am glad that I convinced him to do it."
Sosi's father, Dr. Linz Audain, 57, of Potomac, is a classically trained vocalist, self-taught pianist, composer and arranger. He spent much of his youth and early adulthood writing and performing music to support himself.
Since those days as piano lounge singer, Audain has earned a Ph.D. in economics from Duke University, a J.D. from the University of Chicago, a M.D. from Howard University, and is currently working as a hospitalist physician at a local medical center.
Recording a studio album was not something Audain had on his agenda. His daughter, Sosi, had a different plan.
For the past two years, Sosi has been participating in an after-school music production class at Stone Ridge, sponsored by Mix Major. According to its website, Mix Major is a music-making education program that teaches youths, grades K-12, how to make the music they listen to and love.
"From the very start, Sosi was more engaged and focused than the other students," said Mix Major founder Eric Jao in a telephone interview. "She picked things up very quickly, without being told what to do."
In the first year of the after-school program, Sosi improvised the melody that the class ultimately used to compose an entire song, music and lyrics, recalled Jao.
However, it was in the following year, when Jao started teaching the children about using production equipment, sound, and mixing, that Sosi's talent really began to shine.
When Sosi learned how to mix the different elements of a song with an equalizer and mixing equipment to produce a whole track, she started thinking about getting her father involved, Audain remembered.
"When Sosi approached me about the project, I tried to discourage her but was unsuccessful in doing so," said Audain. "I had no choice but to help her. But, I hadn't done anything serious in music in over 30 years."
She wanted to record and mix tracks of her father singing and playing the piano. She also expressed an interest to shoot a video to go with it.
"One of her interests for the past couple of years was to create a YouTube channel and become an Internet artist," said Audain.
Sosi's father spoke to Jao about the possibility of making a recording and a video in his studio. The music instructor loved the idea.
"She's (Sosi) very young, but I can see the creative music talent already," said Jao. "I'm hoping to get more time to work with her in the future."
Jao suggested using Havar Espedal, 42, of Falls Church and his company Princeps Studio to shoot the video.
"It was interesting and very fun to shoot the video and see Sosi learning the process," said Espedal. "It made me very happy to see her so excited to be there working with her father."
Videos of Linz and Sosi Audain have been posted to Sosi's Channel on YouTube.com.
The album, "Sosi's Daddy" is available for purchase on cdbaby.com. A portion of the proceeds from the sale of the album will go to the Stone Ridge School of the Sacred Heart.
"We give birth to our children, but, if we are as fortunate as I was with Sosi, sometimes they give rebirth to us," said Audain of his budding music producer daughter. "I hope everyone enjoys the album."