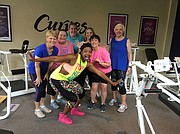 Laz Balazs and Anna Lanier, owners of the new Fort Hunt Massage and Spa, pointed out the distinction between a masseuse and a massage therapist as they explained the ins and outs of their new business. Balazs and Lanier are professional massage therapists, not masseuses who are sometimes associated with prostitution-like businesses.
Formerly, they worked together as massage therapists for a different business in Fort Hunt until that business moved to a new location. Balazs and Lanier returned to Fort Hunt and started their own business when they realized that the quiet, tree-filled Hollin Hall area was a better fit for their craft and their clients. Peaceful surroundings make for a more stress-free atmosphere, and a better massage, they said.
"We love this neighborhood, we love the people here," Lanier said.
Their clients come from all over – Mount Vernon, Arlington, Stafford, even Maryland – and vary widely in age. High school students, teachers, athletes, and retirees all come for the same therapeutic treatment.
Balazs and Lanier have different backgrounds in massage therapy, but they have the same goal in mind – healing. Lanier uses Eastern and Western Techniques with the intention of relieving stress on the mind and the body. Balazs comes from a medical background and spent a number of years working with a chiropractor. He is fascinated with anatomy and works with chronic conditions.
"We complement each other," Balazs said about his and Lanier's techniques.
Massage facilitates blood circulation and loosens muscles. Massage can also correct posture, and relieve stress. Through massage techniques, ailing muscles can relearn basic movements. Especially in the case of chronic conditions, massage can relieve pain in ways that medicine cannot, he said.
According to Balazs, taking medication to relieve pain does not always get at the root of the problem. Massage techniques, such as manipulating soft tissue, may be more effective in the long run.
Balazs and Lanier hope to assist local residents in living a full life. "This community is very active," Lanier said. She said that some runners, bikers, and swimmers in the area are impeded by injuries, but they move more freely after massages.
Regarding other health-related businesses in the Hollin Hall Shopping Center, Balazs and Lanier believe that massage is very complementary. They encourage customers to work out and exercise at places like Curves and Fort Hunt Pilates. If health activities were a meal, a customer would want the main course, and the dessert. "When everything comes together, that's the full plate," Balazs said.
Curves, also in Hollin Hall Shopping Center, is one of those businesses that Balazs has in mind. Curves is a fitness franchise specifically tailored for women. Its essence is an efficient 30-minute workout that exercises many different parts of the body. Women can use machines on the Circuit, a circle of exercise machines, and they can take a variety of classes at different levels of intensity. An electronic coaching system monitors progress.
This particular Curves is jointly owned by nine local members. Formerly located in Belle View, Curves had been in danger of closing because the previous owner's interests lay elsewhere. These members negotiated ownership, and in February 2016 Curves re-opened in Hollin Hall Shopping Center. The core of the membership is in Fort Hunt, so the move to Hollin Hall Shopping Center did not uproot members.
"There is a supportive community here," said Cheryl Ellsworth, one of the owners. She also said there is a sense of safety knowing that the women with whom you exercise are your neighbors.
To this point, Liz Tipton, manager of the Fort Hunt Curves, says that the most important aspect of the Curves fitness experience is that the women support each other. Both Ellsworth and Tipton expressed an admiration for Curves because it fosters a special relationship among members.
"They help each other through things, share recipes and recommendations," Ellsworth said.
Curves takes a holistic approach to wellness. Monthly coaching check-ins focus on individual member's goals, healthy lifestyle habits, and factors that motivate them. Coaches make members feel welcomed and supported as they advance the larger goal of improving a member's quality of life.
The Fort Hunt Curves is also interested in giving back to the community through partnering with local charitable organizations. Good Shepherd Housing and Rising Hope Mission Church are just two organizations to which Curves members donate food and supplies. "Five months out of the year we're doing something to raise awareness for other organizations," Ellsworth said.
Curves is beginning to explore collaborations with local businesses that are similarly interested in women's health. Like the owners of Fort Hunt Massage and Spa, the owners of Curves hope their business gives clients a chance to do something for themselves that is a step toward a health-minded lifestyle.
Aizhan Patten started Fort Hunt Pilates three years ago when driving to Old Town for a pilates class became too tedious. There weren't any pilates studios nearby, so she started her own.
According to Patten, pilates improves alignment, tightens form, and helps the body find balance. In Fort Hunt Pilates classes, clients use the "Reformer," a spring-loaded piece of equipment on which they do resistance-based exercises. In this way, pilates can be as hard or as gentle as a client desires.
Patten differentiates pilates from exercises like running on a treadmill because pilates has a mental component. "You always have to think about what you're doing, and from what body part the movement originates," she said, "It helps you sharpen your focus."
Pilates can be valuable to athletes in preventing injuries, she said. Many injuries are the result of misalignment and overuse. Pilates seeks to correct wrong alignment and strengthen core muscles — good alignment and a strong core make injuries less likely.
Like the other two local businesses, Fort Hunt Pilates is a place where friends come together to support each other. "We're all neighbors," Patten said. She believes that when exercising with people you like, the exercise is made all the better. Also, like Curves and Fort Hunt Massage and Spa, Fort Hunt Pilates is concerned with encouraging an active and health-minded community.