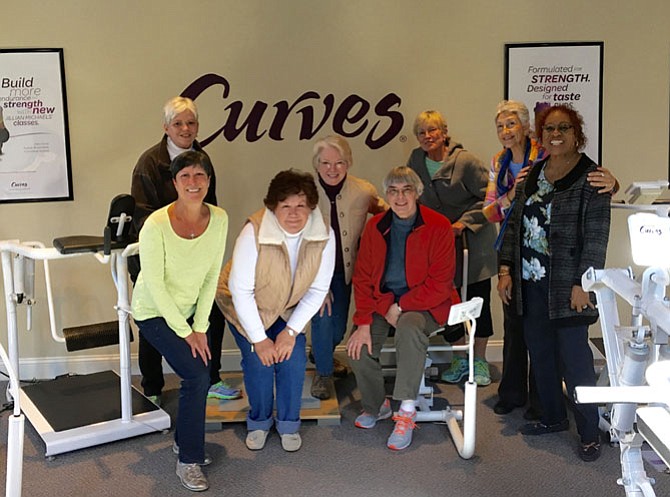 Curves, an international health and fitness franchise, has been in Alexandria for more than a decade. Until April of this year, the Alexandria Curves hosted its variety of 30-minute workouts and weight management programs from the Belle View Shopping Center. However, in the wake of the original owner's plan to sell or close down the club, a group of nine of its members banded together to buy the franchise. Last month, that Curves re-opened less than three miles away from its original location, in the Hollin Hall Shopping Center off Fort Hunt Road.
"As we transition to a member-owned women's fitness club, we moved to the Hollin Hall Shopping Center to take advantage of the stable, community-oriented environment they provide," said Cheryl Ellsworth, the president of Hollin Hall Curves. "This is very much in keeping with our club philosophy. We love our fresh and inviting new space that has plenty of sunlight, ample parking, and all the amenities of the Hollin Hall Shopping Center."
Vice President Eileen Kent said the new space symbolizes the new, fresh outlook of this beloved Alexandria Curves.
"With the new structure, we felt as if we needed to have a fresh start in a new environment," Kent said. "We found that the Hollin Hall location was perfect for our new start and our needs. Everyone loves the new space. It is bright, inviting and is located in a community that has been very gracious in welcoming us to the area."
Since 1992, Curves franchises around the world have been helping women seeking healthier lives with more time-efficient workouts and by building communities of women. The Hollin Hall Curves is one example of such a committed community. Where a relocation and major transition may hinder a lot of organizations, the membership of this one has remained mostly intact and stronger than ever.
"We have approximately 225 members and are delighted that virtually all of our members have made the short trip from the old club at Belle View to the new location at Hollin Hall," Ellsworth said.
On April 23, the new owners hosted a grand opening of the revamped Curves. Everyone was welcome, from existing members to Curves' new neighbors. The afternoon event included healthy snacks, prizes and camaraderie.
"The grand reopening was a total blast. We had about 65 or so people stop by," Kent said. "Many were members, but we were very happy to see potential new members come in to see what Curves is all about. We put flyers in many of the other Hollin Hall shops and we hope that piqued some interest. We provided healthy snacks (cheese and fruit), beverages and raffled off prizes. It was interesting to see members in real clothes, as opposed to workout outfits."
Kent said that there will be promotions throughout the year, encouraging fresh faces to sign up as members. As growth continues, she added that the nine owners of Hollin Hall's newest addition have one simple goal in mind for the club: to remain dedicated to the continued and improved health of its members.
"Our goal is to grow our club and continue to provide a proven exercise program that is specifically for women," she said. "We want to encourage our members to maintain a healthy lifestyle and become as physically fit as possible."
Both Ellsworth and Kent encourage local women to look into Curves membership. It offers a full spectrum of classes and programs.
"We will be providing the same excellent 30-minute circuit workout, along with our weight management program, Jillian Michael's workouts, Zumba, and classes concentrating on 'body basics' — legs, core, arms and body balance," Kent said.
Ellsworth said all of the owners are grateful for the welcome it has received from Hollin Hall, as the neighborhood has made the move as seamless as possible.
"We want to thank the Hollin Hall community for the warm welcome that they have extended to us," Ellsworth said.
For any woman interested in Curves membership at Hollin Hall, please visit the club online at https://www.facebook.com/HollinHallCurves/ or call 703- 721-2044. The fitness center is open every day from 7:30 a.m. through 8 p.m., with a two-hour closing every afternoon for lunch between 12:30 and 2:30 p.m.