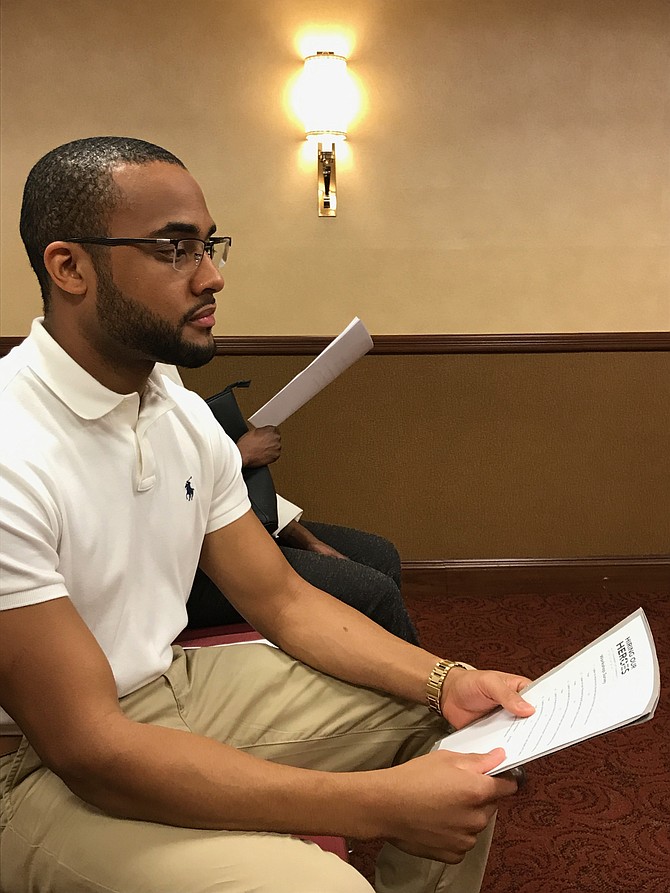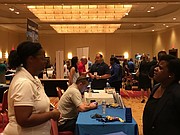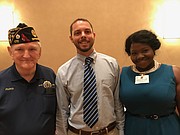 Hiring Our Heroes — The United States Chamber of Commerce Foundation and The American Legion Department of Virginia State Convention conducted a Military Hiring Event on Thursday, July 13 at the Hilton Washington Dulles Airport Hotel in Herndon. Fifty top-tier local and national employers and service organizations participated in the daylong event. Jobs opportunities were available to transitioning service members, veterans, and military spouses.

Dave Wallace, Media and Communications Chair, Dyer-Gunnel Post 180, The American Legion Department of Virginia said, "This hiring event is the first of its kind for the American Legion Department of Virginia. It's giving back to our veterans. It is an opportunity to show their skills sets to all these employers; a chance to prove how they will be an asset to the companies."
LEAVING THE MILITARY can be daunting for many, and seeking employment a new venture. Before the hiring fair began, Hiring Our Heroes, U.S. Chamber of Commerce Foundation offered attendees a unique employment workshop, one that concisely covered a variety of topics.
Cara Cooke, USAF Senior Manager, Hiring Our Heroes taught the seminar. Cooke focused the discussion on how best to create three essential personal branding tools: an effective resume, the 20-second elevator pitch, and a digital identity. Cooke acknowledged those in the military have grown accustomed to military jargon, but their resume must translate military experience into civilian language. Using tools on-hand, Cooke said job seekers could create a resume in 20 minutes, print it, and have it ready to distribute to potential employers upstairs.

Next, Cooke described how to build a personal brand statement, the brief 20-second elevator pitch. "State who you are, what your background is, and what you want. Ask what they can offer you, and stop. Stop. Let them talk," Cooke instructed. She reminded attendees that when they are talking to prospective employers: "Give eye contact and don't look at the ground. Talk to everybody. Contact is so important." Cooke added: "Today is your day. They see your value and want to hire you."

The third tool Cooke stressed was the importance of a professional digital identity. She discussed how to develop and grow a network using LinkedIn. "Each employer here has a LinkedIn account. They can reach back to you." Cooke recommended the job seekers take one of each prospective employer's business cards. She told them to write a note about their meeting, a reminder to themselves what they spoke about with the recruiter, on the back of each one's business card. "Then send a follow-up email to the people you met today," Cooke said. "Remind them who you are and ask them to review your resume." Cooke urged attendees, "Be persistent. Do not end your job search after the fair. Use the tools Hiring Our Heroes provides."

Bobbi Diviney is a Marine Veteran from Leesburg. After leaving the workshop, she prepared to enter the hiring fair. Asked what she had learned and what type of job she was looking for, Diviney said, "I didn't know about the Hiring Our Heroes job page [portal]. I'm currently a graduate student in Crime Analysis. This is my first Hiring Our Heroes Job Fair."

Marcus Bottelcher is District Manager for Fastenal, a Fortune 1000 company. He stood ready to greet prospective employees. Asked if he was hiring that day, Bottelcher said, "Ten to fifteen percent of the people we hire are veterans or National Guard. Their skill set fits our mindset. I'm out to hire today. Take cards. Any good candidates, I'll send appointments. Fairs like this help the Veterans. When their names show up in the system, they stand out because I've already met them."

According to Dave Wallace, Media and Communications Chair, Dyer-Gynnell Post 180, The American Legion, 235 job seekers had registered for the job fair by early afternoon with 50 participating employers and service organizations present.
FOR MORE INFORMATION about Hiring Our Heroes, a program of the U.S. Chamber of Commerce Foundation to help veterans, transitioning service members and military spouses find meaningful employment opportunities, visit www.uschamberfoundation.org.