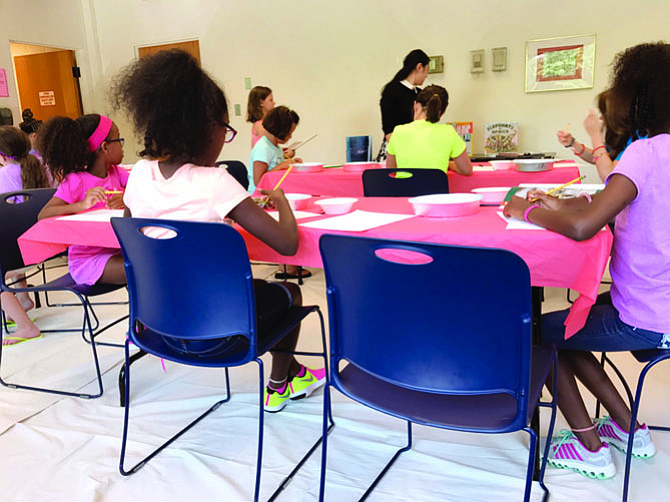 Lorton — A typical day at Lorton Library during the summer can involve anything from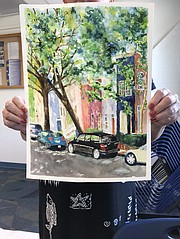 hosting a youth watercolor class for ages 9-16 to hosting "Jammin' Book Parties."
Sarah Peters of Centreville brought her 9-year-old son, Daniel, to a watercolor class held Monday, June 17 at the library.
"He loves art," Peters said. "His dad's an artist. He likes interesting ways of showing art. I took him to watercolor painting today because it's one of the things he hasn't tried doing yet."
At a young age Daniel could be found doing a lot of finger-painting and even painting on walls – which his mom then spent about $400 on repainting. For Daniel, who is homeschooled, attending fun and free interactive sessions like those held at Lorton Library are a great benefit for him and his mother.
From holding "Terrific Two to Fives" to Summer Reading Bingo for adults, to its National Night Out, the Lorton Library is a busy and thriving hub for all members of its community this sizzling summer.
EVENTS AND ONGOING BOOK CHALLENGES are offered to all age groups: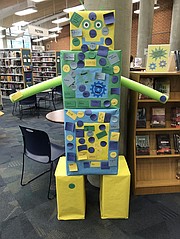 children, teens and adults. Melissa Kariger, who oversees Youth Services at the library, helped to start "STEAM Team" events this summer at the Lorton Library. STEAM refers to science, technology, engineering and mathematics field together with art.
STEAM Team events found at the library vary from "Splash into Science" where children attempt to build miniature water slides or "Spy Camp" where children go through a spy training program and solve the library mystery.
The library's "Terrific Two to Fives" and "Babies & Tots" programs going on during the summer have also shown to be successful ongoing events.
Held on various Wednesdays during the summer, "Terrific Two to Fives" allow kids from 2-5 to come in and sit down for an interactive storytime with books, songs and rhymes. Babies & Tots happens once a month for children ages 0 to 23 months.
"That one's really nice for young moms to come and bring their baby," said Lyn McKinney, branch manager at Lorton Library. "There's a little bit of singing and little bit of movement and a little bit of story reading and then one of the nice things for them is networking with other young moms."
Depending on what grade they will be entering in fall, children and teens are challenged to read a certain number of books during the summer and win a coupon booklet in return after completing. To fit the library's theme of "building by design" the library also created Reggie the reading robot, a robot made of boxes and cardboard who stands in the main area in the library.

"When kids are done with their reading logs and turn them in and get their coupon book, they also have an opportunity to create a gear or a gadget for Reggie and then tape it onto Reggie," said McKinney. "So he's growing through their reading too."
Adults also have a reading challenge at Lorton Library: Summer Reading Bingo.
"We're just asking adults to read any five books from any of the spaces – they don't have to be in a bingo row," said McKinney. "Then we're putting their names and our Friends of the Lorton Library have donated three $25 gift cards to Amazon that we'll be giving away at the end of the summer."
ON AUG. 1, Lorton Library, in conjunction with the Lorton Community Action Center (LCAC) and South County Cares will also be holding a "National Night Out" where community members can become acquainted with their local safety personnel. The event, which will have a face painter and other children's activities, will start at 6 p.m. and ends at 7:30 p.m.
McKinney, who worked as a school librarian for 21 years in Montana, recently moved to Fairfax County and started working at the Lorton Library not too long ago.
"What's really been fun for me is getting to know the children and families in the area," said McKinney. "Since I'm new to the area, one of the best things about working in a public library is meeting people and helping them with their questions and interests that they have."