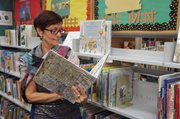 The Fairfax County "Dig Into Reading" Summer Reading Program is currently in full swing at Lorton Library, where many children and young adults' names hang on the wall indicating that they have met their reading log goal and received their coveted coupon book. The program began on June 18 and will run through the summer, challenging preschool through 12th grade students to read or surpass a set amount of books before the beginning of the school year and receive a coupon book filled with free and discounted offers. A diverse array of special events are also offered for all ages at Fairfax County Libraries during the summer and are in high demand according to Lorton Library's branch manager, Gari Piehal.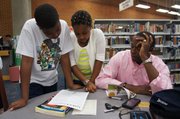 Children, teens and their families can be seen in swarms post-workday, signing up for the program and carting books away to add to their summer reading logs. Piehal says the elementary age children are "crazy about" the Lego series and graphic novels are very popular now for teens and young adults. Since the program started just a couple weeks ago, Piehal says there are fewer and fewer books on the shelves day by day, most likely due to this popular program. Laura Bumgarner, the circulation manager at Lorton Library, says she has noticed that all series books seem to be popular, including the Star Wars series and Dora Series, and the "New Book" area also sees a lot of traffic.
Joshua and Daria, a seventh and sixth grade brother and sister pair, were found scouting for books of a series on Monday evening, July 1, including Daria's favorite "The Series of Unfortunate Events" and Joshua's favorite the "Star Wars" series. Both were searching for books to read for an upcoming vacation and were planning on reading well beyond the eight-book goal of the Summer Reading Program. Their father Dwight signs them up every year in order to exercise and maintain their advanced reading levels they hold during the school year.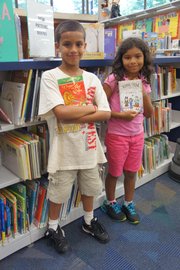 Siblings Victor and Alenette are both early elementary school students and are also working on their summer reading logs. Victor is excited about reading the "Magic Tree House" series and Alenette loved reading a book from the "Katie Kazoo" series by Nancy Krulik.
While series are very popular at the Lorton Library this summer, so are the events that sponsors will put on throughout the summer. Piehal lists the variety of teen events that were added to the list this summer and thinks they will be "a great addition" to these high demand programs. A full list and calendar of events and the opportunity to sign up can be found at www.fairfaxcounty.gov/library.