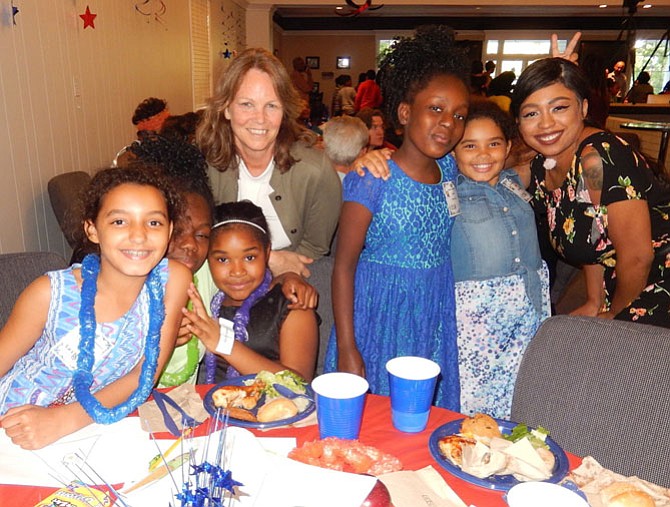 "That's why I work with FACETS. I wanted to give back to this country, and it makes me feel great that I can have an impact." — Alaha Ahrar, FACETS community development advocate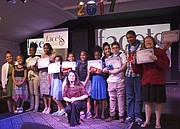 To inspire young people to stay focused on academics as a means to break the cycle of poverty, FACETS runs a year-'round, youth program in certain low-income areas where the average income for a family of four is about $18,000 a year. At Robinson Square in Fairfax, Ragan Oaks in Fair Oaks and Barros Circle in Centreville, staff and volunteers provide an array of educational, preventative and enrichment opportunities.
They offer one-on-one mentoring and tutoring, homework help, plus classes including literacy, art, computers, and substance-abuse and dating-violence prevention. And before school ended, they honored graduating seniors – plus more than 60 Honor Roll students who earned A's and B's on their report cards – with an Academic Achievement party at Centerpointe Church in Fair Oaks.
Students go to the FACETS center in Barros Circle every day after school, from 3:30-5 p.m.; and they sometimes stay an hour later in girls' or boys' groups to take field trips to, for example, Cox Farms or Lake Anna. The older girls also visited GMU and Nova.
"We offer educational programs, self-esteem building and both girls' and boys' empowerment programs so they know they're capable of success," said Alaha Ahrar, FACETS community development advocate at Barros Circle. "I teach them they're talented and smart, regardless of their age, gender, economic status or disabilities."
She also tells the boys that "They shouldn't take advantage of their physical strength, where women are concerned. We teach them to treat both men and women with respect. My aim is that there won't be domestic violence."
Ahrar advises young people to "know what you want to do, be dedicated and determined, and know that you can do it. I always tell them there's nothing impossible in the world – instead, they should read that word as 'I'm possible.' Dream of what you want to be, work for it and you'll get it."
She's been in the U.S. for seven years and is currently pursuing her Master's in Social Justice and Human Rights at GMU. And she shares her own experiences with the students at Barros Circle to inspire them. "I'm from Afghanistan and, at home, no one spoke English; but I had to learn it to get a scholarship," said Ahrar. "So I had to get the best grades and graduate with honors from high school to get it."
But that was just the beginning; then came college – where she continued to work hard and excel. She majored in Human Rights, Political Science and International Affairs and obtained a certificate in Middle Eastern Studies. Said Ahrar: "I was the first student at Mary Washington University to graduate in four years with a triple major and a certificate."
She speaks six languages, has recently become a U.S. citizen and hopes to eventually work for the federal government as a diplomatic liaison between the U.S. and Afghanistan. "That's why I work with FACETS," she said. "I wanted to give back to this country, and it makes me feel great that I can have an impact."
And 15-22 students each week love coming to Barros Circle. "After we do homework, we work on the computers or play outside," said Jazze Carter, a rising fifth-grader at London Towne Elementary. "And we made videos about how men and women are equal; it was fun to do."
Jayden Anderson, a rising sixth-grader at London Towne, also likes the field trips – especially ones to the Cub Run Rec Center pool. At Barros Circle, said Imani Lyles, a rising fourth-grader at Centreville Elementary, "They help you with your homework and you get to do fun activities and play games in the computer lab. And I get to hang out with my friends."
Pleased to host the Academic Achievement party, the Rev. Brandon Horst, Centerpointe's pastor, told the students there to look around at all the adults present. "These people care about you and want you to succeed," he said. "But they can't make you [do it]. You have to decide not to let things around you determine what happens to you. You have to choose to succeed."
About 150 people attended the event – students, parents, FACETS staff and community partners, such as the Neighborhood and Community Service Unit, which helps nonprofit FACETS obtain grants. Also there was another partner, Fairfax County Housing and Development, which provides the spaces for the centers.
"They're places to go after school," said FACETS Executive Director Joe Fay. "They're staffed, safe places where students work with caring adults, plus volunteer mentors, who get to know the kids over a long period of time. They're role models and coaches and, by their commitment, they show the importance of what they do."
"Tonight, we're celebrating academic achievement," he continued. "It sets the kids up for success and lets them know that what they've done is valuable and worth celebrating. And last year, all the graduating seniors in our programs went on to higher education afterward."