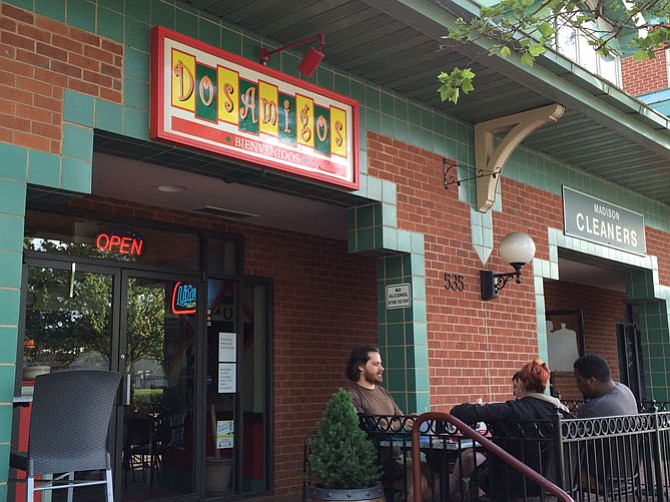 Alexandria — From traditional recipes to more adventurous concoctions, there's no shortage of tacos around the city. Why stick with your Old Faithful? Step out for something new.
Dos Amigos, 535 E. Braddock Road
The unassuming Mexican restaurant at the corner of Braddock Road and West Street, across from the Braddock Road Metro station, offers up a passel of great eats straight from the menu, but the tacos – in all their many forms – are true standouts.
Dos Amigos' taco selection is almost paralyzing in terms of the number of choices, but rest easy: There's not a bad one in the bunch. Hard-core meat-eater? The tacos alambre, complete with New York strip steak and all the fixings, might be right up your alley. Vegetarian? The veggie taco platter isn't anything to scoff at. Fish, shrimp, chicken and pork tacos also beckon in various forms, from fully loaded platters to more minimalist affairs.
Los Cuates, 1116 King St.
Los Cuates is a relative newcomer to Alexandria's Mexican-restaurant world, but it's making its mark in a hurry. Taking up residence in the old Tiffany Tavern smack-dab in the middle of King Street, it's got a host of taco options for any mood or whim.
From tacos al pastor, teeming with grilled pork loin, to tacos de pescado with its broiled tilapia, the options here are fresh and flavorful. Can't decide what to order? Los Cuates also sells its wares a la carte, so make a hybrid of the menu and go with flour, crispy corn, or soft corn shells and mix and match to your heart's content.
Taqueria Poblano, 2400-B Mount Vernon Ave.
Finally, no list of great tacos is complete without a visit from the venerable Taqueria Poblano on Del Ray's main drag. The Mexican restaurant with a Baja California vibe offers up a wonderful take on tacos that's sure to make diners sit up and take notice.
The first thing to note is that the taqueria's taco shells are quite different from many others around town. Their sometimes-lumpy, sometimes-wobbly shapes and thicker texture signify quite clearly that diners are dealing with a different beast here. Gone are the traditional shells and traditional fillings; in their place are plenty of flavorful mixes to tempt the palate. Among the selections: Adobo-seasoned pork and chile-kissed shredded beef tacos both add some spice along with protein; for its part, the vegetarian mix is one of the most outstanding meatless fillings anywhere in town.
Hope Nelson owns and operates the Kitchen Recessionista blog, located at www.kitchenrecessionista.com. Email her any time at hope@kitchenrecessionista.com.