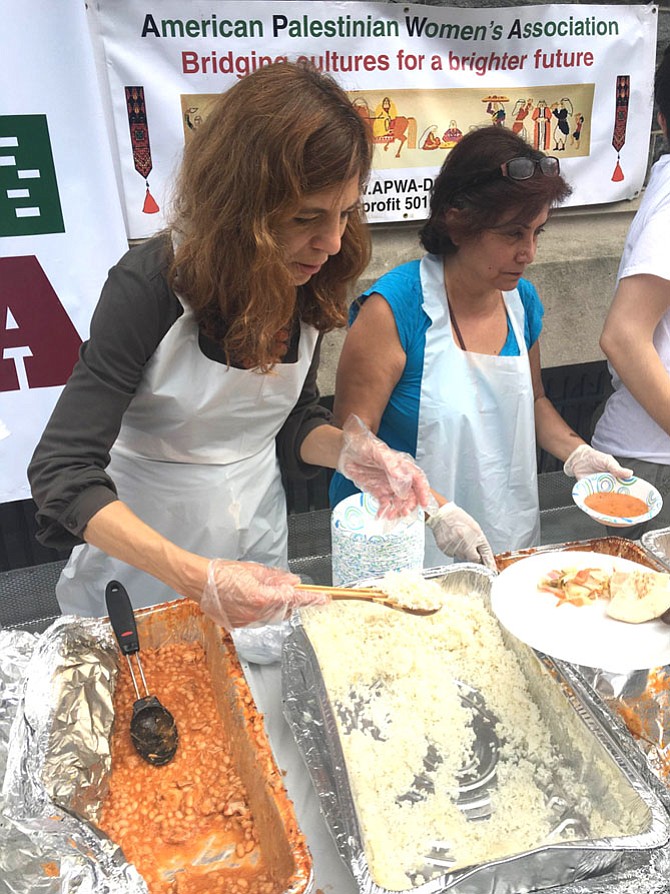 The American Palestinian Women's Association (APWA) is hosting an interfaith community event on June 17 at Rock Spring United Church of Christ (UCC). The event includes a five-course traditional Palestinian iftar, eclectic music from the countries of the Middle East and poetry shared about refugee experiences. The iftar is the traditional evening meal when Muslims break their daily Ramadan fast at sunset. Imam Hendi, the Muslim chaplain at Georgetown University, will offer the prayer and speak about the relevance of Ramadan.
Dr. Mai Abdul Rahman, president of the APWA, said Muslims fast every day during the month of Ramadan and break the fast each evening with healthy foods that have minerals such as dates that have a lot of magnesium. She says she was just telling a friend that you can't believe how tasty that date is. "You regain the taste of food like never before. And," she added, "you understand that there are those around you who are hungry and that hunger can be painful."
She explains the purpose of fasting is not to deprive yourself of your health but to increase your sense of social justice and the sensitivity of others. "A huge part of it is to have a sense of connection to those who don't have. But you have to learn to eat what your body needs to fulfill what you have missed all day."
Rahman says the iftar at Rock Spring will have many of the usual dishes for a Palestinian meal. "We have olives with a lot of minerals, not the ones you generally see, but an earthy, very rich green olive. Then there is lentil soup because we raise lentils, humus — my mother's recipe was very simple, just two ingredients — rice pilaf with nuts and chicken. Finally the sweets and the special Palestinian tea, a calming drink that also assists with digestion."
The month of Ramadan is tied to the lunar calendar so it doesn't fall at the same time every year. In 2017 it began on May 27.
Rahman says her family emigrated to the United States in the late 1970s after Israel took over the West Bank in 1976 and the family lost their exit and entrance ability to return home. She and two other women set up APWA in 2005 "to raise awareness and educate people about who we are." She said, "We are a small group but our strength is in helping people, both individually and in groups."
APWA has supported a homeless shelter in Baltimore and last year held several Iftar homeless feedings in front of Catholic charities in D.C. Rahman is a lecturer, organizer, activist, writer and researcher whose own particular focus is homeless youth.
Rick Hale, a Rock Spring member and one of the organizers of the event, said, "Rock Spring and the wider UCC Conference have a deep interest in interfaith relations." Members of the congregation have taken a couple of trips to Israel and Palestine in recent years and partner with a church in Jerusalem. As a congregation they have recently focused on the struggles of refugees, particularly the plight of Muslims. The iftar event is being held in Carpenter Hall of Rock Spring UCC at 5010 Little Falls Road. It will begin promptly at sundown. For more information, contact Rick Hale at randkhale@comcast.net.