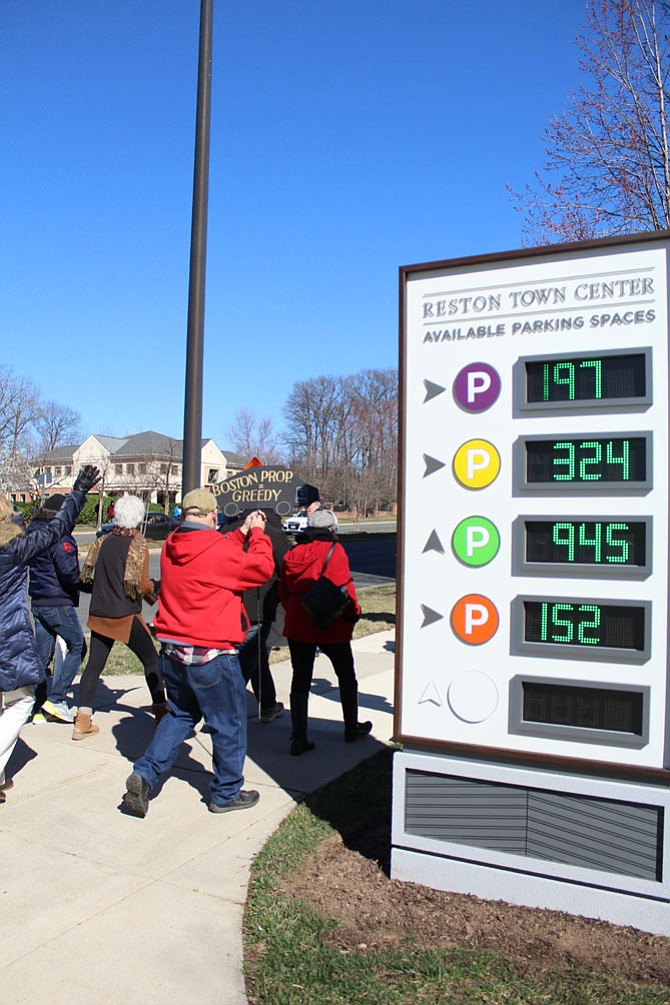 Reston Town Center is now giving patrons who park in its garages the first hour free of charge and free parking after 5 p.m. The changes went into effect on Monday, June 5.
Parking in the garages has always been free on weekends and major holidays. However, the new parking policy will make no changes for street parking, which are only free on Sundays and major holidays.
"Even before we rolled [the paid parking system] out, we made it clear, I think, to our tenants and maybe to a lesser degree to the community that our intent … was to look at a number of factors … related to the impact of having the paid parking model in Reston Town Center," said Peter Johnston, executive vice president of Boston Properties, which owns and manages the buildings in the town center.
There were several factors that prompted the changes, according to Johnston.
"It has to do with how many people are coming to the center, how long they stay at the center and what the impact is to our tenants, etcetera," he said. "It's a whole combination of those things."
While Johnston acknowledged that some of the merchants in the town center started experiencing revenue drops after the paid system was initiated in January, he also said that other tenants in the town center are experiencing flat and even increased sales and that the parking system is not to be blamed entirely for shortcomings of struggling merchants.
"We monitor sales year over year, and there are numerous tenants who, just because of what is going on in the broader retail market, whose sales have been going down for a number of years," he said.
Part of the public feedback also prompted Boston Properties to install new cash machines adjacent to the kiosks in garages so people can break larger bills down to exact change when paying with cash.
This summer, Boston Properties will also be making upgrades to the payment kiosks that will allow patrons to swipe credit cards to initiate parking sessions. Currently, patrons must enter their credit card information manually.
Fallston Group, which represents Boston Properties, issued this statement:
"Based on a study of traffic patterns and behaviors as well as retailer input, Boston Properties identified that one hour of free parking and free parking after 5 p.m. would address the primary concerns expressed by the community while still supporting the original goals of paid parking: protecting the parking rights of RTC tenants and visitors and augmenting revenue dedicated to community reinvestment."
SOME CRITICS were pleased, but most said they wanted more.
"This is a step in the right direction," said Aaron Gordon head of the Reston Merchant's Association and owner of Gordon Food Group, which operates the Red Velvet Cupcakery on Democracy Drive in the town center.
"We would like Reston Town Center to offer three hours free parking at all times, which would end the controversy entirely," he said. "Ultimately, our customers will decide if the recent concessions are enough. I'm very hopeful they are."
Other paid parking opponents chimed in.
"Progress was made with the announcement of changes coming to the Reston Town Center paid parking system," said Suzanne Zurn, who organized a Change.org petition that garnered nearly 10,000 signatures opposing the paid parking system.
"The community welcomes Boston Properties' realization that free parking hours are needed and we look forward to learning more about the upgrades to the parking kiosks," she said
But she also wants to see more free hours during the week.
"A two- to three-hour free period during the day would have done more to alleviate the barriers and the community anger," she said.
Gordon is taking the announcement as a victory for the merchants and their customers. Still, he plans on regrouping with his association to discuss whether the town center is doing enough to meet their demands.
Gordon, Zurn and hundreds of others who opposed Reston Town Center's paid parking scheme marched in a "Park Free RTC" protest march on Saturday, March 4. The demonstration organizers had specific demands for Boston Properties:
reduce the hourly parking rates or give patrons the first hour or two free; and

provide free parking after 5 p.m. on weekdays.
"We see this as a victory for our group and our customers," he said. "But, we will regroup in the next two weeks to discuss if we think Reston Town Center is doing enough."
One of the main arguments Boston Properties has used to defend its decision to implement a paid parking system was to protect its tenants' parking spots from people who were abusing the spots as a drop off point for their commutes on public transit.
However, the Silver Line of the Metrorail will take years before it is operational near the town center.
"We know from past experience, it takes a while to change people's behaviors," Johnston said. "The metro is well under construction and, in our view, it would have likely been as big an issue if not worse if we just put it in place the day the Metro opened and didn't give people an opportunity to kind of get acclimated to it."
Johnston also said that people working and attending daytime meetings at the Hyatt Regency Reston hotel on Presidents Street in the town center were taking advantage of the free and private parking garages that are meant for patrons instead of using the hotel's parking garage, which charges a fee.
Those living in condominiums or apartments within the town center or nearby the town center were also opting not to buy parking spots and instead taking advantage of the garages, he said.
"These are real business issues for us, whether people want to acknowledge them or not," Johnston said. "Which is to say, I have hundreds of leases throughout the town center and millions of square feet of space. Those leases all obligate me to provide and make parking available to those tenants."
THE RESTON CITIZENS ASSOCIATION has weighed in.
"We seem to have made some progress with Boston Properties in response to the massive public outcry as well as the damage inflicted on businesses by the rollout of paid parking," said Sridhar Ganesan, president of the RCA. "While free evenings may alleviate the situation a little for RTC merchants, restaurants and visitors, it is not enough. One hour free is not going to be sufficient for day-time shoppers, visits to RTC for special events — which will only increase during the summer — meetings and lunches."
The smartphone application that RTC encourages patrons to use to pay for their parking sessions continues to be a point of contention.
"The awkward parking validation and parking app have not changed and the confusion about street versus garage parking remains," Ganesan said.
Johnston assures that the changes are straightforward.
"If you come after 5 o'clock, you don't need to do anything," he said. "It's as if the system isn't on."
But patrons will not be able to ditch their cars for the night free of charge because the system will turn back on at 3:30 a.m., according to Johnston.
And if you park before 5 p.m. during the week, you still must start a parking session, even if you plan on staying for an hour or less.
"You're not charged until you actually end the session," Johnston said. "If you start the session and leave after 45 minutes … you close that session out and you're never charged."