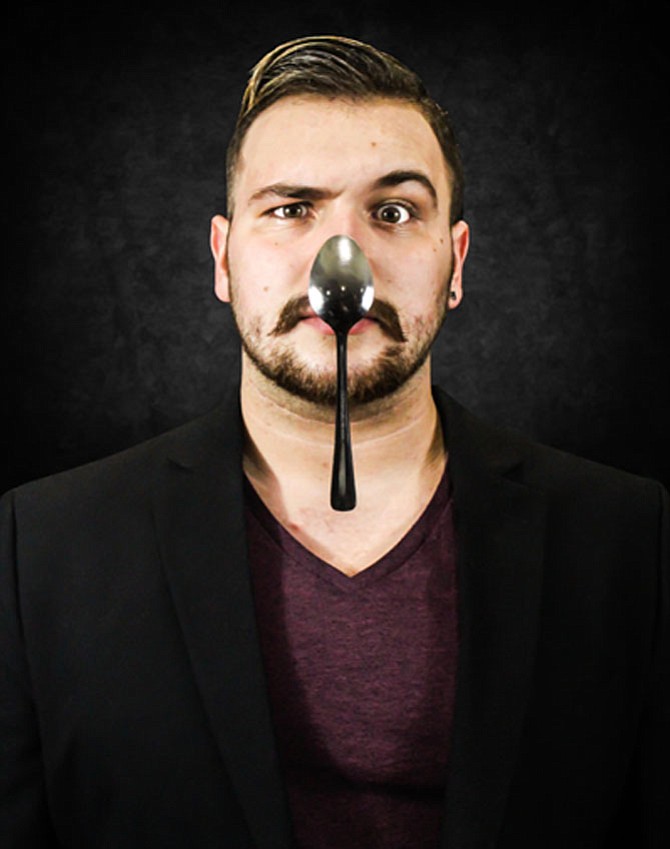 Local audience demand has been so robust that Evan Hoffmann, NextStop Theatre's artistic director, said he "had to bring back Derek Jasper to the NextStop stage for a third time. It will be an evening of live entertainment like no other."
Jasper is a magician, mentalist, deception expert, and Herndon native. "Jasper wows NextStop audiences each time he performs. He is very impressive, so I am thrilled to bring him back."
A South Lakes High School graduate, Jasper gives performances that combine sleight of hand, psychology, and confidence games. Add in magic, comedy, mystery, and his elegant style and the evening is meant to be a wondrous one. The audience becomes part of the show as he brings the magic close to them, along with surprises.
Jasper has performed for over 15 years. It all started when he "read the original stories of 'Sherlock Holmes' and fell in love with this idea of being able to look at someone and seemingly know everything I could possibly need to know about them," said Jasper.
"Then I started to develop my skills in observation, psychology, and other various skill sets such as hypnosis and memory development," added Jasper. After more than 1,500 live performances and shows, Jasper indicated his shows are not about "fooling people but connecting with them."
At the Dulles Corridor's NextStop Theatre, Jasper will perform his "Epiphany" show. He will be a solo performer close to the audience with not only a beautiful set, but "some interesting prop choices" meant to captivate, he said.
The "Epiphany" show itself will be "sculpted around the idea of observation," said Jasper. "As a mentalist, I am trained to notice all of the 'little details' that people would normally not notice. 'Epiphany' is all about me taking the audience behind the curtain and showing them the world through the eyes of a mentalist."
Jasper wants to invite audiences who have seen him before or are new to his special kind of magic, mind reading, and a touch of the unusual and the bizarre. "I would like the audience to leave the theater with a better understanding of the world around them. I want them to have their minds challenged and experience something they wouldn't be able to anywhere else in the world," said Jasper.
Where & When
NextStop Theatre presents "Epiphany" with Derek Jasper at 269 Sunset Park Drive, Herndon. Performance Friday, March 10 at 8 p.m. and Saturday, March 12 at 7:30 p.m. and 10:30 p.m. Tickets $25. Call Ovationtix at 866-811-4111 or visit www.nextstoptheatre.org