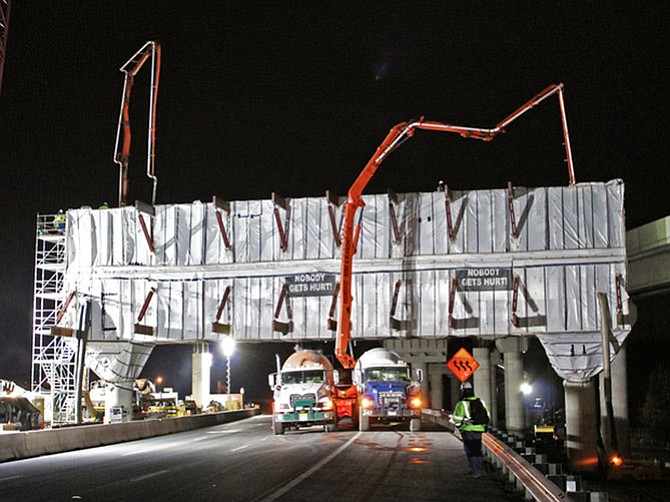 Progress updates on Silver Line construction include:
Reston Town Center Station: Station steel erection will start in April. Pedestrian bridge drilled shaft work on the north side of the station will begin, to be followed by cap and column construction. North pavilion cast in place work will be completed. Interior station build-out. At Sunrise Valley Drive, frontage work has been completed that includes a completed tree clearing and ongoing utility locating. Capital Rail Constructors is still working on plating a portion of the Dulles Access Road. The pedestrian bridges will be erected in the near future. Work on the pedestrian bridge along Sunrise Valley Drive will begin in a couple of weeks. A 20-minute road flagging or lane closure detour may be issued when determined.

Herndon Station: Drilling shafts for screenwalls start in late March. At Herndon Station south pavilion site, precast erection begins in late March, followed by steel erection in April. Garage Work along Sunrise Valley Drive to close the east access of garage (November - February 2017) after western access is made available. They will start at the end of the month with interior garage work to facilitate the north access road. The existing northwest in-only access is anticipated to be closed from March to May to allow for the temporary reconfiguration of the entrance. Installation of telecomm and electrical conduit will take place in mid-March. Coordination of the pedestrian bridge installation will continue to be monitored and may impact bus lanes and cause nighttime lane closures.
Source: February 2017 Dulles Corridor Metrorail Newsletter