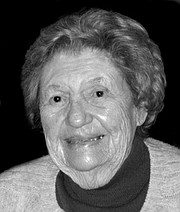 Virginia Lee Galloway Jacob, the longtime Alexandria Realtor, community activist and preservationist known as "Bunny," died Feb. 16 after an extended illness. She was 91.
Jacob married James H.L. Jacob, the trust officer of National Savings and Trust of Washington, D.C., in 1949 and the two moved to Alexandria in 1951 to begin investing in historic properties.
During the late 1950s and early 1960s Jacob was active in numerous historic and charitable pursuits. She was a founding member of the Alexandria YWCA (later the Campagna Center) with Betty Wright, Elizabeth Smith and Elizabeth Ann Campagna. She became president of the National Capital YWCA and ultimately of the national organization.
Upon her husband's death in 1969, she assumed the role of principal broker at Jacob and Roberts Realtors, until its sale to Rector Associates in February of 1996. She remained active in Alexandria real estate for over 46 years, finally retiring at age 89.
Jacob was a student of Alexandria and Virginia history and was involved in various capacities with the Alexandria Historical Society and the Alexandria Board of Architectural Review. Other pursuits included the Alexandria Library Company, Stratford Hall Plantation, the Daughters of the American Revolution, the Hunting Creek Garden Club, the Old Town Civic Association, Belle Haven Country Club, the Washington Junior League and Alexandria and The TWIG, the Junior Auxiliary of Inova Alexandria Hospital.
Jacob was born in Omaha, Neb., on April 11, 1925, to Helen Lee Galloway and Clark Hewitt Galloway. She earned the nickname "Bunny" because of her Easter Sunday birth. Jacob graduated from the Mt. Vernon Seminary and Wells College in Aurora, N.Y., where she earned a Bachelor of Arts degree in Philosophy, and continued her graduate studies at the New School for Social Research in New York City.
She taught briefly and also worked as a flight attendant for Capital Airways, where her regular pilot was Charles "Chuck" Beatley, the late mayor of Alexandria.
She is survived by Anne G. Tyree of Ladysmith, James L. and Barbara B. Jacob of Alexandria, grandchildren Andrew and Tamara Tyree, Christopher Tyree, Erin Jacob, and Alex Jacob, and great-grandson Andrew Tyree Jr. She is survived by her brother, Dr. John A. Galloway of Duxbury, Mass.
Services were held Feb. 24 at St. Paul's Episcopal Church, where she was an active member since 1951. In lieu of flowers donations may be made to Saint Paul's Episcopal Church, 228 South Pitt Street, Alexandria, VA 22314.
— Jeanne Theismann