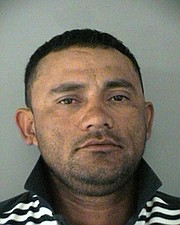 An Arlington man was sentenced on Friday, March 3, in the Arlington County Circuit Court for his role in a 2016 sexual assault. Anibal Rodriguez Castellanos, 37, was sentenced to 30 years, with five years suspended, for the charge of burglary while armed and 10 years for the charge of attempted rape. These sentences will run concurrently. After his release, Castellanos will be listed on the sex offender registry and will be deported upon serving his sentence.
Theophani K. Stamos, Arlington County Commonwealth's Attorney and M. Jay Farr, Arlington County's Chief of Police made the announcement following the court appearance.
At approximately 2 a.m. on June 19, 2016, a male subject unlawfully entered a female victim's residence in the 3900 block of 4th Street N. and sexually assaulted her. The subject used the threat of a weapon to hold her against her will. During the attack, the 28-year-old female victim was able to lock herself in the bathroom and yell for help. The male subject fled the scene on foot and was observed by a neighbor leaving the scene.
Following interviews with the victim and witnesses, a composite sketch of the suspect was developed. A combination of evidence collected during the investigation and the accounts of several people from the neighborhood led to the identification of Anibal Rodriguez Castellanos.
"The victim's searing courtroom testimony today was heartbreaking and the sentence handed down today by Judge Newman was entirely appropriate. My hope is that today's outcome will bring a small measure of peace and closure to the victim. She deserves that." according to a statement by Theo Stamos, Commonwealth's Attorney.
Arlington County Deputy Chief Daniel J. Murray, Commander of the Criminal Investigations Division said, "The steadfast investigative work completed by our detectives, the strong partnership with the Arlington County Commonwealth's Attorney's Office and the ultimate sentence imposed by the court sends a powerful message that we will use all available resources in our pursuit to keep our community protected from sexual predators."
Detective P. Pena was the lead detective and the case was prosecuted by Commonwealth Attorney Lisa Tingle.