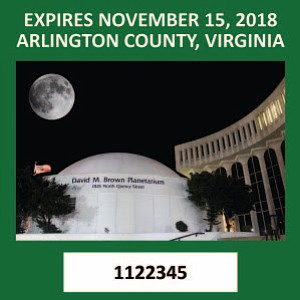 Amy Kohan, a 10th grader at Wakefield High School, is the winner of the 2017-18 Vehicle Decal Design Competition for her design, "Arlington Sees Stars," Treasurer Carla de la Pava announced last month at the County Board meeting.
Kohan's design, which features a photograph of the David M. Brown Planetarium, will appear on more than 160,000 vehicles in Arlington County.
In October, the Arlington County Treasurer's Office invited high school students who reside or attend school in Arlington to submit a design for the 13th Annual Vehicle Decal Design Competition. In December, a Citizens' Panel convened to narrow the record-breaking 235 submissions to just four finalists.
The Treasurer's Office used Instant Runoff Voting for the second year to determine the winner. Residents were asked to rank their selections in order of preference (first choice through fourth choice). During the six-week voting period, more than 3,200 Arlington residents voted.
Kohan will receive a cash prize of $750, thanks to the generosity of the Arlington Community Federal Credit Union. The three runners-up will each receive $500.
The other finalists were:
Schuyler Workmaster, 10th grader at Bishop O'Connell High School, for her design, "The Arlington House"

Sydney Machion, 9th grader at Wakefield High School, for her design, "We Are Arlington"

Marjorie Henriquez, 11th grader at Wakefield High School, for her design, "SkyRoss"