Imagine how important physical fitness is — increasing life expectancy and overall quality of life. It's the same case for children. According to the World Health Organization, children and young adults should be physically active for at least 60 minutes a day for significant health benefits, including reduced anxiety and depression. Statistics like these are only some of the reasons that local non-profit KEEN Greater DC (Kids Enjoy Exercise Now), a volunteer-run organization that provides free physical and recreational activities for young people with profound developmental and physical disabilities, has grown steadily since its inception exactly 25 years ago.
"I've been volunteering for KEEN Greater DC for the last eight years," Board Member Barbara Guterman said. "I came one time and got hooked because I quickly realized how great of a way it was to give back to the community. The mission is so meaningful when you think about what exercise means to the brain and body."
Through a number of programs, KEEN Greater DC serves 450 young people with significant disabilities –– at no cost. It all started in 1992, in a Montgomery County middle school, where KEEN welcomed people with disabilities between ages five and 25 to enjoy time in the gym. To make this individual active play possible, KEEN paired a volunteer with every participant to ensure his or her safety, and also for companionship.
Today, the open-gym program that KEEN started with, now at Tilden Middle School on the weekends, is still one of the most popular programs. During the 75-minute open gym session, one or two volunteers are assigned to each young person so that every KEEN athlete can engage in whatever gym activity they feel drawn toward – from shooting hoops to taking laps around the basketball court. As the children and young adults get their exercise, they also become a part of a community where no one judges them, or limits what they can do.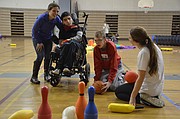 "KEEN teaches not only facts on different disabilities, but teaches something far more important, that everyone is equally important and needed in building the community, and that diversity makes the world a better place." — Beata Okulska, Executive Director, KEEN Greater DC
After turning 25, the people who enjoy KEEN programs are not "kicked out," Guterman said. Typically, they graduate to KEEN's adult program, KEENFit.
"We would never take away that time for physical fitness," Guterman said. "KEEN programming is really growing along with every individual in KEEN community."
In addition to the open-gym sessions, KEEN also provides weekly programs that provide specific recreational classes — including music, Tae Kwon Do, swimming, bowling and Zumba dance. There are also special events throughout the year.
As KEEN athletes enjoy open-gym time or another confidence-building class, parents and caregivers are free to take some time for themselves, knowing that the young person they care for is in good hands.
"It's all free of charge for the families," Guterman said, "This hour makes a huge difference to the kids and to the families. At the same time as providing great opportunities for the kids involved, it allows a respite for the families and caretakers."
Mark and Barbara Bucknam of Potomac can speak to the importance of KEEN to their family, which includes their son, 20-year-old Jake, who has autism. The Bucknams have been a part of the KEEN community for nine years.
"To John, this is something he can do to get exercise," Barbara Bucknam said. "It exposes him to different environments and a variety of people. It's been great introducing him to certain fitness equipment that he might not otherwise have gotten to enjoy. Through KEEN, he has learned that he loves to swim. He's gotten to do so much, it's really amazing. He went to the KEEN Prom last year, where he got to wear his dad's tuxedo and dance with a date. While he gets to experience all this, Mark and I can socialize with the other parents, or we get to go run errands or enjoy a nice lunch."
Mark Bucknam said that KEEN has been instrumental both to John's development and to his own as a parent of a child with special needs.
"It's so great for all these kids to move around and exercise," he said. "The volunteers and mentors are so great. We donate to KEEN every year because we get so much out of it. We've been able to meet a lot of families who then introduce us to certain programming and therapies that benefit John. It helps to have this community as we navigate the milestones and life events."
Guterman said the majority of KEEN participants are on the autism spectrum, or have cerebral palsy or Down Syndrome. This description, however, is not all-encompassing.
"No child is ever turned away from our programs," Guterman said. "The volunteers work with such a wide spectrum of ability. While the majority of the event volunteers work one-on-one with a child, sometimes we have to make it work by having two volunteers working with someone who may need more help."
To honor the organization and its 25 years of success, the board and KEEN staff have set some anniversary goals: to create new programs and serve more young people with special needs.
To make this expansion possible, KEEN continues to grow its network of committed volunteers, which currently range from local high school students to people who have been volunteering with the organization since the beginning.
"Anyone can volunteer," KEEN Greater DC Executive Director Beata Okulska said. "You don't need to have any experience working with special needs kids. We look for people with imagination, good will and patience."
KEEN volunteers benefit from the KEEN experience perhaps every bit as much as the disabled population that the organization serves.
"Volunteering for KEEN helps people develop their leadership skills, teaches tolerance, and helps them to understand and appreciate diversity," she said. "When you begin volunteering with KEEN, you immediately see the huge impact that 75 minutes a week can make on everyone involved. The effect that KEEN has on the community is indisputable. KEEN teaches not only facts on different disabilities, but teaches something far more important, that everyone is equally important and needed in building the community, and that diversity makes the world a better place."