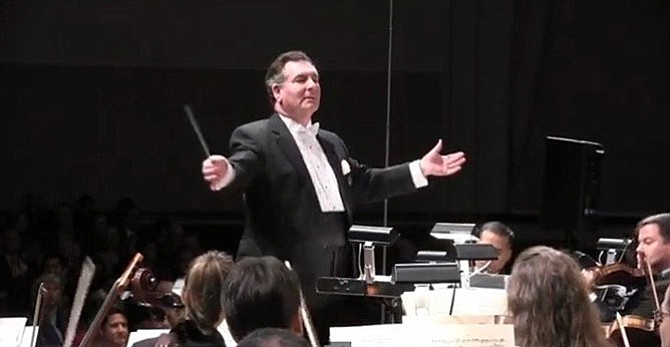 McLean — A conductor's podium was as much an office for Paul Frank as was the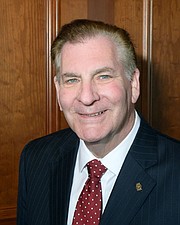 traditional CEO corner suite. A simple baton would come to life in the hands of the master puppeteer, his love of music infectious. When Frank was hired as interim executive director of the McLean Orchestra in 2016, it was the perfect fit for his business acumen and musical artistry.
Frank, who held various positions with the McLean Orchestra and its board of directors over the years, was recently hired as the executive director of the Alexandria Symphony Orchestra. He died March 13 after a brief battle with pancreatic cancer. He was 76.
"Paul was passionate in his support of the McLean Orchestra," said past orchestra president Wayne Sharp. "Over the years he served in many roles, from treasurer to vice president and president to his most recent role as interim executive director. He was a key part of the McLean family."
Paul A. Frank was born in Washington, D.C. on July 4, 1940, to Murray and Freidel Frank. He attended Coolidge High School and graduated from George Washington University. An accomplished musician, Frank led The Collegians musical group during the 1970s and later performed as both a solo pianist and accompanist throughout the greater Washington area including the Kennedy Center, the Jewish Community Center and countless other venues.
"Music was always a big part of Dad's life and our house growing up was always full of music and musical instruments," said Todd Frank. "I am forever grateful to him for passing along not only whatever 'talent gene' we got from him, but also the ear and the appreciation of music."
Mark Frank also recalled the influence of his father's music.
"My bond with my father centers around music," said Mark Frank. "My fondest memories are the little things — how he would wrap his arms around me as a young boy and show me how to play something at the piano or how he would holler from upstairs and tell me to slow down when I was practicing my scales. But the one memory that I truly cherish was falling asleep as a kid to the sound of Dad playing the piano. To this day, I play piano for my kids when they go to sleep. And these past few weeks, I have been playing all of Dad's favorites."
Prior to his work with the McLean Orchestra, Frank served as CEO of the Collingwood Library and Museum as well as Executive Director for the Friends of the Torpedo Factory Art Center.
In the private corporate sector, he was president of Paul A. Frank Associates, Inc., a human resources firm, and Human Resources Director for the Boeing Company. As a banker, he was Vice President, Business and Professional Banking for M&T Bank and previously Vice President, Business Development and Community Affairs for 1st Service Bank.
Frank participated in several area chambers of commerce including the Greater McLean Chamber of Commerce and Fairfax County Chamber of Commerce. He is also a past President of the Rotary Club of McLean and served as a board member of the Arts Council of Fairfax County.
"I am excited about the possibilities ahead," Frank said recently of his work with the McLean and Alexandria orchestras. "My goal is to make an impact."
Frank is survived by his wife of 23 years, Barbie Beggs Frank; a brother, David Frank, and sister, Judy Koldaro; children Todd Levinson Frank (Marcella), Denise Frank-Conneen (Michael), and Mark Frank (Suzanne); stepchildren Carter Poole (Woody) and Sarah Poole Wincovich (Nick); and nine grandchildren.
A memorial service was held March 20 at Everly-Wheatley Funeral Home in Alexandria. In lieu of flowers, donations may be made to the McLean Orchestra, P.O. Box 760, McLean, VA 22101
"Paul loved everything about how a symphony orchestra operates," said arts patron Fran Redmon. "Every organization Paul touched, he changed for the better."