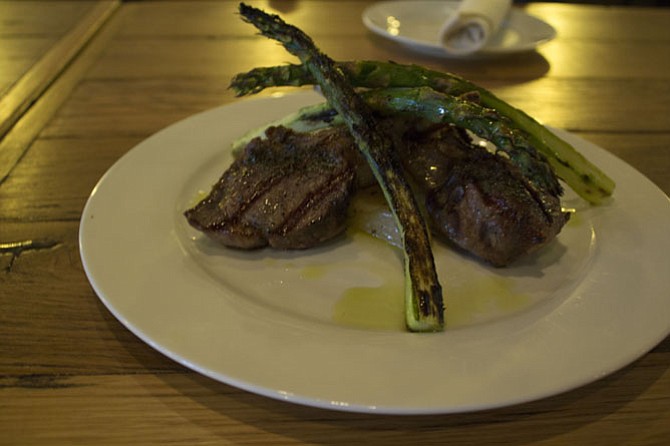 Great Falls — Ladies who Lunch, the phrase and the song that describes groups of ladies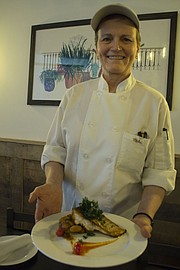 who gather to lunch, pretty much sets up the recent noontime scene at Great Falls' new addition, Our Mom Eugenia. A Greek restaurant dedicated to serving up traditional and authentic fare, it seems to have struck a concordant note with locals: the place was packed, though not just by women.
What's the draw? First, the setting is inviting: white walls, blue trim (national colors of Greece); fresh flowers at each table; a bar in the back; and courteous staff. Next, the chef. According to a brief bio on the restaurant's website, chef Eugenia Hobson not only has cooked in metro area Greek restaurants, she is actually a native of Greece. From the website accounts, her grandmother taught her the basics of Greek cuisine.
Third, the food. Obviously, a trained Greek chef who has worked for 30 years as a professional chef knows a thing or two about Greek cooking. And that plays out well on her restaurant menu. Divided by categories, such as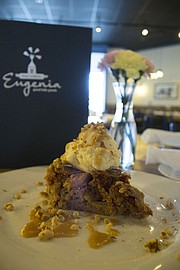 "vegetarian appetizers" or "meat entrée" the menu simplifies how to make a mealtime choice. You can easily mix and match, and even create a whole meal from just appetizers.
One great pairing comes with the fish appetizer, kalamarakia, or Greek-style fried calamari. For those who love this seafood, these calamari are a crispy treat: battered, deep-fried, and served with a lemon slice and a scoop of cold garlicky mashed potatoes. Then to complete the meal, try a vegetarian dish, such as the popoul spanakopita, offered here as either an appetizer, or a larger entrée portion that comes with tomato-sauced green bean and roasted potato sections.
But because the menu is so extensive, and one's appetite is not, a return trip is really mandatory. On another visit, the meal could start with a bowl of the classic lemony chicken soup, avgolemono, followed by one of the spreads, such as the melitzanosalta, a serving of chopped grilled eggplant with other veggies.
And for an entrée? Several meaty options make the choice a real tossup. However, the arni giovetsi, or oven-braised lamb with orzo or the paidakia, or tender lamb chops with potatoes, would be the finalists. The only seafood dish is the grilled salmon with sautéed spinach and rice.
Don't pass up dessert, and chef Eugenia's dessert options, while limited, are very, very Greek. For anyone who loves a custardy finish to any meal, the galaktoboueko, or a sort of custard pie, is a perfect choice. Usually served as a pie with a phyllo crust, this version is more of a custard-filled dough cylinder set on a sweetish syrup.
Eugenia Hobson has been a chef for the past thirty years. She was born and raised on the island of Zakynthos in the Ionian Sea in western Greece. She learned the secrets of Greek cuisine from her grandmother for whom she was named.
Chef Eugenia has worked at several local Greek restaurants including Mykonos Grill (Rockville) and Athenian Plaka (Bethesda). She was most recently a chef at Nostos restaurant in Tysons Corner, where she worked since it first opened in 2011.