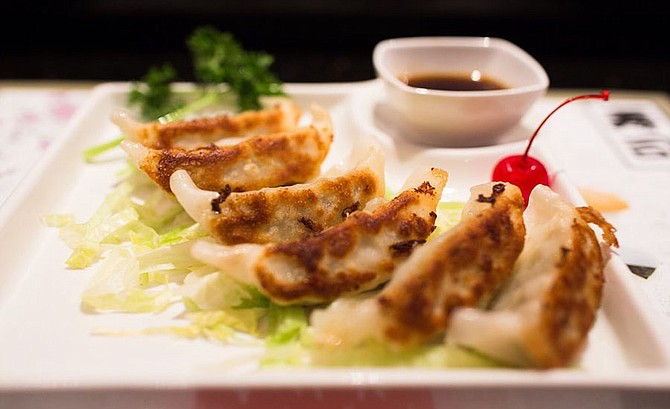 After last summer's Alexandria Restaurant Week, you know the drill by now: Instead of simply offering dine-in deals, restaurants are offering up takeout or curbside options as well. And they're not phoning it in; dozens of restaurants are participating, and the menu selections are plentiful. From pan-Asian to pizza to pubs, there are a multitude of ways to support your local businesses. By and large, from Jan. 22 through Feb. 7, $49 will net you a three-course meal for two; $25 will do fine for a three-course meal for one. See www.visitalexandriava.com/restaurants/restaurant-week/ for more.
Here are some of the city's best bets:
Barkhaus, 529 E. Howell Ave.
The new dog-friendly pub has teamed up with the Laughing Pig for a tasting menu that's available for takeout or curbside pickup. Choose between fried Brussels sprouts or parmesan truffle fries for an appetizer; then select two flatbreads ranging from bacon-sausage-pico to the Barkhaus special; then finish things off with a crepe or fried apple pie. And don't forget to pick a beverage – red wine or Crafters Union beer are both at the ready.
Kisso Asian Bistro, 300 King St.
Kisso is offering two prix-fixe experiences depending on your tastes. Combo A features seaweed salad and miso soup for two, plus a sushi-sashimi combo and cheesecake for dessert. Combo B features hot and sour soup, meat or chicken dumplings, and a choice of two of five hot (read: non-sushi) entrées, as well as cheesecake to sweeten things up.
Pasara Thai, 2051 Jamieson Ave.
Like Kisso, Pasara is offering two separate prix-fixe choices for their Restaurant Week special. The first choice features a papaya salad and crispy spring rolls to start, followed by pad Thai with chicken and pattaya seafood as entrées and then wrapped up with mango sticky rice or sticky rice with coconut custard. The second option starts off with Thai salad and fried calamari, then moves into drunken noodles with beef and seafood green curry, and ties things up with mango sticky rice or sticky rice with coconut custard.
Piece Out, 2419 Mount Vernon Ave.
Del Ray's newest pizza place is offering up some treats and treasures for Restaurant Week. Select a bottle of house red or white wine to start the proceedings and then dive right into the feast: A choice of two starters, including Greek or winter squash salad and minestrone; then a choice of two pastas; then a gelato or cannoli to share. Toast to your takeout – and to your time out of the kitchen!
Hope Nelson is the author of "Classic Restaurants of Alexandria" and owns the Kitchen Recessionista blog, located at www.kitchenrecessionista.com. Email her any time at hope@kitchenrecessionista.com.