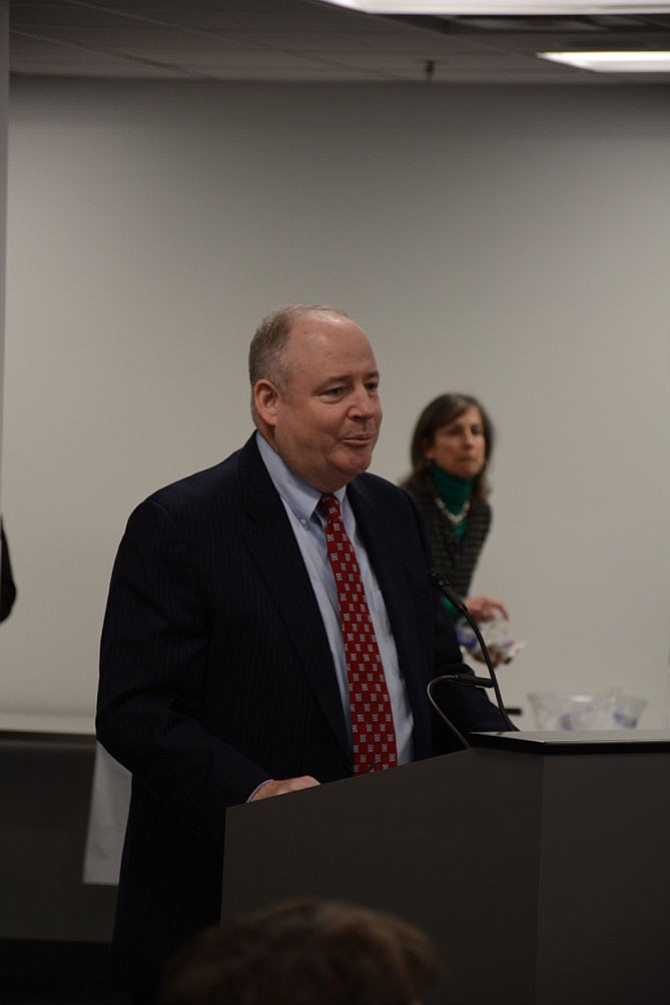 Fairfax County is not a sanctuary, but police officers aren't picking up anyone in the country illegally on behalf of Immigration and Customs Enforcement. That was a primary message from Fairfax County Police Department Chief Edwin Roessler to the Board of Supervisors Public Safety Committee on March 21 with regards to ICE activity in the county.
Committee chair Supervisor John Cook (R-Braddock) said the regional director for ICE was invited to attend and speak at the meeting, but declined.
Roessler spoke to the level of involvement his department has with ICE, mainly to say that officers do not participate in ICE administrative raids.
Once a prisoner — any prisoner — is handed off to the Sheriff's Office for processing, they're fingerprinted and checked into a national database, Roessler said. ICE has access to the prisoner database and it's up to them to respond to the Sheriff's Office for a detainer.
Roessler said that with regards to ICE raids taking place in Fairfax County, the expectation is that ICE gives FCPD some awareness of activity taking place in certain areas. ICE agents may not be dressed as law enforcement officers, Roessler said, and he wants to prevent situations where residents might see ICE conducting a raid and call police. "ICE knows that well," Roessler said.
Chairman Sharon Bulova said in the interests of community policing, it's important to maintain a separation between the administrative work of ICE and and the work of FCPD.
The "trust of the community," Bulova said, is important for people to "report crime, ask for help."
That being said, Cook said Fairfax is "not a sanctuary county," that FCPD will comply with and enforce federal law.
Deputy County Executive Dave Rohrer reiterated that anyone who is arrested in Fairfax County "will be treated the same," but that the jurisdiction is "not a sanctuary … in our mind … in any way."
Supervisor Pat Herrity asked if Roessler was aware of increased ICE activity over the last several months — coinciding with executive action by President Donald Trump calling for increased immigration enforcement.
Roessler said he hadn't been handed any data that showed ICE has been more active in Fairfax County. However both men agreed there is perception and fear in the community of increased ICE presence.
Roessler said he's received many emails from concerned residents, and that the department is out in the community trying to reassure people, "We want to protect you, not deport you."
THERE HAVE BEEN SEVEN gang-related homicides around northern Virginia since the fall of 2016, one in Fairfax County, Roessler. Remains of a 15-year-old Gaithersburg, Md. girl were found in the 7100 block of Wimsatt Road in Springfield on Feb. 11. Ten arrests were made in that case.
The chief said there were no gang-related homicides in the county last year, and two in 2015.
Roessler and Jay Lanham, director of the Northern Virginia Regional Gang Task Force, said they are seeing increased gang activity across the region.
The resurgence includes heavy recruitment in schools, as well as an uptick in gun, drug and sex trafficking, they said.
When asked by the supervisors if his department had everything they need to combat the problem, Roessler replied in the affirmative, but said "we need help from community members and parents."
Lanham said that while gang communication and activity used to be primarily observed through graffiti, the expansive use of social media for gang communication and recruitment has made it much more difficult to keep up.
Supervisor Penny Gross (D-Mason) said that while the supervisors created a gang unit in 1998 and it "worked well for a long time," the work being done has become "lackadaisical" and law enforcement needs to step up again.
Gross advertised a town meeting in Mason District to further discuss gang activity, police response and community effort to better engage youth and prevent them from taking up with gangs.
"We should be angry about this," Gross said.
THE MEETING ON GANG ACTIVITY is scheduled for Wednesday, March 29, at 7 p.m., at the Mason District Governmental Center, 6507 Columbia Pike in Annandale.