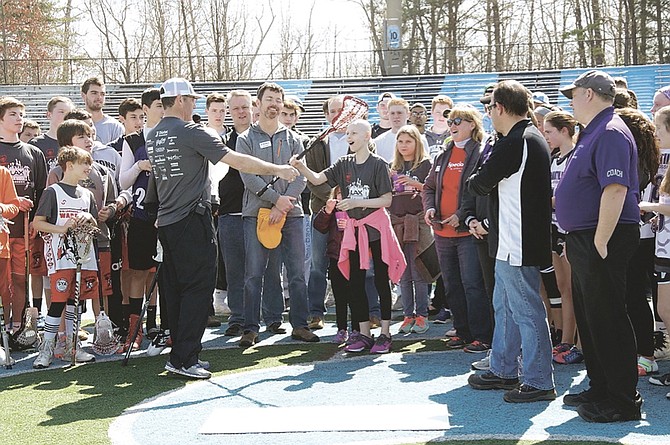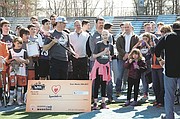 Last year, SYA lacrosse player Tatum Bulger was diagnosed with Ewing Sarcoma, a rare form of cancer that affects children and young adults. Now, at 11 years old and in sixth grade at Virginia Run Elementary School, Bulger said she feels "awesome" in the face of a shrinking tumor and plans to cheer on her lacrosse team at their regular weekly practices in Centreville.
Already, Bulger has used her personal battle with cancer to benefit the greater good. As a member of the SYA lacrosse community, Bulger and her father recommended that this year's 4th Annual Lax 4 a Cause, a spring charity event held by the SYA and CYA lacrosse associations, benefit the nonprofit organization, Special Love. Special Love provides support and resources to children in the Mid-Atlantic with cancer and their families.
"I started playing lacrosse when I was in first grade," Bulger said. "Lax 4 a Cause this year was so cool because, I went to Camp Fantastic last year, a sleep-away camp that Special Love organizes. My dad is on the committee board for SYA, and he saw how happy I was when I came back from Camp Fantastic. It is such a great cause. It was just so cool and it was my first sleepaway camp. I definitely made a lot of life-long friends, and the experience made a difference in my life."
Lax 4 a Cause is a pre-season tournament between CYA and SYA lacrosse teams that takes place at Centreville High School every spring, the weekend before the official season starts. In the weeks leading up to the tournament, every youth who plays on a CYA or SYA lacrosse team raises money for a chosen charity.
The first two years, all event proceeds went to the Wounded Warrior Project. Last year's Lax 4 a Cause benefitted the Fisher House Foundation. The 2017 Lax 4 a Cause, held on Saturday, March 18, raised $22,000 for Special Love. It was a record year.
"We were really looking for something close to home, because we'd like it to stay local," SYA Lacrosse Commissioner Damien La Ruffa said. "When Tatum asked us to donate the proceeds of our event to Special Love this year, we couldn't think of a better way to honor her. She's one heck of a kid, really inspirational. At the end of the day, when we totaled everything after the event, it came to $22,000. This is the most we've ever given. We blew out our goal of $20,000 by 10 percent, and everyone was really excited."
Lax 4 a Cause began in 2014, when Scott Stewart, the vice commissioner of SYA Lacrosse, approached LaRuffa with the idea, inspired by a charity tournament that he himself had played in with the commissioner of CYA lacrosse, Chris Saben.
"Together, the three of us brainstormed the idea for SYA," LaRuffa said. "The first year, in 2014, was such a success that it's become an annual event. It's a kickoff to the lacrosse season, every year, a week before the playing season starts. It's a great way to get the kinks worked out, and do it for a great cause."
Lax 4 a Cause lasts all day, during which each SYA team plays its CYA counterpart. Each game, including one for the coaches to face off, are about an hour long. Even though there is a scoreboard, points accumulated in each game aren't that important.
"We play all of our boys' teams against their boys' teams, and all of our girls' teams plays against their girls' teams," LaRuffa said. "We do a scrimmage-like tournament, and everyone gets to play. We don't really keep track of scores, just who wins more games throughout the course of the day. SYA was the overall winner this year, but it's all in good fun. The playing of lacrosse is really the icing on the cake."
Because of the volume of SYA and CYA lacrosse players, a little bit raised by each person goes a long way.
"Our goal is that each kid raises about $100, and we have 600 kids playing lacrosse between both our organizations," LaRuffa said. "The kids raise money through family and friends, bake sales, or even going door-to-door."
The lacrosse kids as well as the surrounding community get excited about raising the funds leading up to the big day.
"All the money the kids raise goes to the charity, and we use corporate sponsors to offset some of the costs of putting on the event," he said. "We have a lot of vendors and sponsors that donate prizes. We reward the top three boys and the top three girls, as well as the team that raises the most money, so all the kids get excited to fundraise. The lacrosse community is pretty tight, and it's pretty amazing what our two organizations have been able to accomplish over the last four years. After next year, we will have surpassed more than $100,000 of charitable donations. It's all through grassroots efforts. This year, our players got really excited about it because they were helping one of their own."
The winning team raised $2,919, and the top two individual fundraisers each raised close to $1,000.
"One of the big stories was Tatum," Stewart said. "She was the first place fundraiser among the girls and was touched when I told her that a lot of SYA players pledged their fundraising in her name."
Bulger was honored by this kind of support, and is still in awe of the turnout.
"It feels really cool, because if you had told me a year ago that I was going to help donate a lot of money to an awesome organization, I wouldn't have believed it," she said.
Stewart said that March 18 couldn't have been a better day for the event, with perfect weather and plenty of entertainment even when youths weren't on the field.
"Every single team participated, and it's a whole day of lacrosse and other kinds of fun," Stewart said. "Glory Days came out with a prize spin wheel. There were all kinds of sponsors that made it possible for the kids to come and run around and watch lacrosse games all day. It was free and open to the public, so all the families could come out and enjoy themselves, too."
Halfway through the event, at noon on that crisp, clear Saturday, everyone cleared the field for a ceremony, which included the check presentation to Special Love.
"Tatum was there, and she presented the check to Special Love," La Ruffa said. "We also presented her with a custom-made lacrosse stick. There's only one of them in the world and it's hers."
Stewart said he is always amazed at how the Northern Virginia lacrosse community rallies together.
"There are lots of volunteers that make this day possible," Stewart said. "This year, there were a good 25-30 volunteers outside the coaches. Parents would run the scoreboard. The Chantilly and Centreville lacrosse communities just really gets together behind this event, and it's awesome to see it all come together."
LaRuffa said that this event will happen for as long as he's a part of the association, and hopefully for many more years to come after that. He said he also hopes that it will grow in scope.
"Our goal is to inspire other clubs to do the same thing, and to join forces," he said. "Think: if teams in Loudoun County, and other areas join, it would be incredible. You're talking about millions of dollars over the course of the next few years that the northern Virginia lacrosse community could raise for worthy causes."