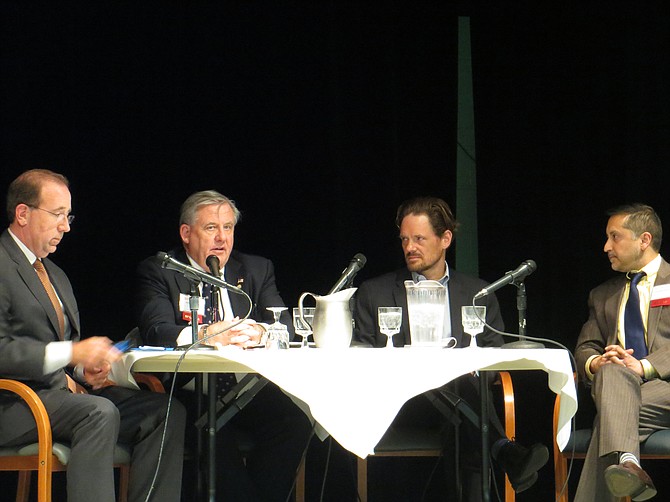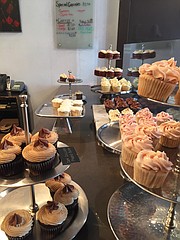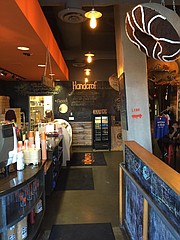 Retail is struggling, nationally and at a local level. Walking up and down King Street, a new slew of stores close each month. On March 27, accountant John Renner from Renner and Company CPA, Adnan Hamidi, owner of Alexandria Cupcakes, and Rob Krupicka, operator of the Northern Virginia and DC branches of Sugar Shack Donuts, spoke at The Hermitage to discuss the challenges facing businesses in Alexandria.
The event, hosted by Agenda: Alexandria and moderated by Frank Fannon IV, reviewed the issues many local businesses face in the city. With three different stories, the business owners shared one common theme: things are going to have to change for business in Alexandria if the city wants to keep its commercial base alive.
Several of the business owners agreed that one of the biggest hurdles for a new business opening in the area can be the labyrinthian permitting and approval system.
"The city is a maze," said Renner. "You can go down one path and somebody else comes in and says 'no, that's not right, you have to go this way.'"
The business owners had a variety of experiences with city government. For Krupicka, working through Alexandria's permitting process was the easiest of the local governments he worked with, though he admitted some of that might have been have been his familiarity with the system.
"My city process was pretty positive," said Krupicka, comparing Alexandria favorably to his permitting experience in Arlington and for the D.C. location launching in May.
Hamidi didn't realize just how unfriendly Alexandria's process is until he started opening a franchise location in Fredericksburg.
"Minutes after you walked in, they were very welcoming," said Hamidi, saying that staff who were directing him to another department actually walked him to the person he needed to see. "The level of courtesy we experienced … I had a smile on my face walking in and walking out."
Hamidi said not only did the city arrange for him to meet with the heads of every department to review his summary and help with devising a plan, but on a regular basis he would receive an email or phone call from a city official saying they were excited to see the store moving in. It doesn't take much, but Hamidi said the touches like that can completely change the permitting process for an incoming business owner.
The Alexandria process Hamidi described was less pleasant.
"I walked into City Hall for another business to have a discussion and 45 minutes later I was ready to jump out the window," said Hamidi. "Had my business partner gone in by himself, he would have said 'I'm out' and it would not have happened. The city needs to streamline the process for business owners coming in."
Like the phone calls from the Fredericksburg officials, Hamidi says some of the smallest touches can have the biggest impact.
"The city just needs one or two persons knowledgeable about the process of opening a business," said Hamidi. "It doesn't take much, but I guarantee you it will shave hours off someone's timeline."
Krupicka said other changes that need to happen to the system will be less easy and straightforward.
"Retail in America is going to dramatically change," said Krupicka. "It's happening at a faster clip. Who hasn't bought something from Amazon because it's faster? Those kinds of retailers have to be making product on site, they have to be unique and it has to come from that place. It has to be a maker type businesses: clothing or art or other items. I would even call accounting firm a maker businesses. The kind of businesses that will make it in Alexandria will be on the ground. That will mean different kinds of businesses in retail on King Street, and [with current city restrictions] King Street is not ready for that."
According to Krupicka, sometimes that will mean difficult decisions about which buildings stay and which buildings get rebuilt to be more retail-friendly.
"We have to look at what we do with buildings," said Krupicka. "Old buildings, sometimes they're not equipped to be maker-spaces. We have to open ourselves up to figure out how to rethink our spaces if we want to reinvigorate retail. It's not easy, everything I said will have 100 controversies, but we have to do it."
Throughout the meeting, the three business leaders offered advice for newer businesses starting up in the city. Renner encouraged small businesses to take advantage of all the Small Business Development Center has to offer, like free counseling. Krupicka and Hamidi both encouraged businesses not to let excitement over initial hype for the store keep them from spending extra on advertising.
"It is worth your investment to set aside money for marketing," said Hamidi. "Crowds disappear, you have to take time to invest in marketing."
Hamidi also addressed an issue that's been at the forefront for many local business discussions on the future of retail in the city: the proposed Business Improvement District (BID). Both as a local business owner and as a board member of the Chamber of Commerce, Hamidi says he isn't opposed to the idea but he remains unconvinced.
"If I am assessed additional tax, am I going to be able to recover that tax and then some?" Hamidi asked. "If it is for the enhancement of my business, I need projections for that enhancement. Not just 'it will make your business better.' As board member for Chamber, I need to look beyond that at what services are proposed under BID and how many services duplicate city services which should already be in effect. If those services are not carried out to their maximum, we need to look at what's happening, not suddenly add on a tax. If someone can prove to me that this will be a good thing, that this will bring more revenue and more business, I don't have an issue. But until I'm shown that, I have an obligation to look at this with a grain of salt."
Looking to the future of local businesses, Krupicka and Hamidi couldn't resist a few shots towards the teenagers and younger generations like those running the electrical equipment for the event.
"Our challenge is finding people with basic teamwork and cooperation skills to be successful in workplace," said Krupicka. "You have to be able to work together. I'm surprised how poorly schools are able to teach that. You have to teach people how to work together without being mad."
"Our kids are not prepared to work in the real world," Hamidi agreed. "You don't get to text on your phone all day, don't get to throw a temper tantrum when things don't go your way."