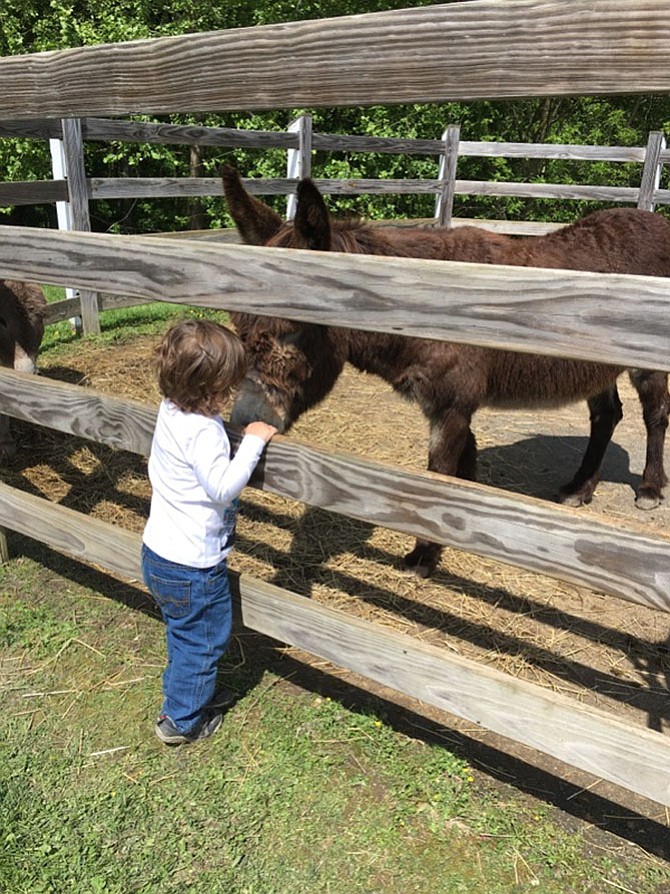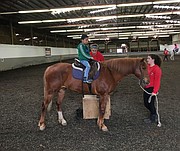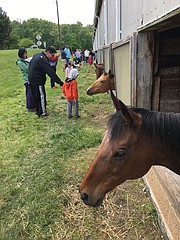 Two stars of the New York stage entertained guests at the Potomac Horse Center Open House on Sunday.
Cordoba and Nacho, two of the Horse Center's resident horses, have appeared with the Metropolitan Opera in both Aida and Carmen and Cordoba was also in a video with singer Norah Jones.
Visitors to the open house could read all about the horses and their resumes on cards posted by each stall. Mostly, though, the young guests and their parents wanted to pet the horses or get a good photo of children and horses together.
They also had a chance to take a pony ride in the center's large indoor ring, watch riding demonstrations, or enjoy the moon bounce, face painting or a hay ride.
Samuel Fisher, 2, was there with his parents and little brother Lucas. He spent a lot of time petting the donkeys, also residents of the Horse Center.
Sunday was the Fisher's first visit to the horse Center, Katrina Fisher said.
"When we heard about it and the horses, we had to come," she said.
Most of the visitors at the open house do come from nearby communities, Renee Terselic, general manager of the center, said.
"This is such historical hunt country that it's nice to have people come and learn about riding," Terselic said.
She also wants people to know that Potomac Horse Center on Quince Orchard Road in North Potomac has a lot to offer the community.
"You don't have to own a horse to ride," she said. "You can ride using one of our horses."
The center offers year-round riding lessons for all ages. It is open seven days per week, from 9 a.m. to 9 p.m. on weekdays and 9 a.m. to 5 p.m. Saturdays and Sundays. It has facilities for boarding horses and runs a summer day camp for children ages 5-13.
"We have a full day program for summer camp," Terselic said. "The campers have riding lessons, learn all about horses, about grooming and tack, do arts and crafts and play games on horseback."
Sunday's open house was about sharing with neighbors and friends what goes on in the big barns and fields at the corner of Quince Orchard and Dufief Mill roads.
The almost 42-acre site is owned by Maryland National Capital Park and Planning Commission which leases it to Potomac Horse Center, Terselic said. The Horse Center is owned by the family of Paul Novograd who owned New York's Claremont Riding Academy in Manhattan until it closed in 2007 and owns a riding stable in New Jersey. Novograd died in March but the family plans to keep Potomac Horse Center operating as usual, Terselic said.
"We had a meeting about a month ago and they are continuing on," she said. "Carry on, that's what Paul would have wanted."
The Horse Center was started in 1962 by Frederick G. Harting who wanted a place to ride for himself and his family. Harting was active in the Potomac Hunt and in Potomac Pony Club. The property was originally 1,000 acres but much of that has been sold to developers for housing, Terselic said. Friends and other riding enthusiasts wanted Harting to open up his fields and barns for them and he soon developed the idea for a horse center patterned after British riding schools. It was to have a "high level of instruction" and "a first class stable management program," according to an article in the August/September 1969 edition of Stable Management.
Harting's vision was realized and Potomac Horse Center became one of the world's leading riding schools according to the Stable Management article.
He sold the property to Montgomery County before his death in the early 1980s, Terselic said. In 1984 Elizabeth Madlener leased the property and ran a school based on Harting's, calling it Maryland Horse Center.
It became Maryland Horse Center again in 1992 when the Novograd family took the lease.
For more information on Potomac Horse Center, visit www.potomachorse.com.