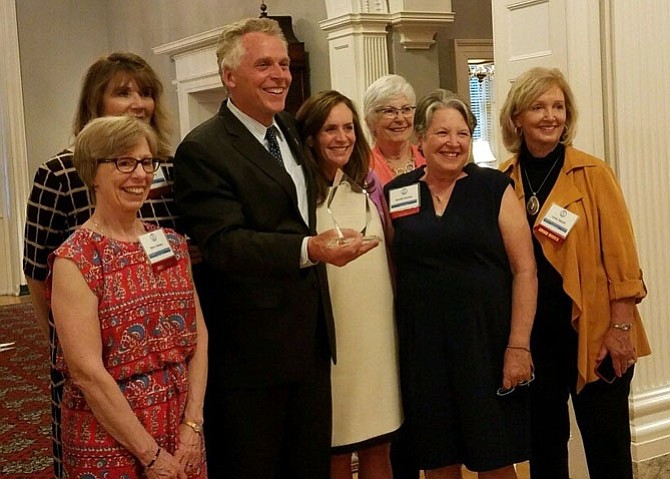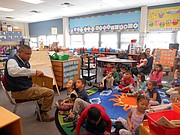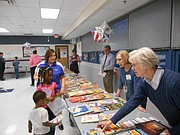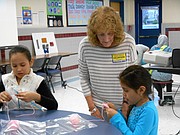 "Can I touch your arm?" "I hope I have white hair when I'm a hundred." Those are some of the things Springfield resident Cindy Notham has heard in her two years volunteering with GrandInvolve.
The nonprofit group had its beginnings when Dorothy Keenan, of Burke, served on a committee on the Fairfax 50+ Community Action plan that was tasked to find out how to make Fairfax County a livable community for all ages, specifically what could be done to make the county a desirable place to live for people over 50 years old.
Keenan said that the committee findings indicated that people wanted more intergenerational activities, and they wanted to understand the cultures who live in the community better.
GrandInvolve was founded in 2014 with those answers in mind and the goal of reducing ageism and increasing cultural understanding.
The group has some 100 volunteers who go to six schools in Fairfax County located in Herndon, Chantilly, Lincolnia, Springfield, Lorton and Alexandria. Keenan said the schools were chosen in a wide range so that no matter where anybody is from, there is a school nearby where one could volunteer.
"Children see an older person as just another human being," Keenan said. Volunteers do a range of activities in the classroom and after school. They help children practice speaking English; they help them understand lessons; they listen to the children read; and they help teachers with various tasks.
Notham said that a lot of the children she helps at Parklawn Elementary in Alexandria do not have many opportunities to see older people. "A lot of these kids, their grandparents are not in the area," she said.
She recalls one student who needed to leave the classroom tell the teacher that he had to go with the "grandma" because he doesn't get in trouble when he goes with Notham.
"I don't want children to be afraid of old people," Notham said. Keenan said that what volunteers do is a good way for children to understand that an older person is just like them.
But the benefits of volunteering is a two-way street. "It makes me feel good," Notham said. She said she sees the smiles on senior's faces when working with the children — they feel useful and feel they have a purpose.
In a statement, Kathryn Knoble of Greenspring Village in Springfield said that the partnership with GrandInvolve brings opportunity for residents to volunteer and build community connections.
Parklawn Elementary Principal Larry Aiello in a testimonial said that the presence of GrandInvolve volunteers resulted in an increase of other community volunteers at the school.
On April 20, GrandInvolve received the Governor's Community Organization Award in Richmond for its work fighting ageism and furthering understanding of cultures.
Notham said that it is important for older people to see what tax dollars are doing for the schools and what teachers are doing. Moreover, she said it is important to realize that children, no matter where they come from, are just children. "Doesn't matter where they come or what they look like. They're just children."
For more information on GrandInvolve, visit www.grandinvolve.org/.