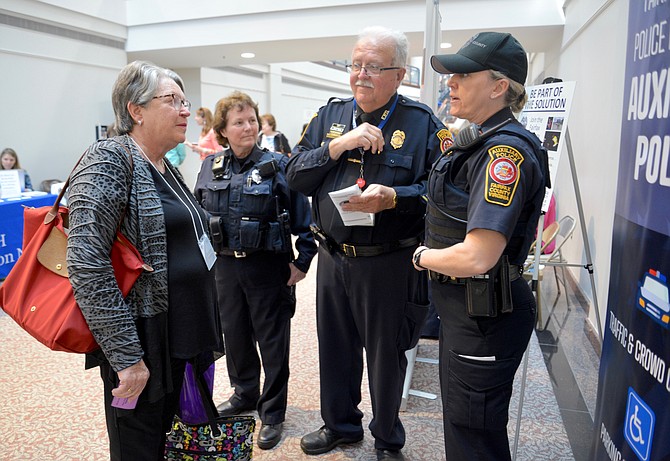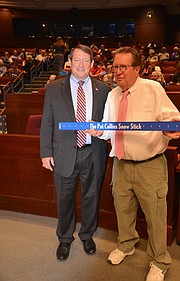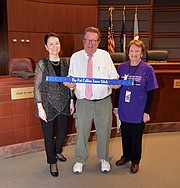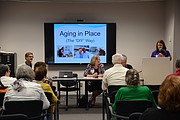 The 2019 Northern Virginia Positive Aging and Wellness Fair on April 8, powered by the Jewish Community Center of Northern Virginia (JCCNV) and Celebrate Fairfax, Inc., has grown dramatically over the years, requiring more and more space to spread its wings.
This year, for its ninth edition and for the first time, the event was held at the Fairfax County Government Center at 12000 Government Center Parkway in Fairfax. Even that impressive structure started to look more like Union Station than the halls of government. Some 600 registered fair attendees, 75 exhibitors, with more than 20 workshops in session, along with the staff, volunteers, facilitators and sponsors created an air of organized chaos as they mingled with the regular business of the county at work. Before the actual event-day, the event's website apologetically announced that walk-ins were no longer being accepted, such was the response received.
Pam Wiener, Director of Adult Services at event co-host JCCNV, officially opened the fair and was followed by opening remarks from Supervisor Pat Herrity (R-Springfield), who chairs the county's 50+ Committee. Tisha Deeghan, Deputy Executive Director, Fairfax County, also took a brief turn at the podium before handing things over to the keynote speaker Pat Collins, the long-time general assignment reporter for News4.
"I'm one of you. I'm 72. I belong here," said Collins, as he stood to address the packed theatre with his signature "snow stick" in hand.
For the next hour, Collins kept his audience enthralled – when they weren't laughing at his hilarious descriptions of "coming up in the old days," trained by "grizzled old men with typewriters – and no degrees."
The Emmy award-winning Collins ranged far and wide in his remarks, from his own history and how he "accidentally became a reporter at age 15" to stories across the timeline of his career. Starting as a print journalist with the Washington Daily News, then the Washington Star, his first foray into television news reporting didn't go quite as expected.
"On my first day, first thing in the morning, they told me I wouldn't actually go on air until I was ready, and until they thought I was ready," recalled Collins. "Guess when I did my first on-air broadcast? You guessed it! On the 5 p.m. news that same day!"
After stints at WJLA and WDVM (Now WUSA-TV) in D.C. and WLS-TV in Chicago, Collins found his home at News4 in 1986.
The veteran newsman says he has the best gig these days. "I can cover everything from murders to snow storms," all while working just three days a week.
While he may now have transitioned to "part-timer," Collins insists he's "not done, yet" saying that older adults have a lot still to offer in experience and life lessons learned that they can share.
"And what else can we older adults do? What other power do we hold? That's right, we vote," he noted to enthusiastic applause. "So keep going, keep active, use your knowledge and your skills. We have plenty left to do."
THE WORKSHOPS were held in three sessions, with topics like "Better Brain Healthy: Save Your Memory and Your Mind," "The Street Smart Senior: How to Avoid Getting Scammed," "Reaching Your Financial Goals," "Finding a Meaningful Encore Career," "Looking for a Meaningful Volunteer Experience," and "Gadgets and Gizmos for Your Health and Happiness."
The teachers were engaging experts in their fields. Among them were Patricia Rohrer, Long Term Care Program Manager with the county's Health Department, Carrie Brill, Caregiver Specialist and Management Analyst, Fairfax County Area Agency on Aging, Cathy Turner, Director of Senior Health at Virginia Hospital Center, Cherie Lejeune, Age+Tech Innovator, and even a staffer from the Office of the Attorney General.
More experts manned the exhibitor booths.
There were representatives from numerous home care resources and senior living communities, and other sponsors displaying medical and health-related offerings, and other businesses that provide services and products aimed at making the life of older adults easier and more comfortable, help residents age in place, and keep up with today's technologies.
Rebuilding Together Arlington/Fairfax/Falls Church was just one of those offering much-needed assistance. The nonprofit uses expert volunteers to make critical home repairs or construct disability and/or accessibility improvements at no cost for qualified homeowners on a limited income.
Allegra Joffe, who represented PRS CrisisLink's CareRing Program, was on duty, introducing visitors to the program that provides daily phone calls to help those individuals living alone or disabled or with chronic illness.
"It's a great free service," said Joffe. Clients are provided with screening upon intake and periodically during their time with the program, "so we can better know them and best serve them," Joffe added.
CareRing provides a daily friendly chat, but also can assist clients with reminders about medications or appointments, checking on general well-being and even helping ensure that clients are eating regularly.
Among the booths that lined much of the lower level of Government Center, there were even some opportunities for job and volunteer-seekers, like the Fairfax County Auxiliary Police Officer program, there to hunt for a few new "rookies" to join their ranks.
The Grandinvolve organization was also on hand, hoping to entice a volunteer or two into sharing skills, hobbies, interests and talents with elementary school kids.
THE LIST of services, products, and potential opportunities goes on. If you missed the 2019 Positive Aging and Wellness Fair, here is a way to get connected.
Check out the county's website www.fairfaxcounty.gov/OlderAdults. While you are there, subscribe to the monthly Golden Gazette forinformation and a calendar of events. There is even a phone number – one number – to reach knowledgeable folks who can get you started or even help you navigate to the information or services that you are seeking.
Call 703 – 324 – 7948, TTY 711, 8 a.m. – 4:30 pm, Monday – Friday for help with services for older Fairfax County adults. And one more piece of advice: don't miss out when the next Positive Aging and Wellness Fair comes around again.