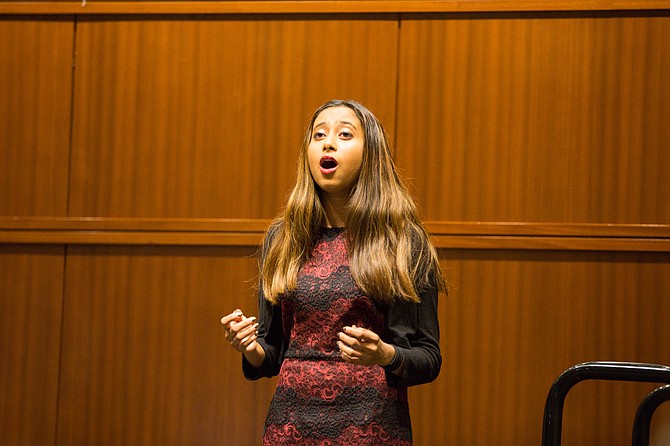 Though opera audiences seem to be growing older, new hope for young people's love of this art form emerged at Opera NOVA's Spring Fling on April 29.
Mina Swaminathan, 15, of Gaithersburg, made her Opera NoVA debut, singing Giovanni Paisiello's "Se Tu M'ami." Mina, who attends Duke Ellington School for the Performing Arts in Washington, is launching a Girl Scouts project to "Open up to Opera" on a nationwide scale.
And one spectator, Jenna Francesca Goldberg, 8, said she was impressed by the lovely voices of the singers, "especially when they sang high, high high." An aspiring actress, she often takes the lead role in her school productions.
These girls seemed to be carrying out Opera NOVA's mission of spreading this high art form from the costly opera houses frequented by older, rich people to newer, more diverse audiences at low cost.
Peter Fallon, a candidate for County Board, noted Opera NOVA's long contribution in introducing young students to a theater production by professional vocalists of an opera designed for them. "It has democratized access to its performances by building new audiences of seniors and those who are marginalized in the county," he said.
Fallon was joined by such speakers as Tom Weiner of the Arlingtones and Kelvin Manurs from Nauck, who stressed the importance of keeping Opera NOVA as it fills a social need that affects the overall culture of Arlington.
The audience at the National Rural Electric Coopertive Building also heard music from Artistic Director Jose Sacin, and soloists Jocelyn Hunt, Alex Albuquerque, Grace Gilday, Sissel Bakken, Eduardo Castro, Jenni McGinnis, and Annie Gill.
Opera NOVA recently completed a production of Scott Joplin's "Treemonisha" in April and plans a condensed version of Rossini's classic "Cenerentola (Cinderella)" next year, along with concerts benefiting seniors and young people.