On Sunday, April 30, the eve of National Lyme Disease Awareness Month,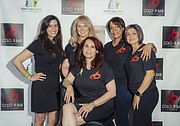 Vienna's Colour Bar Studio was full for its 3rd Annual Cut-A-Thon, which raised money for The National Capital Lyme and Tick-Borne Disease Association (NatCapLyme). NatCapLyme is a nonprofit that sets out to end Lyme disease and to improve the lives of people living with this seemingly ubiquitous tick-borne illness. To date, Colour Bar Studio has raised almost $25,000 to advance Lyme research.
"We raised $8,700 at this year's event, and all proceeds go to NatCapLyme for their important research," said Tania Ferrel-Saldaña, owner of The Colour Bar Studio. "We'll keep collecting donations for the rest of the year, and my goal is $12,000 in 2017."
Six of Colour Bar Studio's hair stylists donated four hours of their time, and talents, to perform 23 haircuts. All proceeds went to NatCapLyme for their life-saving research.
"Each haircut was $100, which all went to NatCapLyme," Ferrel-Saldaña said. "The stylists and support staff all donated their time to make sure that everything ran smoothly. It wasn't just haircuts. There were also people who came to The Cut-A-Thon to give us donations, to purchase raffle tickets, and even just to hang out."
PEOPLE came from near and far to attend, she added. One man living with Lyme disease drove from New York after reading about the event on the NatCapLyme website.
Among the community support that makes the Cut-A-Thon possible every year, a number of local businesses donated items for the salon to give away as raffle prizes. From spa treatments to retail items, Colour Bar Studio was able distribute 20 prizes — at no cost to the salon — to those who purchased winning raffle tickets.
The Cut-A-Thon is close to Ferrel-Saldaña's heart because she suffers from chronic Lyme disease. She has spent the last five years of her life waging her own war on the disease that has eaten away at her energy, memory and quality of life. To compound her pain, she's also watched her children struggle with Chronic Lyme disease's persistent symptoms.
Karla Ferrel, Tania's daughter and Colour Bar Studio's salon director – also battling Lyme – is proud to be a part of what she hopes is a movement gaining momentum. She said every member of the staff, though, considers the Cut-A-Thon to be the most meaningful part of Colour Bar Studio's year.
"It's special to everyone because it supports a cause that they have seen firsthand affect someone close to them," Karla Ferrel said. "Through it all, we've also learned more about clients that suffer from Lyme disease."
As more doctors recognize the prevalence of Lyme disease and the chronic impact that an overlooked and undertreated tick bite can cause, this salon's team understands that they are raising greater awareness of the epidemic.
"This is a disease that gets such little attention, so it is important for people to see a small business dedicated to awareness," Karla Ferrel said. "I know personally that it's a relief to see events like this."
IT ALL STARTED close to four years ago, when Ferrel-Saldaña asked her staff to think of a way for them to give back to the community for its support for Colour Bar Studio as it established itself as the new business on the block.
"The Cut-A-Thon wasn't my idea," Ferrel-Saldaña said. "To support me, my team wanted do something for the Lyme community, and make people more aware of what they go through."
Though Ferrel-Saldaña still hopes to earn more for NatCapLyme by the end of the year, she is pleased with this year's turnout and remains touched by the support and sacrifice of her team at her salon. She's already started the planning for next year's event, on Sunday, April 29, 2018.
"I know what I need to do to raise even more money," Ferrel-Saldaña said. "It takes a lot to make it a success, but, without question, it's worth it all the hard work and sacrifice."