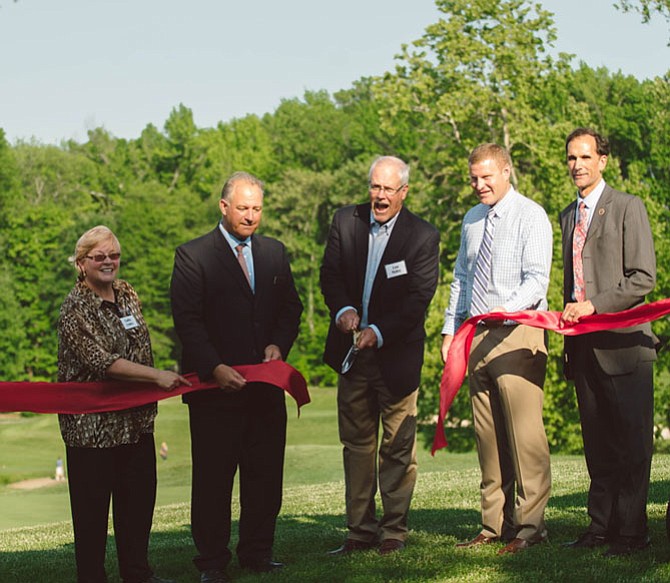 Mount Vernon Country Club celebrated the formal reopening of its "eco-friendly" golf course on May 11 with a late-afternoon ribbon cutting and reception. Local elected officials joined club President Lou Haley and General Manager Pete Van Pelt in wielding the traditional giant scissors to sever a ribbon stretched between two golf carts adjacent to the 18th green.
Attendees included Fairfax County Supervisors Dan Storck and Jeff McKay, state Sen. Scott Surovell, Del. Paul Krizek, and Earl Flanagan, Mount Vernon's representative on the county's Planning Commission.
Haley opened the ceremony by describing how the golf course will help improve the local environment in three distinct ways. First, the club dredged two irrigation ponds to capture incoming silt from upstream so it will not wash downstream into the Potomac and Chesapeake Bay; that silt can be removed periodically from the ponds. Further, the increased depth will eliminate shallow-water algae blooms and offer a healthier environment for fish and wildlife.
Second, the club completed the streambank stabilization project it started in 2004. The National Fish and Wildlife Foundation recognized both the previous and recent efforts with monetary grants to help with costs. Both the improved ponds and streambanks will improve the quality of water flowing downstream from the club.
Third, the club removed the Bent grass from the fairways and planted a hybrid Bermuda grass that has been proven to be more environmentally friendly. The hybrid will need only half the water, fertilizer, insecticides, and fungicides required by the Bent grass. A United States Golf Association agronomist called the new fairway grass "a home run for Mount Vernon."
Cathy Ledec, chair of the Environment and Recreation Committee in the Mount Vernon Council of Citizens' Association, not only spoke at the ribbon cutting but also lauded the project last year. "Mount Vernon Country Club is working very hard to be good stewards of their land, and the members recognize the importance of their greenspace."
Ledec, Storck and McKay spoke briefly before helping with the ribbon cutting. A brief reception followed on the clubhouse terrace.