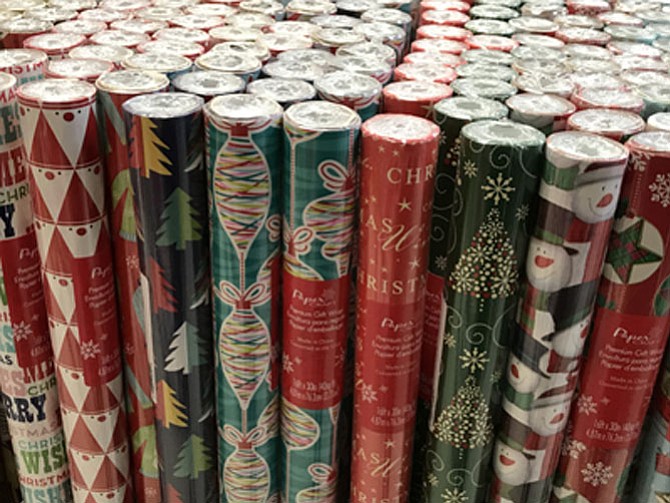 "The holiday cycle starts with Halloween and it builds momentum and can snowball as people get more and more stressed." — Rachel Trope, clinical exercise physiologist at Washington Center for Weight Management.
The stretch of time between Halloween and the New Year can be a source of merriment and joy, but it can also be a cause of stress, say mental health professionals. According to a study by the American Psychological Association more than 60 percent of Americans found the holiday season a frequent source of stress and fatigue. While joy is still the primary emotion, finding a way to create balance and manage the additional demands brought on by the holiday season can make holidays merry.
"Part of managing stress is identifying the causes of stress and being aware of what is going on with you and what is going to trigger you," said Maria Mangione, Psy.D., clinical psychologist at Washington Center for Weight Loss Management. "Look back at past holiday seasons and ask, 'What got you sad? What made you nervous? What made you angry? While we're outside of the holiday season, if you can look back at past seasons and think about the times that you were stressed, you can come up with a toolbox of things that could be helpful to you."
From shopping and budgeting to overeating and dealing with emotional issues, Mangione says crafting a plan in advance of the holiday season is a key to maintaining balance. "When someone is dealing with people or situations, it's hard to figure out how to deal with it in the moment," she said. "If people prepare and have a plan in place, they can go on autopilot."
"The holidays are a time in which we are potentially confronted with a lot added responsibilities outside of our day-to-day," added Monica Brand, Ed.D., assistant professor, Department of Counseling, Marymount University. "As a result, we can be thrown off and stressed simply because we are not on our usual routine."
UNRESOLVED FAMILY ISSUES often resurface during the holidays and lead to tension. "Overall, our change in routine, increased interaction with family and the expectations we place on ourselves can all have some impact on our stress levels during the holidays," said Brand. As a result, people tend to brace themselves for whatever may come their way. A more basic method of avoiding stress is both mentally and physically preparing before company, travel, or hosting duties. Many people do this by creating to do lists, getting organized, and planning before the beginning of their holiday."
Be mindful of limitations and boundaries and limit the expectations we place on ourselves and others, advises Brand. "If you are one who is so caught up in festivities or is easily overwhelmed, setting reminders on your phone, smartwatch, or having someone hold you accountable in taking breaks from the festivities may recharge your batteries," she said.
Financial imbalance is a common plight during the holiday season, especially when a desire to give generously outweighs one's budget. "I cannot stress enough how important it is to set a spending limit for each person you will be shopping for ahead of time, before you go shopping," said Brian Neely, professor of Accounting & Finance at Northern Virginia Community College. "It is very easy to get caught up in the festive moment and spend far more than you really need to before you even realize what you have done. This will always result in buyer's remorse and can strip away the true joy that should go hand-in-hand with the customary giving of gifts."
Neely says that during the holidays most Americans have been programmed to spend the vast majority of their discretionary income all at once. "The worst aspect of this annual spending spree is that it generally goes on a credit card or two or three and it stays on there for a very long time," he said. "Once a purchase goes on a credit card, you are still paying for those purchased items for many months afterwards with accrued interest. So now, those presents under the tree on Christmas morning are still increasing in total actual cost until you pay that debt off from your credit cards."
Avoiding store-issued credit cards is a key aspect of maintaining a sane budget, advises Emily Knarr, visiting faculty member in Marymount's Department of Accounting, Economics & Finance at Marymount University. "They offer so many promotions during the holidays that it is tempting to take advantage of them, especially if your other cards are maxed out and you still need to buy presents," she said. "However, even if the terms of the cards and promotions are good, it still affects your credit rating when you take on more debt. It can also be difficult to close the cards once started."
Neely has developed a foolproof way of managing holiday finances. "I always write out a list showing each item I have purchased for each person and track the amounts I have spent on each person separately each night after I have finished shopping for the day," said Neely. "Seeing it all written down on paper can really help you curb your enthusiasm when it comes to frantic holiday spending."
MAINTAINING AN EXERCISE REGIMEN is an important part of maintaining balance during the holidays says Rachel Trope, clinical exercise physiologist at Washington Center for Weight Management. "Physical activity is going to increase mood and decrease anxiety," she said.
Advanced planning is a key to making sure it doesn't fall by the wayside, advises Trope. "For example, if you're traveling, take your exercise clothes and shoes," she said. "If you schedule exercise, you're less likely to push it off and it's more likely to be successful. Get a friend that you can meet and exercise with."
Roll exercise into family traditions. "If you can't get to a gym, try walking and try integrating your holiday traditions into something active," said Trope. "Try to establish new traditions that are active that you can enjoy with your family and not take away from family time or create the stress of having to choose."
Put pen to paper when you develop a plan. "When you come up with a plan, write it down and put it someplace where you can see it and remind yourself of it," said Trope. "Write down what kind of reward you're going to give yourself."
Stress can lead to overeating during the holidays, and although holiday meals are often associated with decadence, not all those dishes are fat and sugar-laden, advises Sara Ducey, professor of Nutrition and Food at Montgomery College in Rockville. "Our holiday dinners feature many nutritious food choices [such as] poultry and fish, sweet potatoes and squash, peas and other green vegetables and salads and fruits," she said. "But there are also starchy, fatty and sugary foods [such as] mashed potatoes, rice dishes, cakes and pies and ice cream, whipped cream and marshmallows."
Ducey recommends variety. "The more types of food you have, the more you and your guests will eat," she said. "This is called the buffet effect. So offer many [colorful] vegetable dishes to make your buffet look beautiful and inviting … [But] if you see the food, you will eat it. Keep the food away from the table, so guests have to get up to refill their plates."
It is easy to get caught in the chaos of the holidays, but it's important to remember the traditions, values and beliefs that are unique to each family, suggests Brand. "[The holidays] should be a reminder to us that not everyone has the resources, access, or privileged to spend time with the people they love on the holidays, or even more importantly, share in celebrating the same holiday as you might," she said. "Practicing daily gratitude will help increase your appreciation for yourself and the experience you have with others."