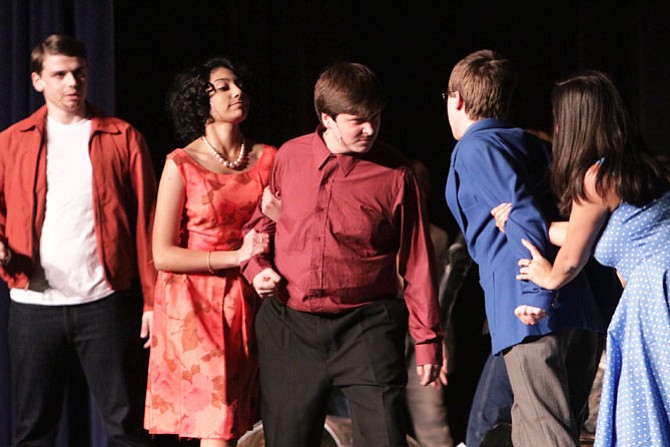 Shakespeare's "Romeo and Juliet" chronicles a forbidden love between two young teenagers from warring houses ultimately leading to their fatal downfall. In a tragically beautiful performance, Bishop O'Connell High School put on a well-received and pleasurable production of "Romeo and Juliet" in which they tackled the challenging emotional characters with poise and maturity while adding their own twist.
This classic tragedy follows two star-crossed lovers Romeo and Juliet, and their two families, the Montagues and the Capulets. The two families despise each other and, as their children fall in love, tensions rise but in the end the two lovers die in a scene both romantic yet heartbreaking where both houses reconcile their differences.
Bishop O'Connell took on the very difficult task of diving deep into the emotional characters that this play requires and each actor put on a high energy performance which engulfed the audience into every line they spoke. With unique character gaits, mannerisms, and even vocal inflection that made each actor on stage different from the other and fascinating to watch keeping the audience engaged with every movement.
A dreamy, impulsive, and hopeless romantic, Romeo Montague (Jeffrey Hales) sets his heart towards the beautiful Juliet Capulet (Kyleigh Friel) even though he knows that their love is wrong in the minds of their families and he will be put to shame if anyone were to find out. Although he is aware of the consequences he falls incurably for Juliet. Coming on stage with a purposeful walk each time whether it was whimsically dreaming of Juliet or a swagger gait meant to intimidate, Hales captured the essence of Romeo in his intentional character shifts and heartwarming passion for Juliet.
Contrasting Romeo, Juliet is a strong-willed young woman who is abandoned by her family, beaten by her father, and fooled by the Friar ultimately leading her to find herself choosing death with Romeo. By developing a deep connection with her mother, Lady Capulet (Elithia Arif) and the Nurse (Ava Coffin), Friel not only brought the audience the occasional comedic relief but also made the betrayals and the death that much more heartbreaking.
Alongside Romeo, Mercutio (Rosemary Paulson) offers Romeo sage advice until he and a foe, Tybalt, get into a fatal brawl leaving him dead. With a boasting walk, Paulson complemented Romeo (Hales) by providing a comic punch with witty timing and gestures, which Hales had to fight back at which developed into a believable friendship onstage.
Although at times, the microphones remained on backstage so the actors could be heard, while they were onstage, the microphones were clear and crisp making for a pleasurable experience.
Written back in the late 1500s, "Romeo and Juliet" has become one of the most widely studied plays but something unique about Shakespeare's work is that the themes are still relevant today. Since "Romeo and Juliet" has a universal theme of young lovers, which can take place in any time, Bishop O'Connell used that to their advantage and set their production in a 1940's New York, which added a new dimension to their performance making it even more relatable for the audience. In utilizing metal scaffolding for Juliet's balcony, putting Marilyn Monroe posters in Juliet's room and even the small detail of the metal trash cans, The O'Connell Players Tech Crew (Anne Marie Wolf, Michael Black) created a set that teleported Romeo and Juliet from the 1500s to modern day 1940's New York which allowed for a fluid connection that made the performance that much more enjoyable.
"Romeo and Juliet" is a difficult piece for high school which Bishop O'Connell put on enjoyably.