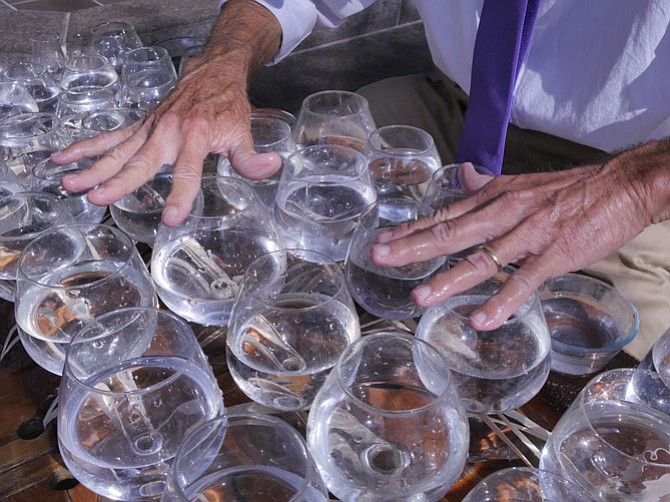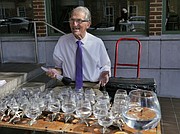 Jamey Turner has set up 50 glasses of all sizes on his table at the corner of King Street and Union in Old Town. He has filled them with an exact amount of distilled water, the more water, the lower the pitch. Turner says he uses inexpensive glass because crystal rings too long. Turner patiently tests the pitch on each glass and uses his turkey baster to add a squirt or a few drops as necessary to get the sound he wants.
Turner explains he will use his small finger, forefinger and thumb on his left hand to create the chords or the first two fingers on each hand to get all of the overtones. The friction created by his fingers with distilled water on the rim of the glass creates very close to a pure sound wave.
Three friends hear the sounds and cross the street to gather around his table, and soon a small crowd has appeared. They have many questions. "What are you playing?" Answer: "the glass harp." "How did you ever start doing such an unusual thing?" He grew up in a musical family in Montana and he remembers when he was 6-years-old his dad played a glass at the dining room table. Then the Hunter family came over for dinner and they all tuned their glasses. "I heard beautiful chords."
Turner started to learn a lot of instruments; the piano was basic, then on to the violin, then the flute and the clarinet, which was his favorite, and which he played in the Army band for three years.
Since then Turner has played in a lot of places and a lot of unusual instruments. He has just played at a school in Connecticut and plays at schools all around the country. "I am able to teach acoustics. It creates wonder when the children hear the sound." Turner keeps a complicated schedule and will be at Marshall Elementary in Manassas later this month. The furthest away he has ever played is Japan about four years ago. "Nippon TV wanted me to play on TV. I played their music but they wanted me to play Western music. But," he says, "one thing I never do is play on Sunday. That is for the Lord."
At one point he taught himself to play the handsaw in Montana, and it was also a pure sound. His friends told him he should contact Johnny Carson. So he sent in three lines and got a letter back asking for something that was an early form of video. "I'd never heard of it. I thought 'a la la I can do this.'" So he told them he could play a Beatles tune and would send five very fine pieces and he filled the letter with sawdust. He got a call the next week. He played on the Johnny Carson show several times including a duet with Johnny on the wrench and Turner on the handsaw. Turner said the conductor of the Boulder Philharmonic Orchestra once wrote three concertos for him as soloist on the handsaw.
Turner plays all kinds of music. There are 400 pieces written for glass. "I play 'Twinkle, twinkle' for the little kids, "who are spellbound," and Star Wars is one of the most popular. But he plays Mozart and Bach and Beethoven. "I play a piece from Lebanon that all the Muslims know. They can't believe I'm playing their music."
He remembers one time in New Orleans when he was just packing up. A man asked if he knew "The Sound of Music." "I told him I did but I was really tired. He told me he wanted to sing along. I told him I was still really tired. But he said he was a member of the Von Trapp family." Turned out he was the youngest son of the Baron. "What a voice. When he started singing people came running from all over."
Another time Turner was playing a march and someone came up and said his grandfather wrote it. He was the grandson of John Philip Sousa.
After about 15 minutes of tuning, Turner is ready to play. He fingers dance over the glasses as he begins with his signature song, Beethoven's Ninth Symphony. As he says, sometimes he is on this corner and sometimes he is in Paris.