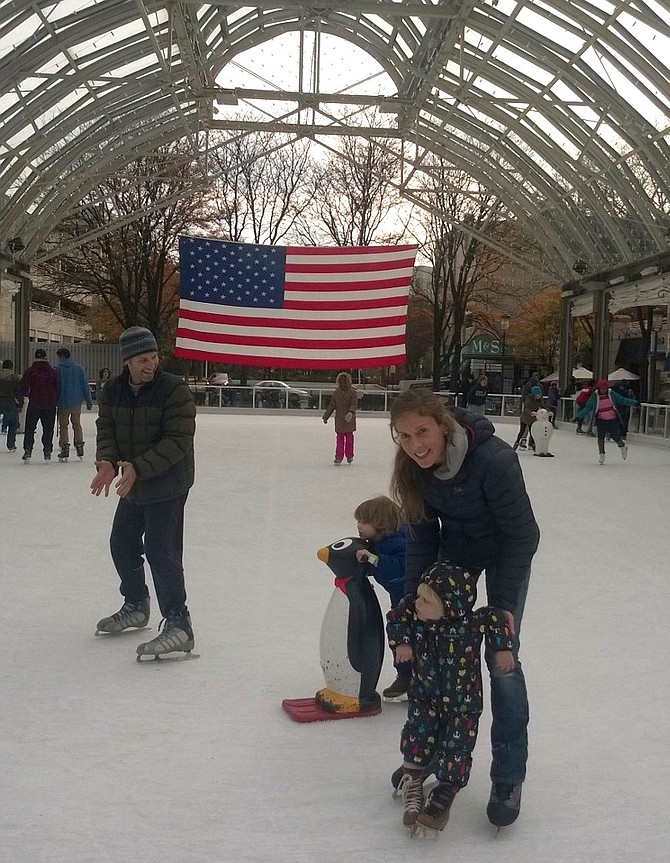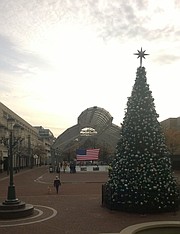 "Holidays are here" proclaims the red and white banner strung across Market Street at the Reston Town Center near the square and pavilion. Visitors to this shopping and dining destination are ready as early as Nov. 12.
Local resident Ryan McKinney said he and wife went on their first date here at the Reston Town Center ice rink "when we were 15 years old." On a Sunday afternoon, the 1998 graduates of Langley High School in McLean brought their young sons to this special place they hold near and dear to their hearts.
"This is their first day skating," says Jessie McKinney as she holds her toddler, Finn, while he gets used to standing his ground on a slick surface.
His older brother has this new skating adventure under control at the ripe old age of 3 years old. Bryce McKinney's little happy feet move quickly across the ice as he steers his skating partner — a penguin ice scooter. No worries: Bryce's dad is both wingman and defensive player on the ice, and Ryan is poised to catch his center if necessary.
The Reston Town Center kicks off Black Friday in a bright way Nov. 24 for the whole family — starting at 8 a.m. with gingerbread races for kids, followed by its 27th annual parade at 11 o'clock.
Afternoon fun includes mini-train rides along Market Street and photo opportunities with Santa Claus. The Fountain Square takes center stage at 5 p.m., with a performance by Reston dance academy — the Conservatory Ballet — and a tree-lighting ceremony at 6 p.m. Visitors also can make donations to local non-profit Volunteer Fairfax and experience horse-drawn carriage rides for $5 each from 6:30-10 p.m. Call the Reston Town Center at 703-579-6720. Learn more about the RTC winter festivities online at www.restontowncenter.com/event/holidays.