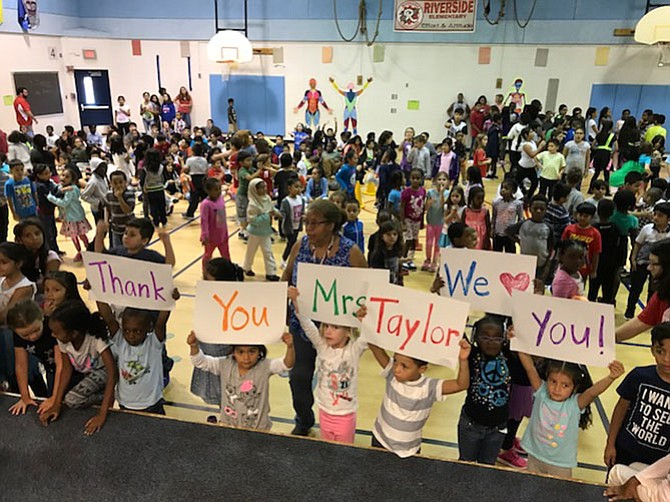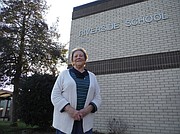 Some of the most poignant grade school memories come from lunch. Especially if you've ever been the new kid on the block, you know the importance of a friendly face in a school cafeteria. For 40 years, Alexandria's Dorthy Taylor was there to provide one for the children of Riverside Elementary School.
On Tuesday, Oct. 3, Taylor retired as Riverside's longest "lunch lady" in the school's history.
"Dorthy was definitely Riverside's longest lunch lady and probably the longest tenure employee, as least to the best of anyone's memory on staff," said Paul Basdekis, Riverside Elementary School principal.
Although the role at Riverside became incredibly significant to her, the elementary school cafeteria position simply started as a means for Taylor to produce extra income for her family. Before she knew it, though, she was too invested in the Riverside community to pursue anything else.
"Years go by and you still enjoy the people you work with, the job you are doing and the children. The younger ones are especially fun to be around and engage with," she said. "And, I have been blessed with good health overall. So as those benchmark anniversaries came, not only did our family need the money, but I was still making a difference and liking the work."
Although she had her own children at home, nurturing Riverside students was like an extension of motherhood for her.
"Engaging with the kids and making a difference was by far my favorite part," she said. "I know the role I played in feeding the students was important, and it's been in the news so much lately that providing meals at school is so critical to student health. For too many kids, that may be their only meal of the day. Hungry kids perform poorly in school. The staff I worked with and many teachers and administrators would donate money each year to an informal fund to help kids in need. We would never allow a student to come into the cafeteria and not eat. It just didn't happen in the 40 years I worked."
Taylor has seen how lunch in Fairfax County Public Schools has changed over the past four decades.
"The kitchen has been modified so much over the years," she said. "In the early years, meals were prepared from scratch — spaghetti, pizzas, burgers, turkey, tacos. Even potatoes were peeled and mashed by hand, fruit was cut fresh, the chicken came in whole and was cut into pieces, seasoned, breaded and cooked all by hand. Food was much more wholesome. On the other hand, even though food is more processed in many respects, there is also more emphasis on good nutrition. There are no longer, soda and juice machines, ice cream bars and cups are no longer sold."
The students coming in and out of the cafeteria every day have also changed.
"Students in the early years dressed up – button up shirts and slacks for boys, and dresses for girls," Taylor said. "Now there are much more icons, slogans, cartoons, logos, and goofy and funny prints on tees and shirts that boys and girls wear. As well, there is so much more diversity. In the early years, the school children were predominantly white. Now, it's so nice to see such a blend of students from Africa, Asia, South and Central America and from countries across Europe. And they often dress in the colors and styles that are influenced by where they came from. The diversity is great in my mind."
While some things change, others remain the same.
"Teachers are still great, underappreciated and overworked," she said. "They do so much for kids besides teach academics; they really try to teach manners, and civility. Learning table manners is important to be taught, and many of the teachers through the years try to instill these lessons."
Taylor herself planted some important lessons to the children that surrounded her, especially her own. Her three children – Ron, Teresa and David – all went to Riverside and their mom was the epitome of hard work.
"My mom was only 17 when she had me, and she and my dad worked their butts off to ensure we had everything we needed to have a great childhood," Ron said. "They sacrificed a lot to make our lives fun, safe and full of experiences. I know my work ethic is a direct result of their example. I try to emulate and honor them with how I engage and perform with my coworkers and clients in my workplace. How many people does anyone know who worked 40 years anywhere? And even more incredible at one place doing one job. It's estimated with 180 annual school days over 40 years with 500 to 700 kids eating a lunch each day and the last two years breakfast for all the kids each day. My mom helped prepare and serve between 3,600,000 and 4 million meals. I think that may be a record. My family is in awe of Mom's achievement."
As much as the always evolving Riverside student body meant to her, Taylor had a significant impact on Riverside, too.
"As someone who just recently spent some time in the kitchen to help cook and serve for the Thanksgiving lunch that brings in an extra 300 plus parents to have lunch with their kids, I can tell you that it is not easy work," Basdekis said. "The ladies work fast and they work hard to make sure that our kids have a hot and healthy meal ready for them at lunch time. I could barely last an hour in there and Dorthy did it every school day for 40 years. She is an incredibly humble and positive person who embodies everything we teach our children about work ethic. We want to provide our students with the tools that will enable them to have as many career options as possible upon graduation, but most importantly, we want them to do their best in whatever line of work they choose. Dorthy is a great example of work ethic, humility, and commitment and she has left an impression on our children and Riverside community for so many years."
As a new citizen of the world of retirement, Riverside is still very much with Taylor. And, as she moves forward, she'll still be spending time with an important group of youngsters.
"It's been tough," she said. "I still wake up early and think I have work to go to. Work still calls to ask questions, which makes me chuckle and feel good. It's nice to be missed, but I have three kids, five grandchildren and five great grandchildren so I love spending time with them. I also plan to travel more to see my sisters, brothers, nieces and nephews."