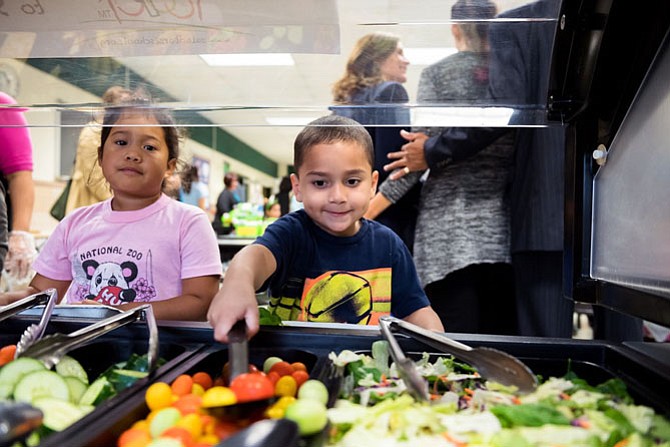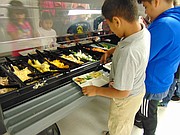 The Fairfax County Public Schools has two more years before it hits its self-imposed expiration date to implement fresh "Real Food for Kids" salad bar programs in all 141 of its elementary schools. A new salad bar opened this week at the Great Falls Elementary School.
All students may select fruits and vegetables for lunch from the salad bar, and then they may complete their lunch by choosing either the salad bar protein and grains or the hot entrée listed on the menu for that day.
"We're all excited," said Sara Harper, the school's principal. "This is absolutely something we've been wanting."
Not only have Harper's students asked about it, but their parents have been asking her about bringing a salad bar to the cafeteria ever since the first salad bar in the county public school system rolled out at Vienna Elementary School in May 2016.
"My hope is that providing a couple of different options and a salad bar … will increase some of the revenue for some of the lunches," Harper said.
Schools have been eager to get their salad bar as soon as possible.
"I just think that it's a huge step forward," Harper said. "We had to get our name in there and get on a wait list and I did it early enough to kind of be on the front end of it. We feel really fortunate."
Harper said she has been stopped in the halls by enthusiastic parents who expressed their excitement that their kids who have food allergies or celiac disease will have a better selection and be able to purchase lunch in the cafeteria without worrying about ingredients.
"It's just an amazing opportunity to provide food that is nutritionally sound and meets a lot of different nutritional needs," she said.
THE MAN EMPOWERING the opportunity was brought out of retirement to lead the charge.
"I am known as starting the first of its kind salad bar in the country back in 1997," said Rodney Taylor, director of food and nutrition services for FCPS. "It was called the Farmers' Market Salad Bar."
Taylor retired after more than 20 years of directing nutrition programs for public school districts in his home state of California before coming to work for FCPS in September 2015.
His mission is to make the meals healthier and rolling out a salad bar program for all elementary schools in the county is one of the ways he is accomplishing his goal.
"In my years, I have not seen any other program as successful in getting kids to consume more fresh fruits and vegetables," Taylor said.
This idea has been challenged by those in his position at other school districts.
"Most directors will tell you that they don't want [a salad bar] because it's unsanitary and kids can't make their own choices," he said.
But Taylor will tell you that he "hasn't lost a kid yet" after the many years of rolling them out to young students. And there are steps in place to ensure safety for students who aren't used to communal eating.
"The kids will meet to better understand, like: Don't lick the spoons and stuff," Harper said.
Before the salad bar opened on Wednesday, Nov. 1, students of all grade levels attended an etiquette training on Monday, Oct. 30.
The children learn about the importance of the sneeze shield running along the salad bar and learn how to use the hand sanitizer station before going in to grab the communal utensils. Cafeteria staff also received training on proper maintenance of the new salad bar.
"Our cafeteria manager has [been trained] to better understand the upkeep and what they need to keep the food fresh and the vegetables clean and safe," Harper said.
School cafeterias have served apples, oranges, bananas and pre-made salads for years, but it is the self-selection and control that is the catalyst for changing the way the students eat, according to Taylor.
"If kids are allowed to make their own choices, they will consume it instead of throwing it in the trash," Taylor said.
The salad bars also have to be user friendly.
"A third grader doesn't have teeth; they're going to throw the apple in the trash," he said. "A kindergartener can't peel an orange."
In the salad bar, apples are cored and sliced and oranges are peeled and sliced, according to Taylor. Rather than giving children just one fruit or vegetable option, a variety is also provided.
"They make their own choices," he said.
THE FIRST SALAD BAR was piloted at Vienna Elementary School in 2016 and have been rolling out steadily ever since.
Taylor was also committed to adding the salad bars in a way that didn't cause his department to run up debt for the school system.
"I believe that a program can serve healthy food and have a healthy bottom line as well," he said.
Grant funding for the new salad bars was provided by the "Salad Bars to Schools" campaign, according to Taylor. The campaign is supported by the Chef Ann Foundation, the National Fruit and Vegetable Alliance, the United Fresh Start Foundation and Whole Foods Market as part of former First Lady Michelle Obama's "Let's Move!" initiative.
"Though she is no longer in the White House, the organizations that provided salad bars committed to providing us with all 141 salad bars, and that's like a value of about $494,000," Taylor said.
The decision to hire Taylor and let him run his mission was spurred by parents.
Real Food For Kids, a nonprofit parent advocacy group working to improve food served in schools, lobbied FCPS for healthier options before Taylor was hired. The organization's Northern Virginia chapter works with the public school systems in Arlington, Fairfax and Loudoun counties, as well as the Alexandria City schools.
"Things like taking of the 26-ingredient hamburger and 72-ingredient quesadilla were initial missions of ours; to look toward cleaner foods so that we wouldn't have so many preservatives or additives … and move toward more fresh foods," said Mary Porter, director of programs for Real Food For Kids.
The salad bars were something the group advocated for from its formation years ago and has partnered with Taylor to implement the program. With a like-minded individual running the nutrition program for the schools, Real Food For Kids primarily engages the school communities to support Taylor's work and to educate them about healthy eating.
"We are the support network for them," Porter said. "One of our jobs when these salad bars get rolled out is to work with the school community to recruit parent volunteers to help us for the first few days of the salad bars."
The program to get salad bars in all elementary schools will take two more years, which is about one a week from here on out, Taylor said.
"I came with an expiration date; I'm going home in five years," he said. "I've got a home in California and I'm going back."