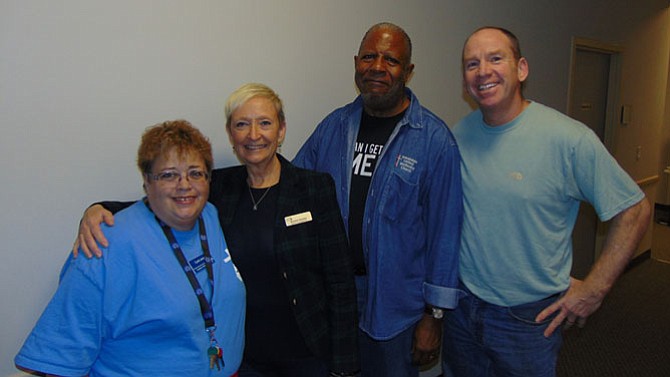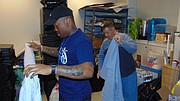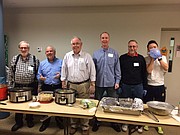 The cold weather is here and with that, the FACETS' Hypothermia Prevention and Response Program officially started on Sunday, Nov. 26 and will extend until April 1, 2018. It means every night there is somewhere warm for homeless people to sleep in Fairfax County. It means the homeless won't have to sleep in the woods or their cars or the streets. It means they will have a place to get warm dinners and breakfasts at 50 participating faith communities in Fairfax and Falls Church.
"It's a wonderful, truly collaborative effort between faith communities and FACETS to ensure that everyone has someplace warm to sleep at night," said Brenda Dushko, director of development at FACETS, a nonprofit.
The program started in 2003 in partnership with the Fairfax County government because some homeless people died on the streets on cold nights, she said. "Hypothermia centers started because people were dying in the winter. There was no place to go and FACETS and the faith communities got together and said this shouldn't happen to the homeless," she said.
FACETS works with 50 local churches who take turns each week providing a safe place for people to sleep, a warm dinner and breakfast the next morning. The church venues rotate each week so each Wednesday they announce where the next hypothermia site will be on its website (www.FACETSCares.org). All of the churches are in Fairfax County.
Dushko said last year some 279 people were housed at the hypothermia centers and 180 people received extra services, like getting in touch with social services and medical services — things they needed to start fresh. "Of those 279 people, 35 were permanently housed by the end of the season. So it really is working," she added. "It's a wonderful way to move people from homelessness to home."
Last Sunday, the Annandale United Methodist Church on Columbia Pike kicked-off the hypothermia program, taking in 50 homeless people and feeding them spaghetti, soup and salad, dinner rolls and dessert; offering a place to sleep; and then breakfast the next morning.
According to the Rev. Dr. Clarence Brown Jr., "Annandale United Methodist has a long history in the community here. A great part of our faith tradition has to do with caring for the least, last, lost and left out. Having the facility that we do allows us to offer hospitality to all of our neighbors, especially those without homes."
He continued, "AUMC has participated with our partners, FACETS, for over 10 years, in the hypothermia program as well as in the '100,000 Homes' effort, which focuses on the most at-risk among the homeless population to provide intensive focus on assisting them on the road to self sufficiency. It is our joy to do so."
FACETS works to prevent and end homelessness throughout Fairfax County by offering a spectrum of services, such as basic needs and financial assistance, counseling and outreach, educational enrichment programs, and permanent housing.
AT THE CHURCH SITES, they provide blankets and sleeping mats, hygiene products, fresh socks and underwear and sometimes even the opportunity to do laundry. They also provide transportation — each person receives two tokens for transportation to and from a safe location. They also have a chance to meet with a case manager to build a relationship with the aim of getting housing.
"That could be getting them into their own apartment, helping with the social services they need or working with veterans and getting them in touch with services," said Dushko.
Some churches hold movie nights and game nights. Some bring in local performers who do live music. Some provide haircuts. The largest age group they serve are homeless people between 24 and 54. The second highest is seniors over age 55.
For the chronically homeless — for one year or as many as 10 years — they look to permanent supportive housing. FACETS also has case managers who work with people with physical or mental challenges, to make sure they get to their doctor's appointments and get their medicines.
Dushko said a hypothermia center is usually the first place they connect with the homeless. It is a place where they might see them for several weeks. Over the course of the winter, they have a chance to make a bond with them, putting them in touch with the services they need.
"We also have two group homes. We may meet these people at a hypothermia center and find we have a spot for them at a group home," said Dushko. "We also help them with life skills, financial skills, help them get a job. We'll work with them to see if we can get them a job, open a door for a bright future."
"The amazing thing about this program is the extent to which it's operated by the faith community and volunteers," said Joe Fay, executive director of FACETS. "Coming to FACETS, I've been impressed by the number of volunteers, the engagement of the volunteers. Many of the faith communities have been with us for 15 to 30 years. It's truly amazing for the size of the organization that we are, it's much more extensive than the actual staff."
He continued, "We have a small corps of professional staff but then we leverage the volunteers to provide programs that in a way we couldn't afford to do if it had to be done with paid staff ... Our hope for this program is to get people a place to come in from the cold, to have a meal, to engage with case workers."
FACETS works on the logistics end to make sure faith communities have their paperwork in place, make sure they have meals set up, that they have the training they need, that they have volunteers. They provide case managers and facilitators and support with training volunteers.
According to Maria Avila, program director for single adults housing stabilization, Tuesday nights are what's called "reload night." They take their SmarTrip cards and give the homeless a weekly bus pass for $17.50, that's good for a week. It's essentially free bus transportation for a week that could be a chance for them to go look for a job.
Avila said case managers stop by Mondays through Thursdays from 5-8 p.m. to help polish resumes and help them look for jobs. "We can sit with them and go through the case management process, from everything to calling landlords to filling out housing vouchers. There's different levels for what people need," she said.