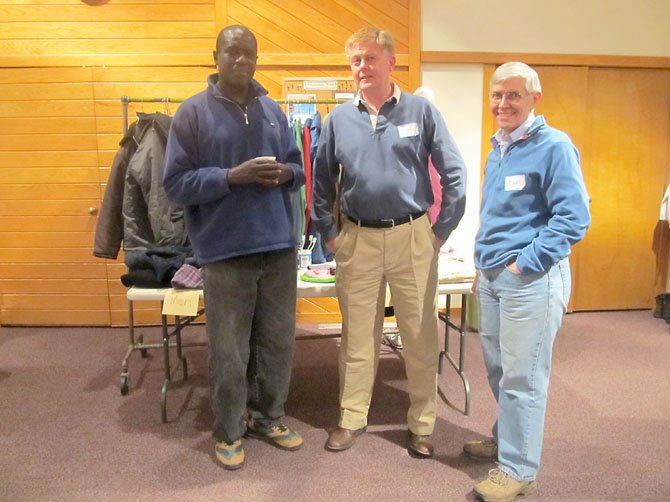 Musa L. gently draped a blanket over his wife, and promised her the new year would be better for both of them. She was sleeping on a foam pallet at the Burke United Methodist Church. Musa and his wife were among nearly 40 homeless adults seeking shelter from the frigid temperatures at the church on Friday, Dec. 21.
An immigrant from Senegal, Musa said he and his wife, who is originally from Florida, are homeless for the first time in their lives. He said both have jobs in Fairfax County, but they fled their apartment in November when a roommate threatened their safety. Since then, they have been staying at The Lamb Center during the day, a daytime drop-in center for the poor and homeless in central Fairfax County.
"We slept in our car the last few nights, but it was just too cold tonight," Musa said. "This church provides a wonderful service. We are able to get a meal and a safe, warm place to sleep. They also give you gift cards for food. They make you feel welcome, like you are still a person."
After his wife went to sleep, Musa chatted with Supervisor John Cook (R-Braddock) who attends the church and helped organize its hypothermia prevention program.
"No one should have to sleep in the cold and risk hypothermia," Cook said.
EACH YEAR hundreds of individuals living on the streets, in cars, and abandoned buildings in Fairfax County search for shelter from the bitter winter weather, said Amanda Andere, executive director of FACETS, a local nonprofit organization coordinating the county's hypothermia prevention efforts.
Beginning in late November, FACETS works with more than 40 faith communities to offer safe places to sleep and nutritious meals to men and women who are homeless through its Hypothermia Prevention and Response Program. FACETS program is one of five operated across Fairfax and Falls Church in partnership with the Fairfax County government.
Barbara Nowak, a realtor with Long & Foster, was a key organizer of BUMC's program, which provided hypothermia relief from Dec. 16 to Dec. 23.
"I make a living helping people find homes, and I've done pretty well," Nowak said. "This is not just about how much money is in your account. This program has made me more aware of the lack of affordable housing, and the effects of foreclosures and short sales, and how people are suffering as a result of the downturn in the economy."
Nowak and her husband, Gerry Staudt, helped recruit more than 130 church members for the church's program and organized training sessions that helped volunteers learn more about FACETS and ways to help the homeless. "We want to make sure our guests are safe and feel welcomed," Nowak said.
During its program, the church opened its doors at 5:30 p.m., and provided transportation to and from Fair Oaks Mall in the morning and late afternoon. Several volunteers, as well as a FACETS staff person, checked guests in to the shelter, and helped them find bedding, clothes and other necessities, as well as serving a hot meal and dessert. Alcohol, drugs and weapons are prohibited and lights are out at 10 p.m.
Nowak, who has lived in Fairfax County since 1976, said she is grateful for the opportunity to help others. "During the first night, when all the volunteers were getting the church ready for our guests, I truly felt like God was giving us patience, kindness and gentleness… we were physically exhausted but mentally exuberant as we transformed the church," she said.
LAST SPRING, Fairfax County Board of Supervisors Chairman Sharon Bulova (D-at-large)--along with non-profit leaders and other county officials--held a series of information sessions to address rumors and concerns that the county would shut down its hypothermia shelters this winter--and shut out many homeless residents--because of fire code violations.
Bulova said Fairfax County was "committed to serving the homeless population in a way that is compassionate and ensures their safety."
Cook said only two churches--instead of the rumored 18--were deemed unsafe to host hypothermia prevention programs.
"Most of the issues were simple ones that could be easily remedied, like installing smoke detectors," Cook said. "Everyone had to take a deep breath. There's a significant commitment on the county's part to work through these issues."
Last year, there were no hypothermia-related deaths in Fairfax County. But as temperatures continued to drop below freezing during the last week of 2012, the first cold weather-related death of the winter season was reported by Maryland state health officials. On Dec. 24, an elderly homeless man in Frederick County, Md. died of hypothermia.
"It's a tragedy when it happens anywhere. That's what Fairfax County, our faith communities and non-profit partners are working hard to prevent," Cook said.