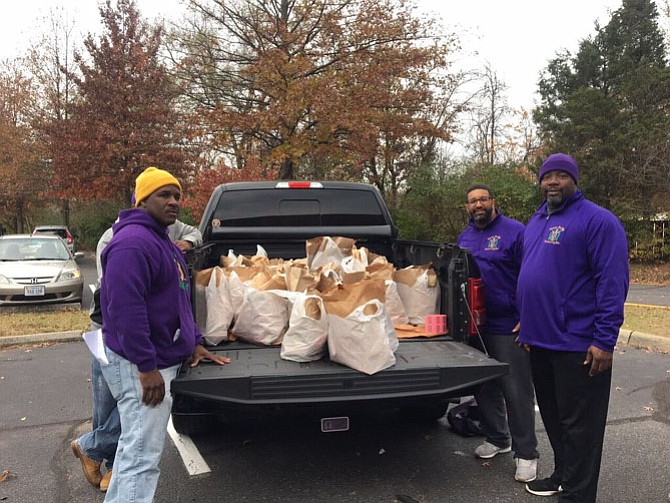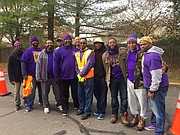 LINK, an all-volunteer pantry serving Herndon, Sterling, and Ashburn hosted their annual Thanksgiving Holiday Program on Saturday, Nov. 18. Lisa Lombardozzi, LINK President reported more than 900 families signed up to receive food assistance this year, the largest number of people since the program began in 1985.
Asked to comment on the factors that contributed to the record-breaking number of requests, Lombardozzi reported operational changes in several other local organizations were responsible.
For LINK's Thanksgiving Food Program, clients were assigned to either Trinity Presbyterian Church in Herndon or Christ the Redeemer Church in Sterling. At both locations, beneficiaries received a grocery gift card and three days worth of food for their families – items donated by local businesses, churches, schools, individuals, and through drives such as "Scouting for Food."
LINK invited beneficiaries to visit the Sterling United Methodist Church to select gently used coats and winter clothing. In all, LINK distributed more than 25,000 pounds of food, $25,000 worth of grocery gift cards, and 3,000 coats and other pieces of essential clothing.
Among the hundreds of volunteers who provided the workforce for the day were members of the Sigma Mu Mu Chapter of Omega PSI Phi Fraternity, Incorporated located in Loudoun County. According to Reginald Parker, Chairman of Sigma Mu Mu Social Action Committee, all the Brothers value community service. "We are committed to actively demonstrating an ongoing commitment to serving our local community with a strong statement that, "We are here to help," he wrote when reached for comment.
Lombardozzi said she was very appreciative and enthusiastic about all the volunteers and organizations that stepped forward for the Thanksgiving Holiday Program. "The community has been very supportive of the LINK holiday program. Every time we ask for volunteers, food, coats, or toys, we are blessed with a generous response," she said.
Lombardozzi stated LINK would repeat a similar process at their Saturday, Dec. 16, Christmas Holiday Program. Instead of coats though, new toys would be offered to the 2,083 registered children. More than 4,100 new toys are needed to support requests for children ages newborn to 16 years of age.
Lombardozzi added that LINK's food supplies are very low and must be replenished for the record number of people who signed up for help. "We need schools, churches, and businesses to host food drives," she said.
Lombardozzi asked for help in getting the word out to any group willing to host a food or toy drive and requested those interested contact president@linkagainsthunger.org or visit www.linkagainsthunger.org for more information.
"With your help, we can make the holidays a little better for these families in our community," Lombardozzi said.