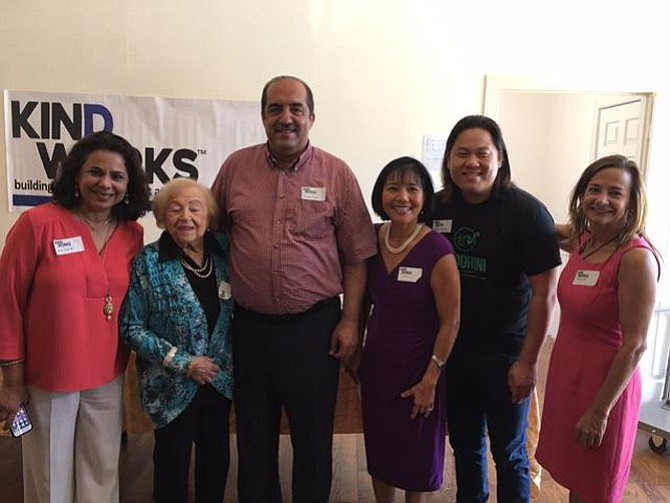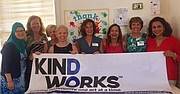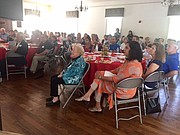 "These stories of resilience and courage, compassion and tenacity moved us deeply and motivated us to doing whatever we can to make sure refugees and immigrants feel welcome and cared for in our communities," said KindWorks' Chief Inspiration Officer Salma Hasan Ali. "We are so much stronger together."
KindWorks' Annual Inspiration Day was held on Sept. 24 at the River Falls Clubhouse. One hundred attended the luncheon which featured four speakers sharing narratives of each speaker's distinct refugee experience. KindWorks has recently furnished 10 apartments for refugees who have arrived from their countries with only the clothing on their backs; thus, the theme for the afternoon took on a special meaning as members and guests listened to the stories of former refugees.
Salma Hasan Ali, a daughter and granddaughter of refugees herself and an immigrant to the U.S. from Pakistan, said, "With so much discussion these days about refugees and travel bans, we thought it would be important to meet refugees who have come to our country across 80 years of our history. Put a face to a label; put a story to a statistic. And revel for a few minutes in realizing how much greater we are as a nation because of the beautiful diversity that comprises us."
The opening speaker was 92-year-old Blanche Porway, who stood in line as a 19-year-old at the Auschwitz concentration camp with hundreds of other Jews and prisoners. She and her sister were forced into hard labor but they watched as their mother was sent to the gas chamber. Their father and brother had starved to death in the ghetto. Porway's resilience was apparent as she walked up to the podium and broke into a dance for the audience. Her message: "People should be compassionate to each other, no matter what race, no matter what color. Never, never again. This should never happen to nobody. We should all always treat people with kindness."
Thu Tran's family was among the last Vietnamese to leave Saigon before the country was taken over by Communists. After several months in refugee camps, her family was sponsored by a Lutheran Church and settled in Columbus, Ohio. Tran was 14 when she left Vietnam, but she studied hard, learned English and became a medical doctor specializing in obstetrics and gynecology. She has been in private practice in Rockville for almost 30 years. Tran said, "I think it is incredible that the speakers are from four different parts of the world. We speak different languages, we worship different gods, we suffered three different wars — and today we are here together on this beautiful day to share our stories — this is the beauty of America."
Abdullah Al-Sayed, a refugee from Syria, had resigned from the Syrian Army in 1995 and was a project manager in a construction company. When the Syrian revolution began in 2011, Asad's forces demanded that he join the Syrian intelligence. When he refused, he was blacklisted and in danger of being put to death. The U.S. gave him and his family asylum six years ago. He initially worked in landscaping and now has his limousine business. He said, "Maybe it's normal for a lot of people to have plans and dreams if they get the opportunity to live in America. For me, my dream was just to be able to sleep without the fear of being killed, without fear of tomorrow and the future."
When Noobtsaa Philip Vang came to D.C. to study for an MBA at Georgetown three years ago, he was craving his mother's traditional Southeast Asian dishes. For one of his business classes, he developed the idea of a food delivery service which would employ immigrant and refugee chefs to create the flavors of their native countries. Foodhini was born. Vang attributes his understanding of the difficulties of refugees to his parents, who arrived as Hmong refugees more than 30 years ago. He also credits them with his desire to give back to the community. Foodhini donated the luncheon for Inspiration Day. The lunch included chicken shwarmas, fattoush salad and hummus and pita, made by Syrian Chef Majed.
Denise Schleckser, KindWork's board chair, said, "I was particularly moved by the joy in the lives of all of our speakers. After living through some of the most harrowing things that humans can experience, they found the capacity to be happy, to simply be alive and able to care for friends and family."
KindWorks is a non-profit organization which offers a range of volunteer opportunities to make it easy for busy people to take part in community service. Their projects range from organizing dinners and yoga at a women's shelter to cooking and serving breakfast at a men's shelter. They mentor and play chess with inmates at our local jail, collect fruit and vegetables at farmer's markets to donate to food banks and have many more projects. They now have a volunteer corps of more than 900 people. They will soon be accepting donations of household items or monetary donations to furnish the next refugee apartment. To learn more about KindWorks, go to www.dokindworks.org.
In keeping with its mission, KindWorks will hold a Refugee Job Fair on Sunday, Nov. 12 from 1-3 p.m. at the River Falls Clubhouse. The event will connect refugees in need of jobs with business owners, community members and others who may know of jobs in catering or restaurants, gardening and landscaping, tailoring, housekeeping, babysitting or of other employment opportunities. All the refugees have work visas. While KindWorks holds the job fair inside the River Falls Clubhouse, Ali's son will be hosting a soccer game and picnic for refugee children through an initiative that he started called OnSide. Zayd Ali said, "OnSide is a way to use the universal love of soccer to bring kids of different countries and backgrounds together to get to know one another." He will also collect soccer balls and other gear to share with the refugee children. Donate soccer balls and other gear by emailing zali20@sidwell.edu. To learn more about his project, go to www.onside.world.
Deb Lang, executive director of KindWorks, expressed the effect Inspiration Day had on her: "These amazing speakers have inspired me to work harder and with renewed compassion as I interact with people who are in our county's shelters and correctional facilities, because they too have had their dreams and life plans halted. But I want them to see that it can be a temporary halt and that there will be a brighter future. As one of our speakers said, 'we must never give up on our dreams.'"