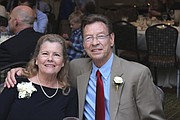 On Saturday, Sept. 30, longtime Vienna residents Jack and Joey Wojciech celebrated their 50th wedding anniversary among 100 family and friends at the DoubleTree Hotel in Sterling.
Jack and Joey's story is one of faith, family, and community and started in Philadelphia where they both were born and grew up. Jack, an electrical engineering graduate of nearby Villanova University, met Josephine Zupkofska while they were both working at the Frankford Arsenal supporting the Vietnam war effort.
They were married in 1967 and, five children later, moved from the south Jersey shore to Northern Virginia in 1978 when Jack took a position with the Federal Aviation Administration in Washington D.C.; an agency he served for more than 40 years.
Living on Talisman Drive, behind Wolftrap Elementary in Vienna, since 1979, when their sixth was born, Jack and Joey's burgeoning family immersed itself in the northern Virginia community as they both dedicated their lives to Jesus and their family's spiritual, academic, athletic, and relational development.
All three girls and three boys attended Our Lady of Good Counsel and later graduated from area high schools Bishop O'Connell and James Madison, going on to study at various universities such as Virginia Tech, George Mason, Geneva College, and the University of Delaware.
Today Jack and Joey are the very proud grandparents to 19 grandchildren and cherish every moment of their retirement years spending time with and loving on their ever-growing family.
Eldest sibling Derek said his parents were "world class investors," not in money, but in time and love towards their marriage, their children, and their community.