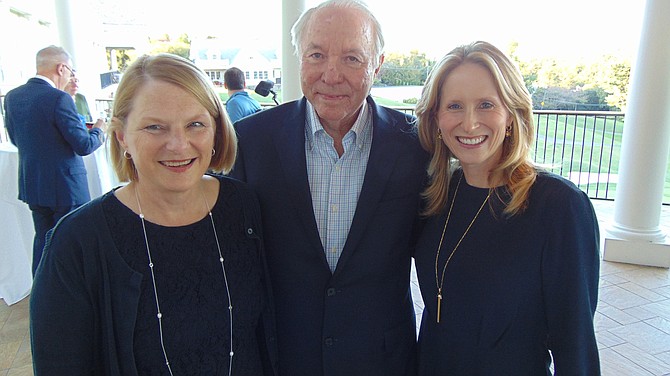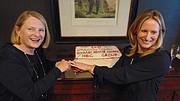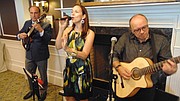 More than 50 people helped the HBC Group at Keller Williams McLean to celebrate its 40th Anniversary on Tuesday, Oct. 3, 2017, at the Washington Golf & Country Club in Arlington. While sipping wine, tasting hors d'oeuvres, and listening to the Veronneau Jazz Ensemble, past and present clients, affiliate vendors, friends and supporters joined in the celebration to ring in the milestone anniversary for partners Karen Briscoe and Lizzy Conroy.
The evening was dedicated to Sue Huckaby, who died in 2008, and her now 40-year-old legacy, the HBC Group. Sue Huckaby began her career as a Realtor in McLean in 1977 and became one of the most successful Realtors in America. Her husband, Jerry Huckaby, a former member of the U.S. House of Representatives for the 5th District of Louisiana, worked with her full-time from 1993 to 2008.
The couple met Briscoe at Trinity United Methodist Church, and in 2006 asked her to become a partner. What they wanted was for Briscoe to carry on her legacy after Sue Huckaby lost her battle with cancer in 2008. Conroy joined the team as Briscoe's partner in 2009.
Included in the list of guests were Jerry Huckaby and his wife Marie from Louisiana; sponsors of the Community Charity Champions, which Briscoe and Conroy founded in 2012; and clients who supported the HBC Group through the years.
"We are celebrating 40 years of being in the real estate business since 1977. We're so honored that we have so many past clients and associates and guests, and especially delighted that the Hon. Jerry Huckaby, whose wife Sue started our group, the Huckaby, Briscoe, Conroy Group in 1977, is here" said partner Briscoe.
"My wife Sue went into the real estate business in 1977. She started in McLean and was an agent for many years. I joined her in the business in 1993 and stayed until 2008. And at the end, we had built the business up to where we were doing between $100-$150 million a year in sales year after year," said Jerry Huckaby.
According to Diana Watkins of McLean, who calls herself a "global village diplomat" who lived all over the world: "We chose the HBC Group because we really consider their service in all of McLean and Great Falls ambassador service. They have an exquisite way of just encompassing all the issues we all need for buying and selling with graciousness and great expediency and depth. That kind of ambassador service takes years of cultivating."
Added Mary Weaver, who became involved with HBC when she decided to downsize: "Karen really is an Energizer Bunny and awesome, and we've just been lucky to see what an inspirational person she is. It's been our family's pleasure to be connected with all of this organization."
Pastor Jim Sprouse from Trinity United Methodist Church in McLean provided the blessing for all attending. Others who shared remarks and well wishes included Dr. Shashank Desai and Eric Goldman.
Since 1977, HBC Group has sold more than 1,500 homes valued at more than $1.5 billion. The team consistently sells more than 100 residential properties annually.