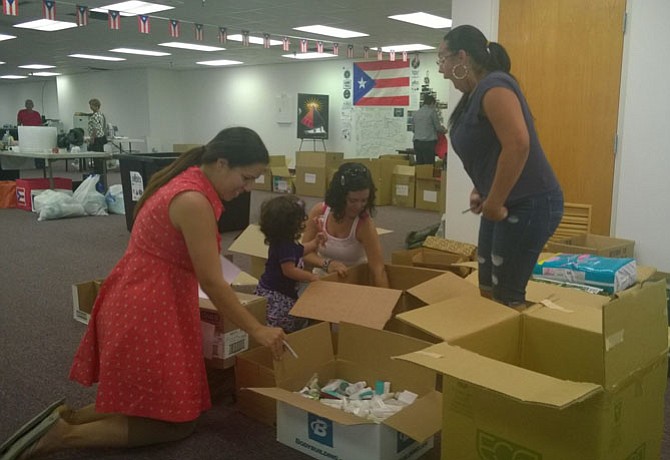 Burke — Fairfax County business partners Susana B. Slayton and Rafael Babilonia —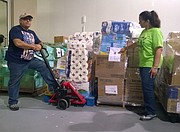 both Burke residents — saw it all play out on the television news last month. They watched Category 5 storm Hurricane Irma sideswipe Puerto Rico Sept. 6. In less than two weeks, they were horrified as Hurricane Maria made a beeline toward the island — where Babilonia was born and his parents live.
Babilonia knew this was a train wreck waiting to happen. He experienced the wrath of Hurricane Hugo — exactly 28 years ago, when it packed a Category 3 wallop and punched Puerto Rico. At the time, he and his wife, Martha, lived on the island's northern coast in the City of Guaynabo. It took 52 days for them to get electricity. He said he and his wife went to nearby San Juan then spent the next nine months working for the American Red Cross recovery efforts in the mountains.
They knew Hurricane Maria was much worse.
They knew a direct hit from a Category 4 storm would bring stunned Puerto Ricans to their knees.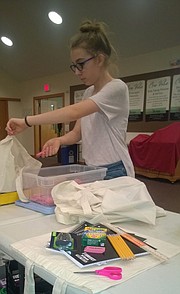 A DAY BEFORE Hurricane Maria nearly destroyed the island Sept. 20, Slayton and Babilonia called a federal government liaison to this U.S. Commonwealth and asked how they could help.
They learned about an initiative started by Puerto Rico First Lady Beatriz Rosselló in response to both hurricanes. United for Puerto Rico is a brand new tax-exempt charity that receives assistance from the private sector to help islanders recover from two natural disasters they weathered in just one month.
It's on like "Donkey Kong" for Slayton and Babilonia, co-owners of Dynamic Animation Systems of Fairfax — which creates virtual training systems for military and police. These Burke residents, whose families attend the same church at Burke United Methodist, wanted to help and rolled-up their sleeves. They made space at their warehouse in Chantilly for humanitarian relief supplies.
"Before it made landfall, we were creating the Facebook page," Slayton said. Unidos por Puerto Rico DMV is a grassroots effort with more than 1,600 followers and filled with testimonials from donors like Maribel Costa, who brought a car full of supplies from Baltimore to Chantilly:
"I was happily put to work within minutes. It was so wonderful to see so many people moving quickly, very focused and just working so hard to get everything ready for a safe trip to P.R.," Costa remarks on her Oct. 7 Facebook post.
"They are so organized and it just gave me so much confidence that all these donated goods will get to the people who need it most," she said.
This group is among 18 chapters nationwide that help the Puerto Rico Federal Affairs Administration in Washington, D.C., coordinate this movement.
Like Mario — hero of the famous 1980s Nintendo video game — Slayton and Babilonia are building a network of more than 200 volunteers, who want to climb the ladders of success in order to achieve their critical mission: come to the rescue of Puerto Ricans.
"This is like church to them," Slayton testifies. Like Mario, their unit jumps over hurdles and overcomes obstacles.
SOON AFTER Maria passed, she noticed area residents were in tears because they couldn't reach their families on the island. It took them four days to realize islanders with cellular service from AT&T wireless could receive calls only. That's how Northern Virginians learned their friends and family in Puerto Rico had nothing.
Babilonia checks his smartphone constantly. On Monday he points out the City of Ponce is still without power and water. His wife's family lives there in the middle of the island's southern coast.
He says the warehouse has only four chainsaws and two generators. "We need more."
Babilonia and Slayton explain Puerto Ricans are self-starters and need tools to take care of themselves. The island suffered so much devastation and deforestation, residents need chainsaws to quickly chew through trunks nearly 3 feet wide. Most storm survivors are slowed down by the only tools they have. Machetes and hand saws, Babilonia knows, hardly will make a dent in this massive cleanup effort.
Puerto Ricans want to work, Slayton and Babilonia affirm. They believe portable power tools will help islanders regain control of their lives as they strive to rebuild.
Slayton said Dynamic Animation Systems was accepting donations at the Chantilly warehouse — in the Sullyfield Circle Business Park behind the Dulles Expo Center. In response, her landlord offered extra space in a vacant office around the corner.
Donors bring basic human necessities to the second-floor office at 14320-A Sullyfield Circle, which faces state Route 28. Volunteers sort through the supplies. Product is transferred to the warehouse and prepared for shipment on carefully-organized pallets destined to cities and towns throughout the island. Trucks haul the pallets to nearby Washington Dulles International Airport or to the Andrews Air Force Base in Maryland.
VOLUNTEERS helped Slayton and Babilonia combine resources through workplace connections. A generous donor heard about Unidos por Puerto Rico DMV through an employee at his bank. He asked Slayton to take him last week to a nearby Costco Wholesale store, where he dropped almost $3,000 for supplies. While he stood in the check-out line, Slayton went to the pharmacy to get anti-diarrhea medicine — for storm victims forced to survive on dirty drinking water and spoiled food.
A store employee asked Slayton why she needed so much. She explained.
The Costco pharmacist purchased the entire case of medicine then donated it to the cause, Slayton claims.
Another volunteer — Airman 1st Class Belle Anderson of Fairfax — used her Air Force network at Joint Base Andrews to make room aboard a KC-130 military fuel tanker and help Unidos por Puerto Rico DMV fly two milk runs to the island.
"We have shipped and distributed over 120,000 pounds of supplies to Puerto Rico," Slayton said. United Airlines donated cargo containers on their commercial planes. She also mentioned Unidos por Puerto Rico DMV donated pet food to the Humane Society — which made room for humanitarian-relief supplies aboard a private plane headed to the island bring stray animals stateside.
This is no game for the dynamic duo, who will serve throughout the long haul until the residents of Puerto Rico tell them to stop. A local lawyer is providing pro bono aid by helping Unidos por Puerto Rico DMV obtain a tax-exempt status as a 501(c)(3) from the Internal Revenue Service.
Donations are accepted between 9 and 4 p.m., including weekends.
The supply list calls for these items: Flashlights, batteries, medicine, dust masks, toiletries, cleaning supplies, adult diapers, baby food and supplies, pet food and supplies, clothing for all, non-perishable foods, drinking water and juice.
The slogan of this grassroots volunteer movement offers an uplifting chant of encouragement to storm survivors who will rise from the devastating effects of two natural disasters: "Levantamos Puerto Rico!"